2016 Supercross Predictions - 450SX Update going into Week 12 at Santa Clara
3/31/2016

FULL-SEASON PREDICTIONS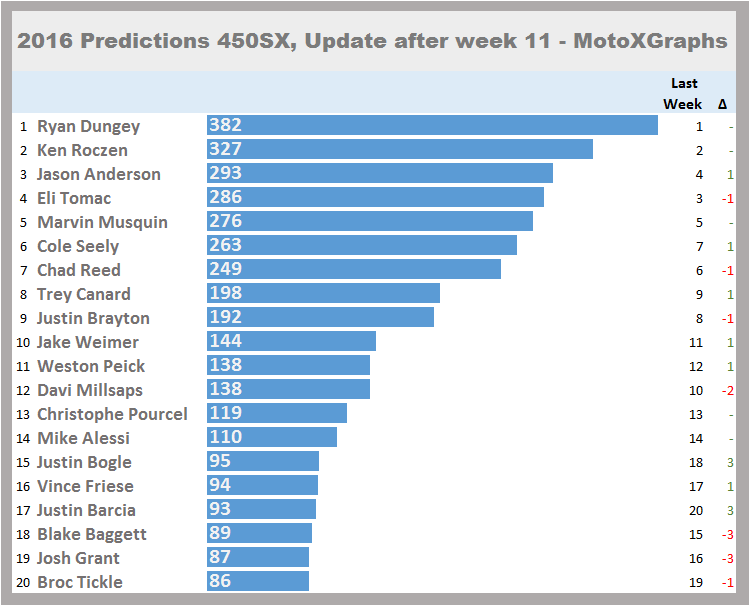 It's hard to have news in the standings predictions when Ryan Dungey has such a big lead and Ken Roczen has a large gap over Jason Anderson in third. This week, Anderson finally overtakes Eli Tomac in the 3rd place spot, after Tomac again missed the podium in Detroit (5th) and Anderson finished 1st (or 2nd, depending who you ask).

Marvin Musquin has 4 straight podiums going in to Santa Clara, and he remains in 5th, closing in on Tomac. In the real standings Musquin is also in 5th, trailing Tomac by 12. Musquin gained 6 points on Tomac in each of the last two weeks, so at that rate Musquin will overtake 4th within a few weeks.


[Edit: Cole Seely was injured in a practice crash, announced Friday, keeping him out of Santa Clara and potentially another few weeks. This would drop him below Chad Reed into 7th for his full-season prediction.]

In 6th through 10th, Cole Seely, Chad Reed, Trey Canard, and Justin Brayton do a little shifting of positions compared to last week, with the main point of contention being that Canard is slotted in just ahead of Brayton even though Brayton leads Canard in the actual standings by 24 points. And they have nearly equivalent results on a per-week basis in the 2016 season. However, the numbers are giving Canard a positive bump based on performance from his prior years, especially 2015 where Canard's results were very good while Brayton's were his worst out of the past several seasons.

Davi Millsaps will miss at least another two weeks for his injury, which drops him all the way down to 12th. Christophe Pourcel, on the other hand is expected to return for Santa Clara, as is Justin Barcia. Barcia manages to climb a couple spots in a tightly packed range from 15th through 20th.

When we factor in who's dealing with injuries that we're aware of, there again aren't big changes for the full-season projections. There are plenty of injuries, but currently the top of the pack are all healthy, which means that there's no movement at the top of the standings. Also, at the middle and bottom of the standings, 7 out of 11 guys have a recent injury so they're mostly shifting down together.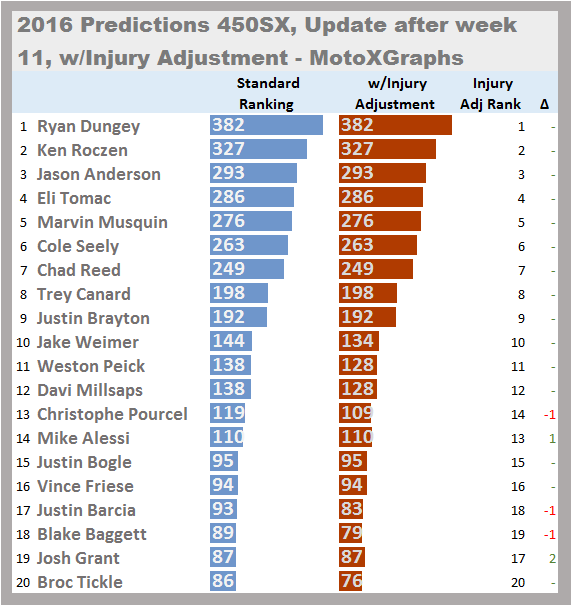 **Keep in mind the "injury adjustment" is more of an indicator that the rider was recently injured than an actual, precise prediction of how that recovery from injury will affect the rider.**



"THIS-WEEK" PREDICTIONS
Although we see the standard top 3 again -- Dungey / Roczen / Tomac -- in the True Talent estimation, Marvin Musquin is very close to Tomac. Last week the difference between them was nearly a full point (0.9), but this week the difference (0.3) is almost negligible: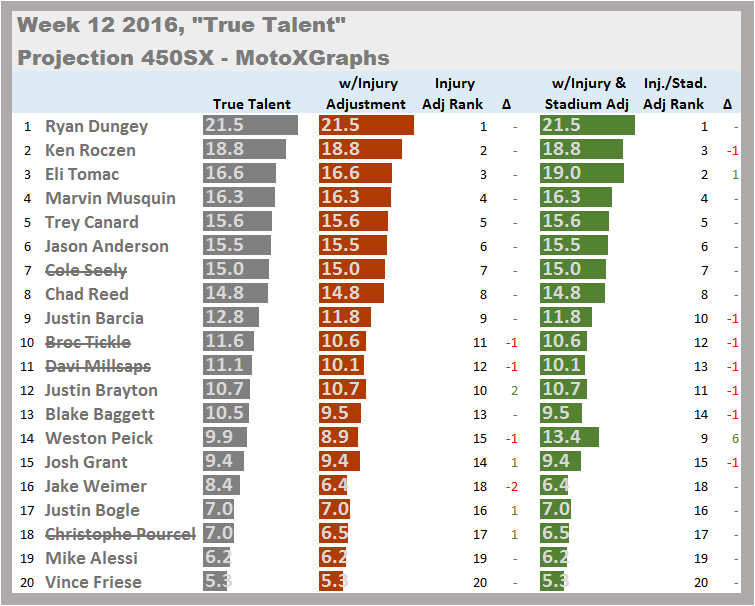 Jake Weimer has the biggest injury adjustment because he's returning from a dislocated shoulder with just a week's rest.

James Stewart is reportedly back for Santa Clara, and though he sits outside the predicted top 20 finishers for the full season, he would slot it at #15 in the True Talent ranking. For Stewart this ranking is low because of his propensity to DNF this season; if we looked only at the races he finished, he would be projected at #9 for the week.



For the Stadium Adjustment, now in it's third week of experimental trial, there's only one year of history for Levi's Stadium. So take these two adjustments with an even bigger grain of salt, but there are two that are included. Last year at Santa Clara the race went pretty true to form, so there wasn't much to include anyway. And I don't want to include a negative adjustment for anyone based solely on one race since that could be for a variety of reasons -- a crash, a bad start, etc. -- that have nothing to do with the stadium factors (location, layout, soil).
Weston Peick had his best race of the 2015 season in Santa Clara, finishing in 3rd, which was just over 9 spots better than his average finish for the season. That's also Peick's best finish period -- he has one other 3rd, two 4ths, and four 5ths. Peick started that race in 5th, passed Reed (who crashed), passed Brayton, passed Barcia, then was passed by Tomac (who had started 8th). Tomac is the other one with an adjustment, although smaller, because he finished in 2nd at Santa Clara in 2015, which was nearly 5 spots better than his average. Again, these are based on one race, so while interesting I can't hardly say that they're reliably predictive.

Will Tomac rebound, or can Musquin keep improving, managing to narrow the gap behind 3rd place? Will Peick repeat his unusually good performance at Santa Clara, since he's predicted to run with Seely and Reed rather than Jake Weimer and Vince Friese? Can Trey Canard get his season back on track? Will James Stewart finish a race, and if so will he be top 10, like predicted? That's what the numbers will be watching for in Santa Clara this weekend.




Posted by: SagehenMacGyver47 ::: As always – Feedback welcomed




Previous: Rider Profile: Newcomers to Supercross in 2016 | Back to Blog | Next: 2016 Week 12 - By-The-Numbers Recap: Santa Clara