2016 Supercross Predictions - 450SX Update going into Week 17 at Las Vegas
5/5/2016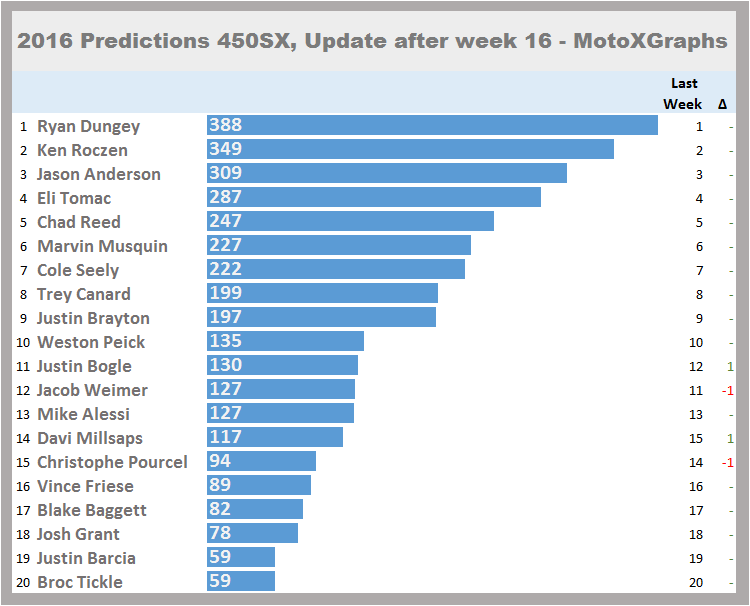 Going into the final race of the season, there's not a lot of predicting left to do for the overall results of the Supercross 450's, especially with Ryan Dungey having clinched the title and Ken Roczen having clinched 2nd. There's technically a race for 3rd, for 5th, and for 7th -- but it would require at least a podium by the lower rider and a 20th+ place finish by the current place holder, meaning that in all likelihood Jason Anderson won't be caught by Eli Tomac, Chad Reed won't be caught by Marvin Musquin, and Cole Seely won't be caught by Justin Brayton.

There is a contest between Brayton and Trey Canard, though, for 8th, with Brayton leading by only 3. The prediction is that Canard overtakes Brayton by 2 points. In races they've finished this season, Canard has averaged 8th while Brayton has averaged 10th. If those averages held true in Vegas, that wouldn't be enough for Canard to overtake Brayton. But the prediction looks beyond just this season and thinks that Canard will finish closer to 5th while Brayton will be closer to 12th, meaning Canard would earn enough points to move up. Only time will tell.



There's also a battle for 10th place overall on the season, between Weston Peick, Justin Bogle, Mike Alessi, and Jacob Weimer. Bogle and Alessi each need 5 points to tie and 6 to take over 10th, while Weimer needs one more point that those two. The prediction sees Peick holding on to 10th. But (you say), Bogle has performed very well over the last 6 weeks! He's averaged 8th place, while over that same time frame Weimer has averaged 11th. However, that's only 3 points separation, and Bogle needs 5. More bad news for those trying to catch Weimer is that in the past at Las Vegas (2014 - 2012), Weimer has finished 8th, 4th, and 4th (he didn't compete in 2015) -- better than his average finish (see Stadium Adjustments below).

When we factor in who's dealing with injuries that we're aware of, the changes again are minor. I'll put up the chart, but there's no movement in terms of the rankings compared to the regular ones: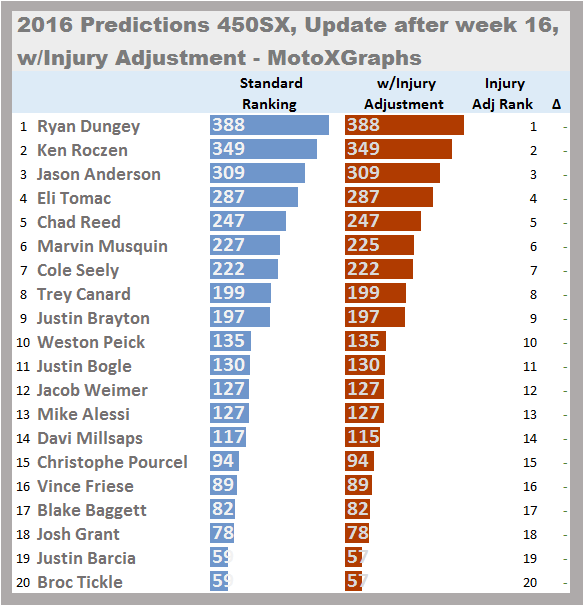 **Keep in mind the "injury adjustment" is more of an indicator that the rider was recently injured than an actual, precise prediction of how that recovery from injury will affect the rider.**



"THIS-WEEK" PREDICTIONS
After we apply the injury and stadium adjustments, there are a couple notes. Davi Millsaps is being given a larger than normal injury adjustment because he's (1) been out for 7 weeks and (2) still not a lock to race in Vegas, which to me means he's not 100% healthy. That injury adjustment would move Millsaps down from 9th to 15th. BUT his Stadium Adjustment is favorable, with a couple qualifications: he didn't race Vegas in 2015 or 2014. In the years prior, he finished 2nd, 3rd, and 13th, which is remarkably good. So, this adjustment moves him back up, but not all the way, to 11th.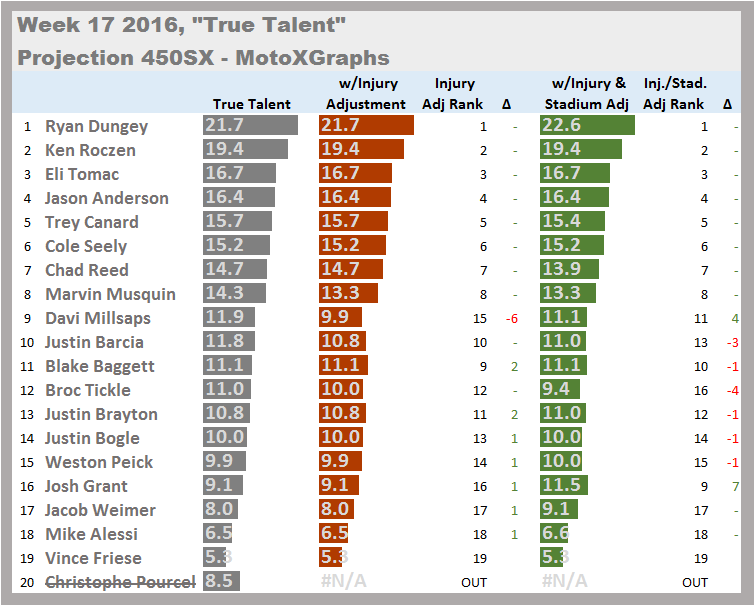 There is a large group of riders lumped close together between 9th and 15th in the non-adjusted predictions, so a fairly small adjustment can have a large impact on the rankings. For instance, Broc Tickle has a downward Stadium Adjustment that's pretty small -- he's finished 10th, 10th, and 11th in his last three attempts at Vegas, which is just below his average finish of right around 9th. But this adjustment drops him from 12th all the way to 16th. Part of the reason he falls so far is that Josh Grant has an upward Stadium Adjustment that's big but not huge -- Grant has finished 5th, 7th, and 5th in Vegas in his most recent three races there. Because the pack is so tight, this not-huge adjustment moves him from 16th all the way to 9th.

As mentioned above, Jacob Weimer has an upward Stadium adjustment, though it doesn't change his predicted ranking for the week. Also, Ryan Dungey has a minor upward adjustment. Although the Stadium Adjustment only uses 450 SX data from 2012-2015, going all the way back to 2009 and including 250 and 450 races, Dungey has never finished worse than 2nd in Vegas! If we looked at the past few weeks, we might think that because Roczen is so hot and Tomac is finally putting things together that Dungey should end up outside the top 2...but looking at this, it seems Roczen (3rd in Vegas last year, his only 450 SX race there) and Tomac (2nd in Vegas last year, his only 450 SX race there) really have their work cut out for them this weekend to try and top Dungey.







Posted by: SagehenMacGyver47 ::: As always – Feedback welcomed




Previous: Most Dominant Win from 2016 450 Supercross? | Back to Blog | Next: 2016 Week 17 - By-The-Numbers Recap: Las Vegas