2016 Supercross Predictions - 450SX Update going into Week 8 at Atlanta
2/18/2016

FULL-SEASON PREDICTIONS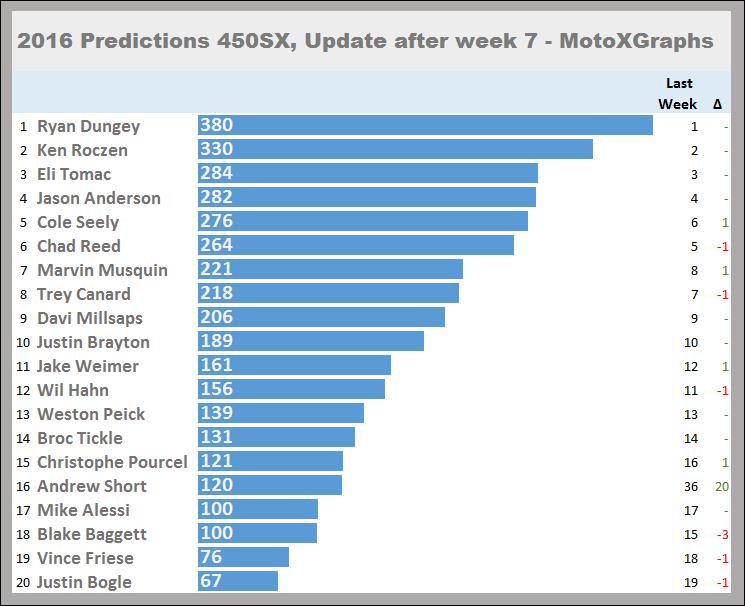 Not a lot of changes, but Ken Roczen narrows the gap slightly, and Chad Reed's Week 7 result was bad enough to drop him slightly below Cole Seely into 6th. Marvin Musquin also moved up, just in front of Trey Canard, because Canard had his worst non-injury race result so far in 2016 (9th).

In the bottom half, Andrew Short jumps into the list, at #16, and Blake Baggett drops several spots as his return timetable is unknown.

If we factor in riders who are dealing with injuries that we're aware of, again Eli Tomac is adjusted down until he proves that he's 100% over his shoulder surgeries. Some other adjustments are in there, but none of them affect the actual ranking (Trey Canard, Davi Millsaps (injured thumb), Weston Peick (injured wrist), Broc Tickle, Andrew Short, Blake Baggett), except for Justin Bogle, who is dealing with a foot injury.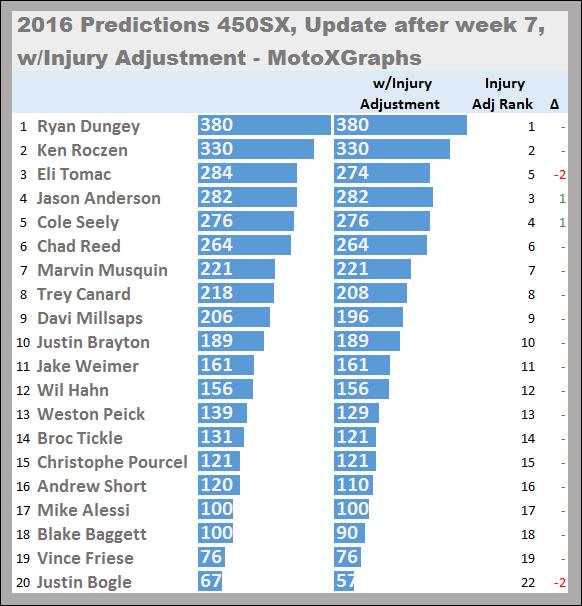 **Keep in mind this is more of an indicator that the rider was recently injured than an actual, precise prediction of how that recovery from injury will affect the rider.**

THIS-WEEK PREDICTIONS
Last week first. Here's the ranking by "true talent" with the injury adjustment, compared to where they actually finished, along with how many spots they were above or below the prediction: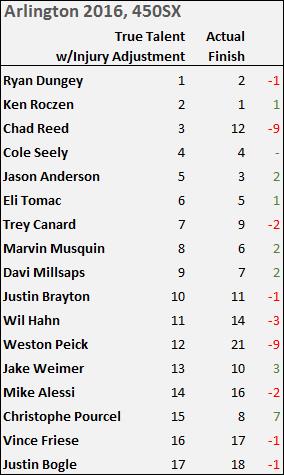 The top 10 again looks reasonably good (there's only 17 because Broc Tickle, Blake Baggett and Lawson Bopping were not in the race). For the second week in a row, Chad Reed finished way off his prediction, but the entire rest of the Top 10 was predicted within 2 spots of where they finished. Weston Peick had a crash that took him way off his prediction, and Christophe Pourcel had his best race of the season, doing way better than his projected spot.

On to this week:


I think the riders at 5/6/7 (or 3/4/5 if you're looking at the injury adjustment column) are the most volatile, with Seely having both good and bad races, Reed looking pretty mediocre the last two weeks, and Anderson seeming like the best of the three but trailing behind by a small margin in terms of the numbers. For me, that will be among the things to watch at Atlanta, other than, of course, the battle at #1/#2 between Dungey and Roczen. Also, can Pourcel stay in the top 10, again defying the predictions? Can Andrew Short get back into form, potentially as a top 10 rider? And can Trey Canard stay healthy and live up to his projection as potentially one of the top 3 or 4 racers (see his rider profile)?




Posted by: SagehenMacGyver47 ::: As always – Feedback welcomed




Previous: How Much Slowing? -- Follow Up #2 | Back to Blog | Next: 2016 Week 7 - By-The-Numbers Recap: Arlington