Pro MX Outdoor - 2016 Predictions After Week 1
5/27/2016

One week in, so what's new with the predictions? In the Upper class, not much has changed (compared to last week) going in to Glen Helen -- while with the 250's there's quite a bit of movement.

450MX SEASON PREDICTIONS
The biggest change in the 450's, in my opinion, is Ken Roczen moving into 2nd, passing Eli Tomac, leaving Ryan Dungey with a fairly narrow gap in 1st. What was a 30 point lead for Dungey is now projected at 17 points: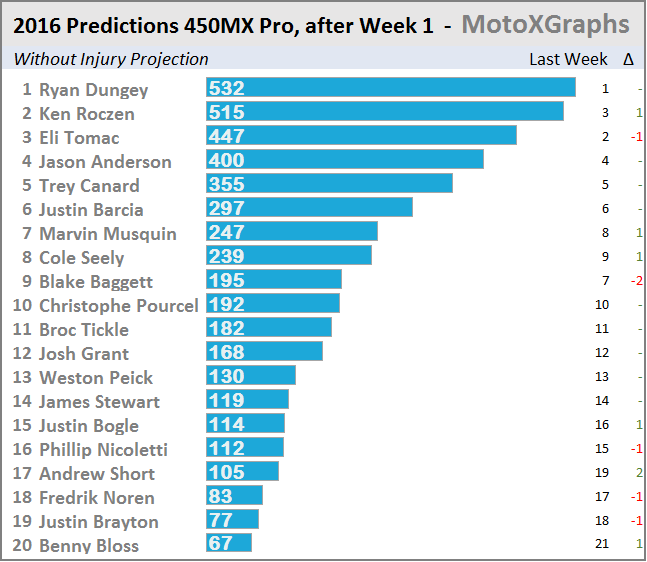 Blake Baggett, despite his great podium and gutsy finish in the Hangtown motos, drops 2 spots since he'll probably miss at least one race (or at the very least not be 100% for Week 2 at Glen Helen). Andrew Short moves up on the back of some decent-to-good racing last week, and rookie Benny Bloss breaks in to the Top 20.

After factoring in riders dealing with injuries as well as projecting future injuries, a few more things change. As in last week's prediction, Jason Anderson moves into 3rd: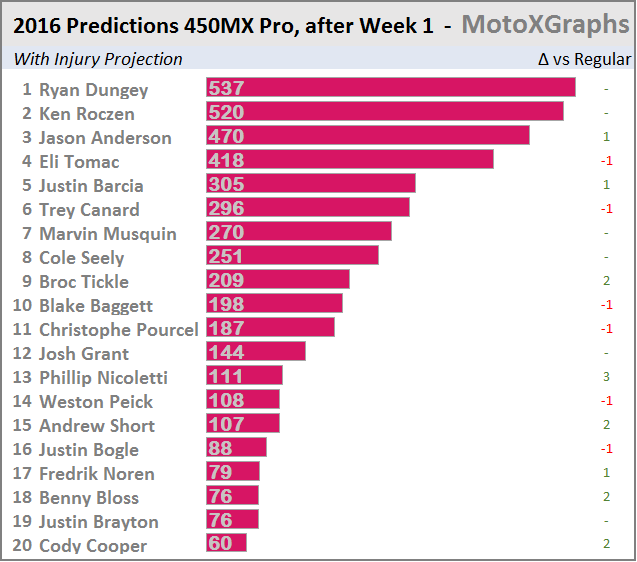 Movement is otherwise pretty minor due to current and future injuries. Phil Nicoletti has been pretty much injury-free over the last several years, which moves him above Justin Bogle, Weston Peick, and James Stewart -- who falls of the chart completely.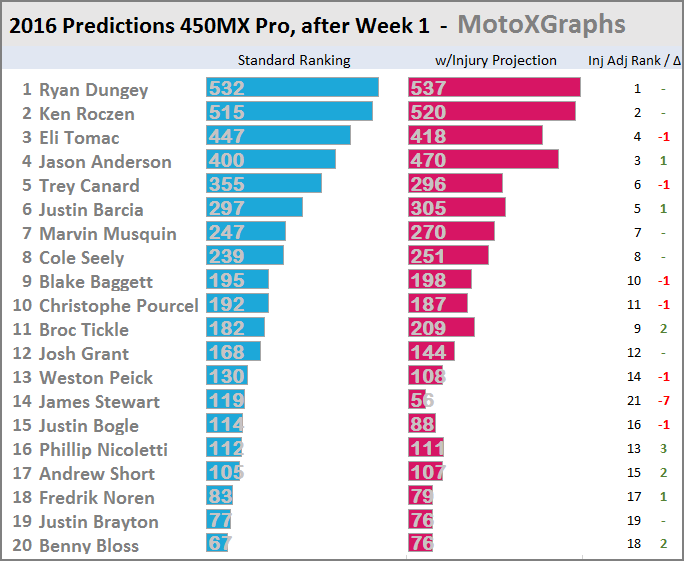 250MX SEASON PREDICTIONS
There were some pretty surprising results in Week 1 of the 250 series, but how much should that affect the full-season predictions? To be honest, I can't answer that with any large degree of certainty. What the predictions do, though, is factor in the current season's results at its full weight (just over 40%), but only proportional to how many races have occurred from the current season. So with only one race, the current season has a fairly minimal effect on the predictions.

But I think that fits with conventional wisdom: Joey Savatgy had a really good weekend at Hangtown, I don't think anyone immediately makes him the new favorite. Possibly some talk of a likely podium for Savatgy on the full season, but let's see what the predictions think: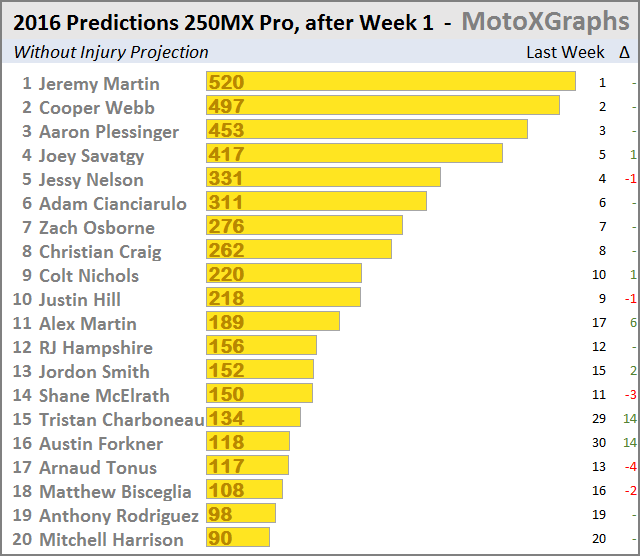 That said, even though Savatgy didn't move much--just one spot--Alex Martin finished 2nd overall and managed to move up 6 spots, from 17th to 11th. And he has a long history in 250MX, so it's not like some of the first- or second-year guys where one result really does make a big difference. Speaking of which, Tristan Charboneau and Austin Forkner move up into the teens, each gaining 14 spots.

Now, with injury projections, some of that will change: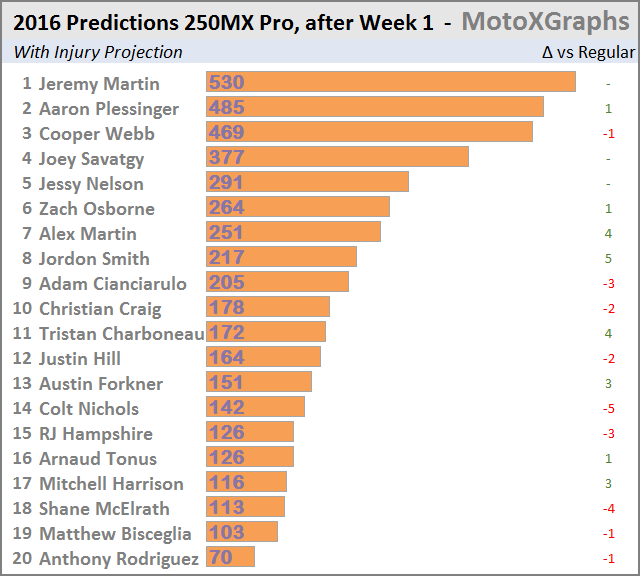 Adam Cianciarulo, Christian Craig, Justin Hill, and Colt Nichols get dinged for having poor injury history. Jordon Smith and Alex Martin have been very healthy, and this moves them up several spots. The changes can be seen below in the chart with both the injury-free prediction and the prediction incorporating projected injuries.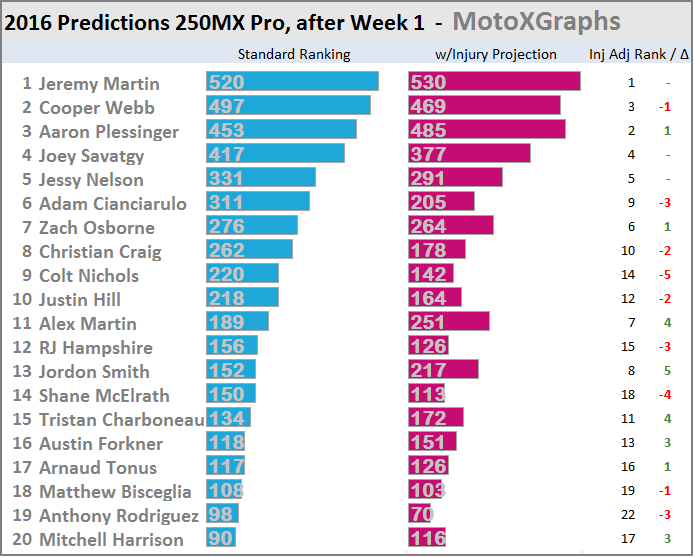 "THIS-WEEK" PREDICTIONS
With who's predicted to win the full season out of the way, now we can look at who's got the talent to win this week at Glen Helen. The "This-Week" rankings look at the rider's perceived talent (aka "true talent") as well as injuries and the rider's history at the week's track. Compare to
last week
here.

Here are the predictions for the 450 class at Glen Helen: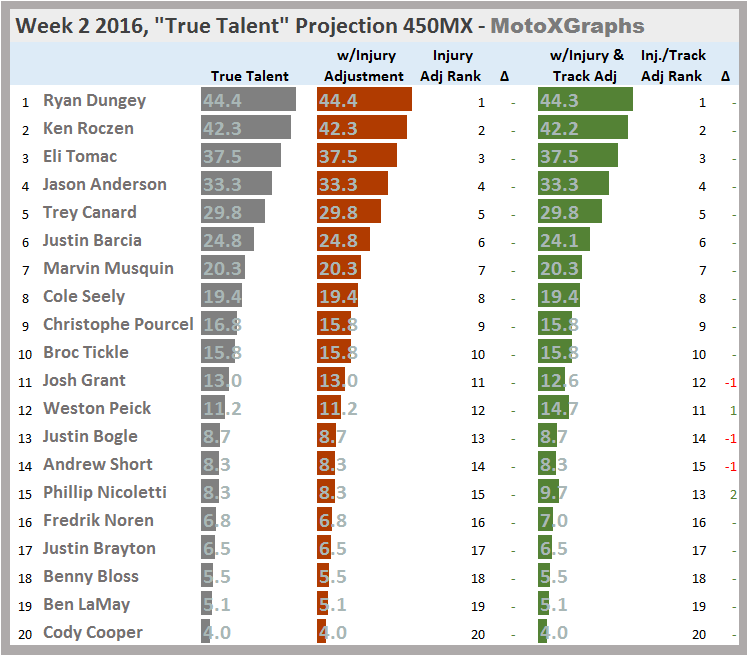 I keep reading that people are expecting big things from Josh Grant -- that Glen Helen is his "home track" and that he won a moto a couple years back. Well, that's true, but he had some not-so-great results, too: in 2015 he finished 27 / 12 and in 2014 he was 1 / 15. The last time 450MX was at Glen Helen was 2009, when he finished 2 / 4, but that was 7 years ago, so I'm not sure we can read much into that. On the other hand, Weston Peick had 5 / 6 in 2015 and 5 / 13 in 2014, which is much better than his overall average of 12th away from Glen Helen. Based on that, he actually is predicted to finish one spot better than his original prediction, moving past Grant.

Phil Nicoletti also gets a small bump based on 3 / 21 and 11 /11 in the past 2 years -- though that's more about him being in a virtual dead heat with Justin Bogle and Andrew Short before the track adjustment, so a little adjustment moves him 2 spots.

Here are the predictions for the 250 class at Glen Helen: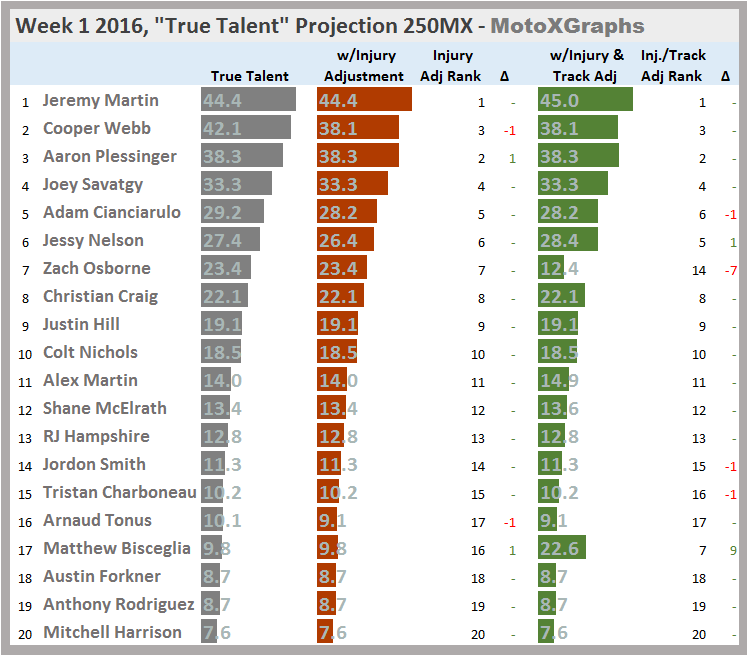 Nothing too surprising, though I should mention that I can't find out what happened with Matt Bisceglia, who didn't ride last week but don't have any mentions of injury. Bisceglia is an issue again because he has a very, very big Track Adjustment that moves his prediction from 17th to 7th. He finished 6 / 11 in 2015 and 11 / 7 in 2014. That's compared to his average finish of 14th everywhere else, so it's not inconceivable that he moves up quite a bit, though to 7th is really something. But I can't find for sure if he's actually riding, so we'll see. Maybe he's in the injury report tomorrow. [Edit: ah,
here we go
-- "missed the opening round in Hangtown after becoming extremely ill in the days leading up to the race"

Another major move is a downward one for Zach Osborne. In 2015 he was 13 / 33 at Glen Helen and in 2014 he finished 9 / 37, and that's compared to his average finish of 8th otherwise. This adjustment drops him all the way down to 14th from 7th, but since his best race there in the past two years was 9th and it appears he had 2 crashes in 4 races, it seems reasonable that he would have a significant negative adjustment.






Posted by: SagehenMacGyver47 ::: As always – Feedback welcomed




Previous: Tomac's Mythical 2015 Hangtown | Back to Blog | Next: 2016 Pro MX Week 2 - By-The-Numbers Recap: Glen Helen