2016 Pro MX Week 4 - By-The-Numbers Recap: High Point
6/18/2016

The question going in to High Point was "Can anyone step into the void left by Ryan Dungey's injury and possibly give Ken Roczen a challenge for the moto wins?" Within about a minute of the start of Moto 1, the answer was "No" -- Eli Tomac started off within range of Roczen, but caught his front wheel in a rut around a tight right turn, and that was it: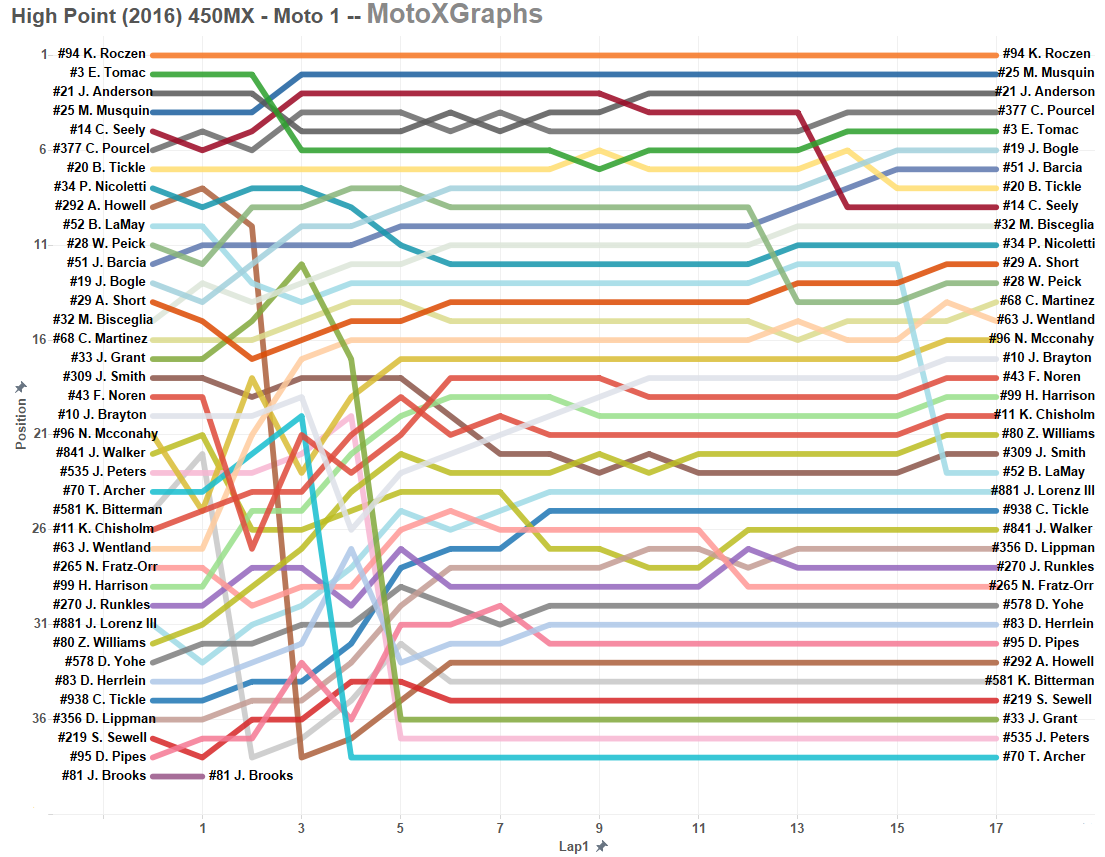 (The riders are listed in the order that they came through the opening section -- Ken Roczen had the holeshot, Eli Tomac was 2nd, Jason Anderson was next, etc.)

Although Roczen cruised pretty much the whole way (and Marvin Musquin did the same for 2nd place), there was a pretty good race for the rest of the Top 10 with positions going back and forth between several riders. Tomac and Jason Anderson each crashed early, opening things up for Cole Seely to run in 3rd for much of the race, but then he fell late, dropping back to 9th.
Christophe Pourcel also had a good race--his best of the season--running between 4th and 6th, but was caught by Anderson just after the halfway point, denying Pourcel the podium for Moto 1.
Justins Barcia and Bogle each came from outside the Top 10 to end up in 7th and 6th, respectively.
Matt Bisceglia did the same thing, backing up his good result last week with a 10th place finish in Moto 1.
Weston Peick was our pick to surprise with a Top 10 or better finish, and he looked very good, riding in 9th, but an unlucky Lap 13 must have involved a crash because he dropped 5 spots and finished 13th.
Ben LaMay was also looking good, until a Lap 15 crash sent him from 12th to 23rd.

Unfortunately, the chart of the riders' pace is not particularly interesting -- at least nothing we didn't see when watching the race. Roczen was much faster through Lap 6 (although Tomac was actually about 1 second faster in Lap 2), when Roczen must have had enough of a lead that he backed off slightly, though it's not as if anyone was consistently faster than him for the rest of the race, either: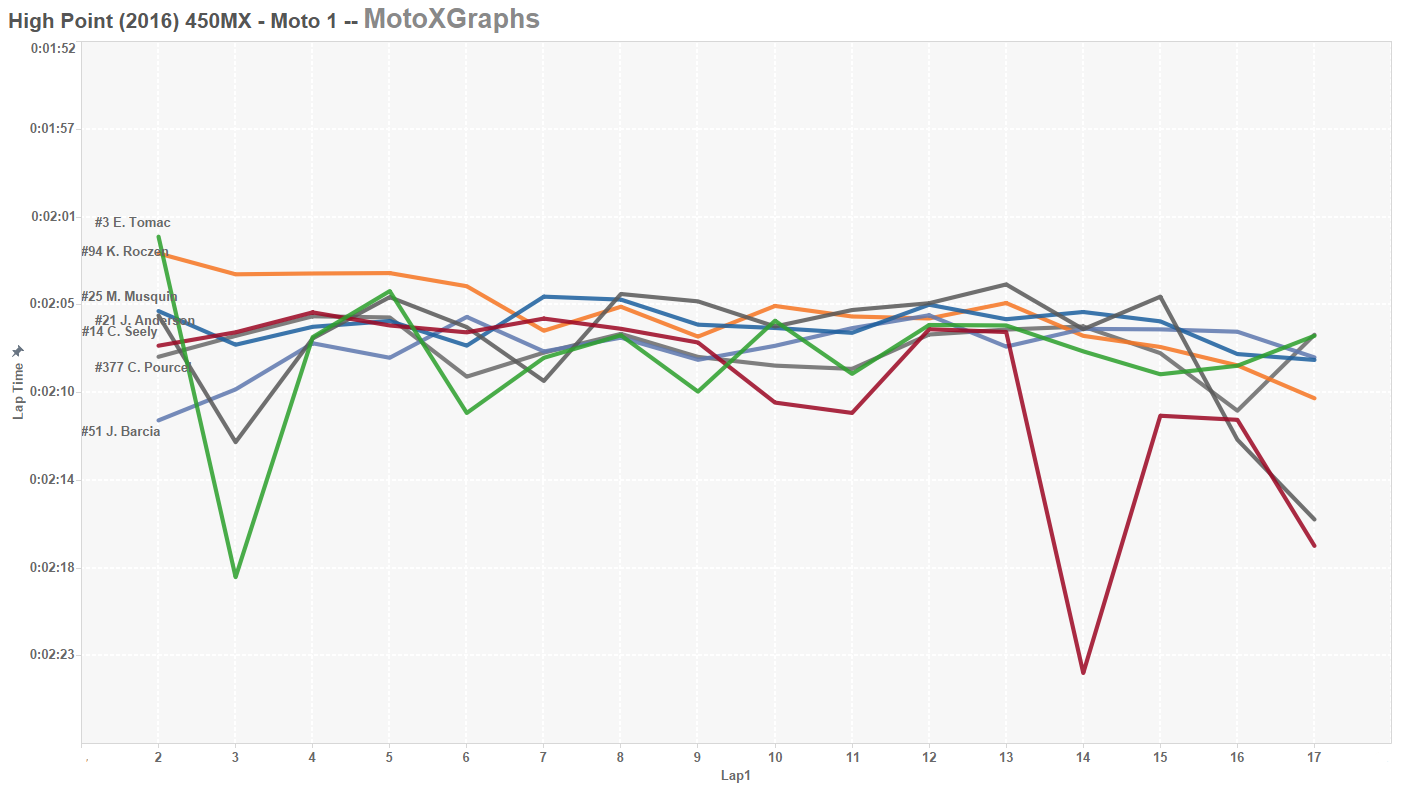 For laps 3 through 16, all of Tomac's laps were slower than Roczen's, so the hope that he might be able to mount a challenge was for naught. But what about Moto 2? Maybe Tomac or the 2nd/3rd place finishers Musquin and Anderson could make things interesting....


Or how about Justin Barcia? Barcia got the hole shot. Barcia managed to run almost the same speed as Roczen through Segment 2. Barcia was then nearly a half-second faster than Roczen through Segment 3. But then reality kicked in, and Roczen made up more than a full second in Segment 4 (1.46 seconds), putting Roczen in the lead before they finished the 1st Lap. Roczen would build a 5+ second lead before Tomac or anyone else could get a crack at him, and no while Roczen didn't extend that lead much, no one ever really challenged him:
(Note: there was an issue with the timing in laps 15, 16, and 17, which causes some weird lines below, for instance for 5th through 11th. I fixed some of it so that the final result is accurate, but you'll just have to ignore the crazy squiggles in Lap 16.)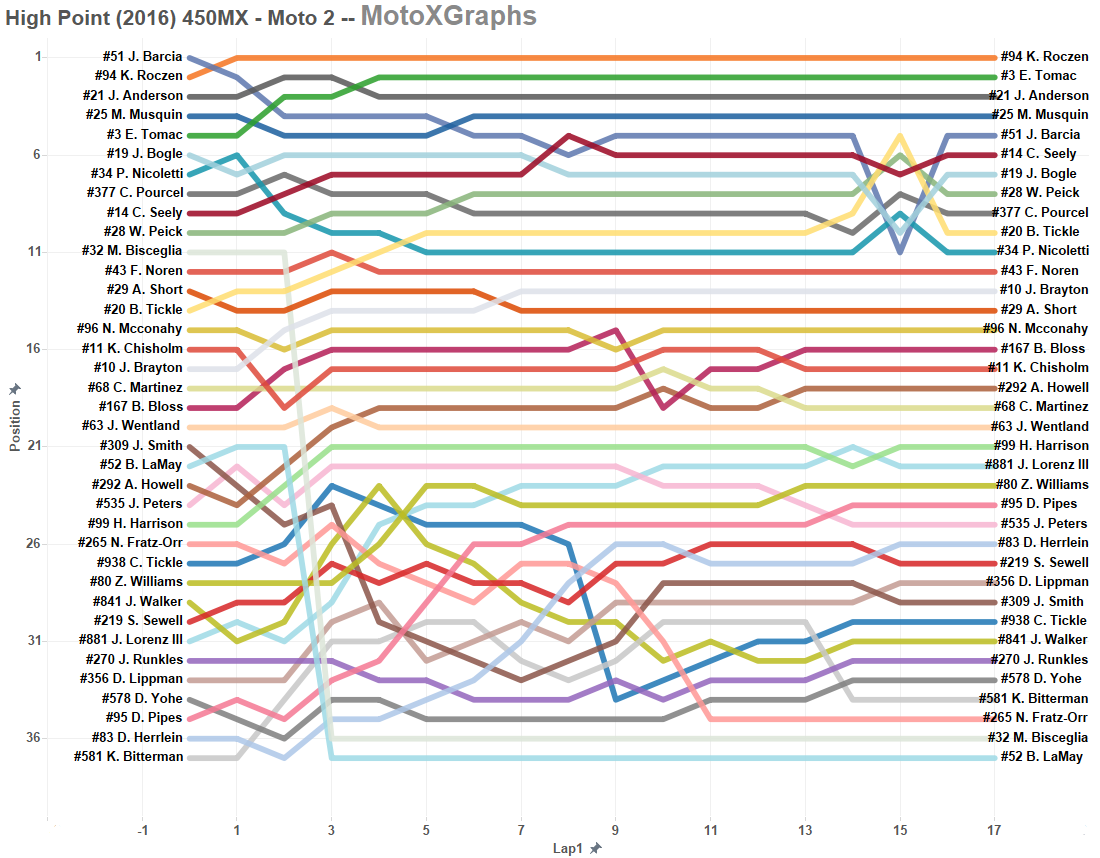 A bit like last week's Moto 2, Tomac was able to ride a similar pace to Roczen's, but Tomac got too far behind early to make a real challenge. Neither Anderson (finished 3rd) nor Musquin (finished 4th) were able to ride at a speed that matched Tomac or Roczen: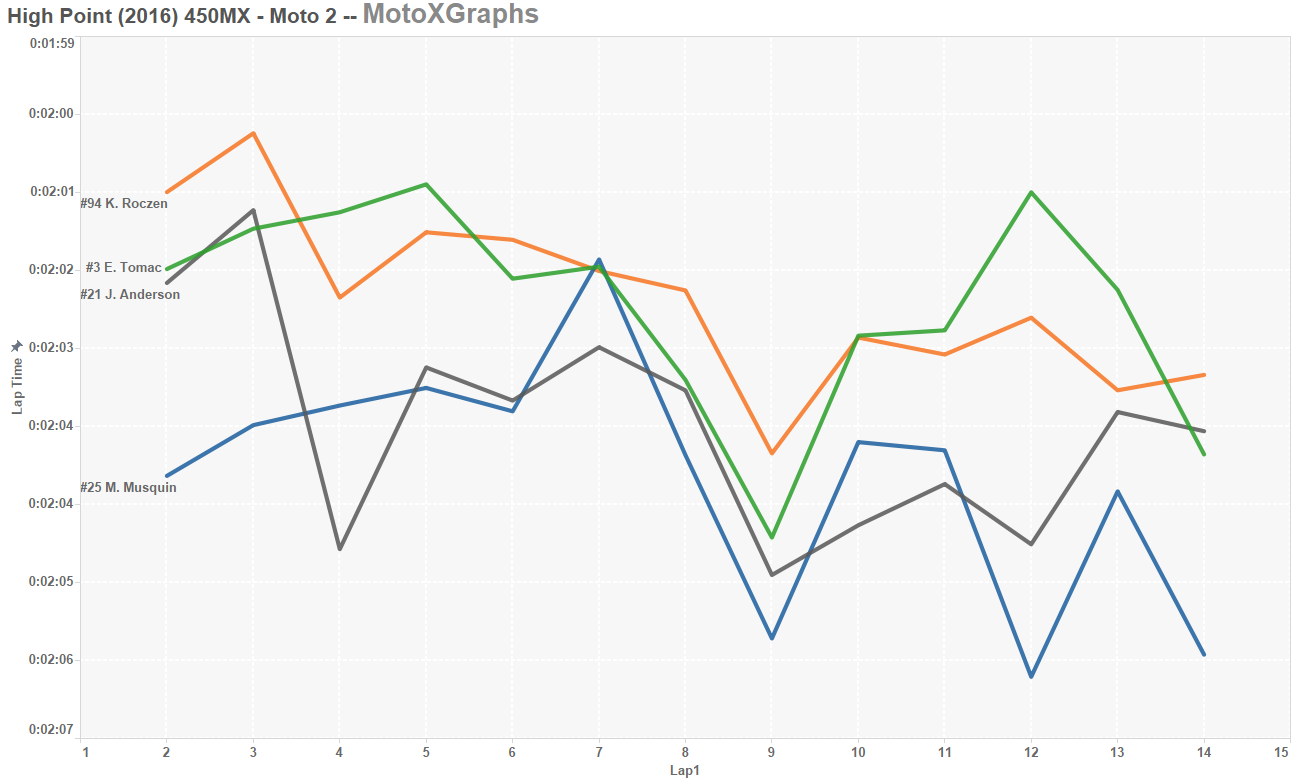 Below, a chart similar to one from last week's recap, comparing Roczen and Tomac to see who was faster in each lap (in laps 2 through 14 where valid data is available). Tomac had his laps (4 & 5), but then Roczen got 3 of 4 during laps 6 through 9. Tomac got 4 in a row after that, but by then Roczen's lead was too large (and Roczen was probably not at his absolute max speed anyway).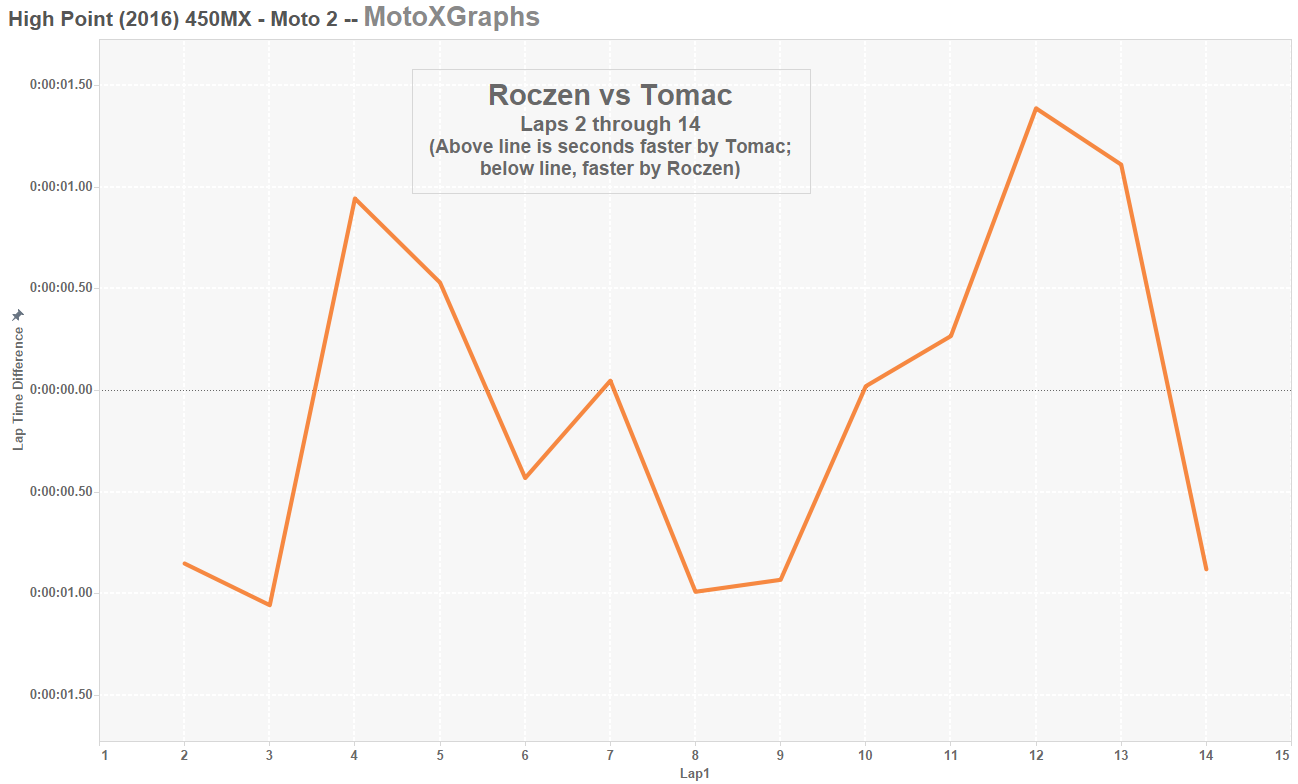 250MX class
It looked like the story of the year was going to repeat itself at High Point's first 250 moto -- Alex Martin surprises everyone by charging to a podium or even the win. But, then the story changed to Zach Osborne, who took over the lead after Alex Martin ran off the track. Osborne had been the fastest rider of the morning and on top of qualifying 1st he took the Moto 1 win. Alex Martin would have finished comfortably in 2nd, it seemed, until some mechanical problem left him with a smoking tailpipe and a bike that wasn't getting much speed. After getting passed by several people, he had to pull over, agonizingly finishing out of the points.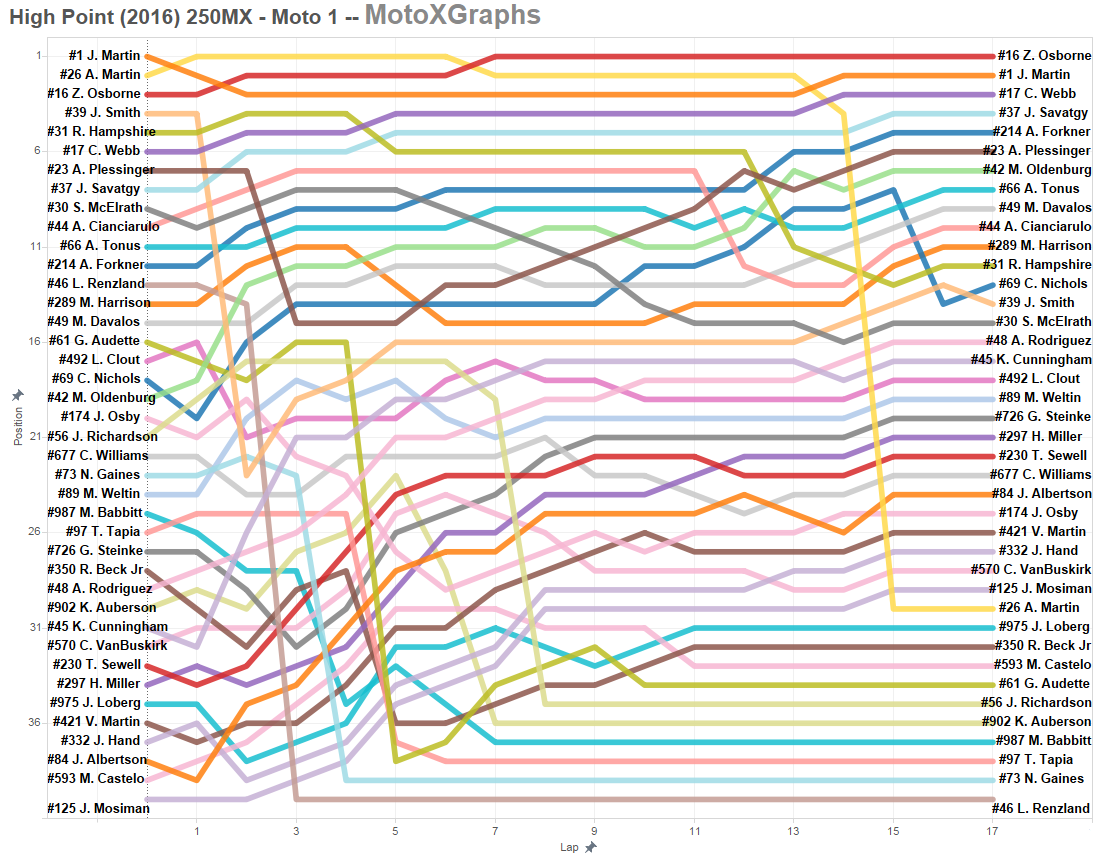 In Moto 2, we were back to the Alex Martin story, as he and Joey Savatgy made their way to the front in Lap 5. While Alex Martin got his outstanding break-out season back on track, Savatgy also extended his somewhat surprising run in 1st place, winning Moto 2 (and the overall on a tiebreaker), which extends his points lead to 20. Savatgy's lead is surprising only in that Jeremy Martin was the consensus favorite to finish in 1st place for the season. But, because of the other big story to come from High Point, Jeremy Martin is now in 3rd in points. After a 2nd place finish in Moto 1, Jeremy Martin had a chance to win the overall and take the points lead back from Savatgy. Jeremy Martin started out in 2nd early, trailing Adam Cianciarulo -- another 2nd would have given Jeremy Martin the Overall win. But Martin's bike was struck with the same affliction as his brother's, and halfway through the race Jeremy also had to pull over.

(There was also a timing issue at the start of 250 Moto 2, so some of the Lap 1 times are estimates, which may have affected some of the positioning throughout the chart. I think it's all ok, but if a position or two is off in the middle of the race, my apologies.)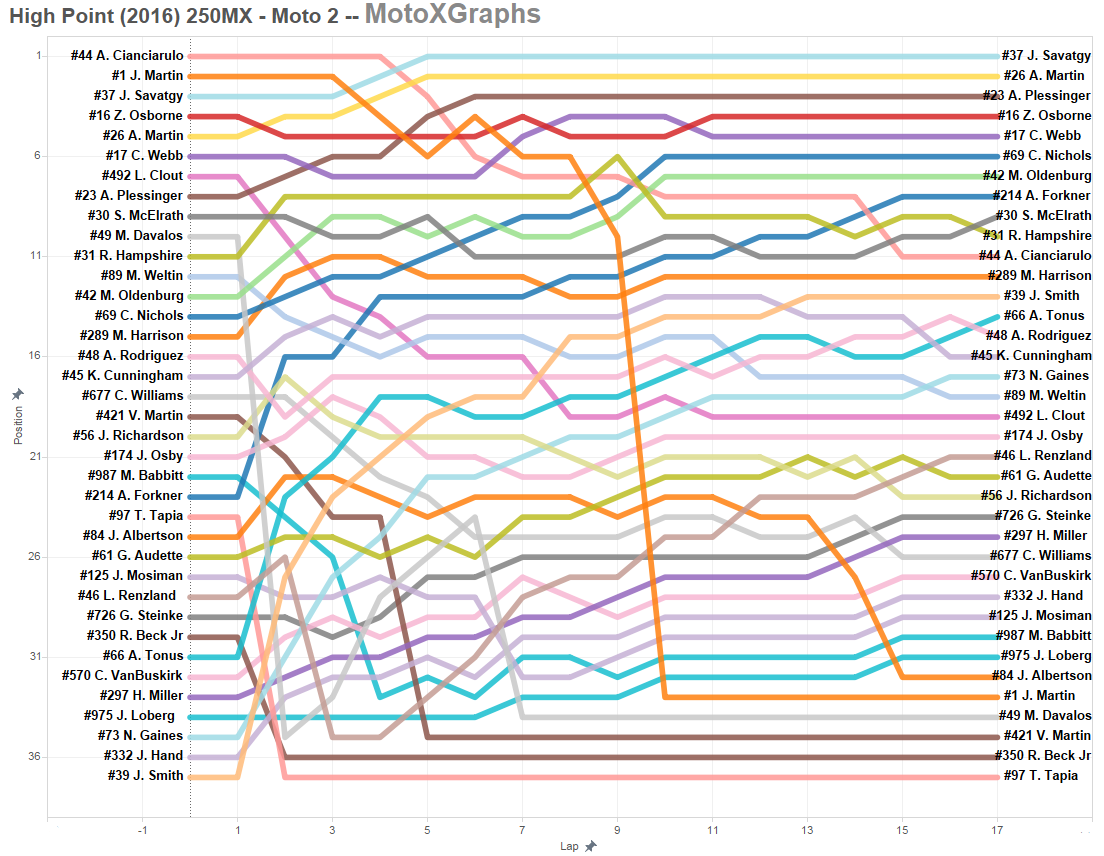 If Jeremy Martin's bike hadn't failed, was he running a faster pace than Savatgy and Alex Martin? Should we expect that he would have held on to 2nd (or 1st, for that matter)? Jeremy Martin started off with a much better Lap 1 than Martin, Savatgy, and Cooper Webb, but as mentioned above the official timing had issues. We can see that Jeremy was already slower than brother Alex and slower than Savatgy in laps 2 through 6. Possibly the bike was already having trouble then: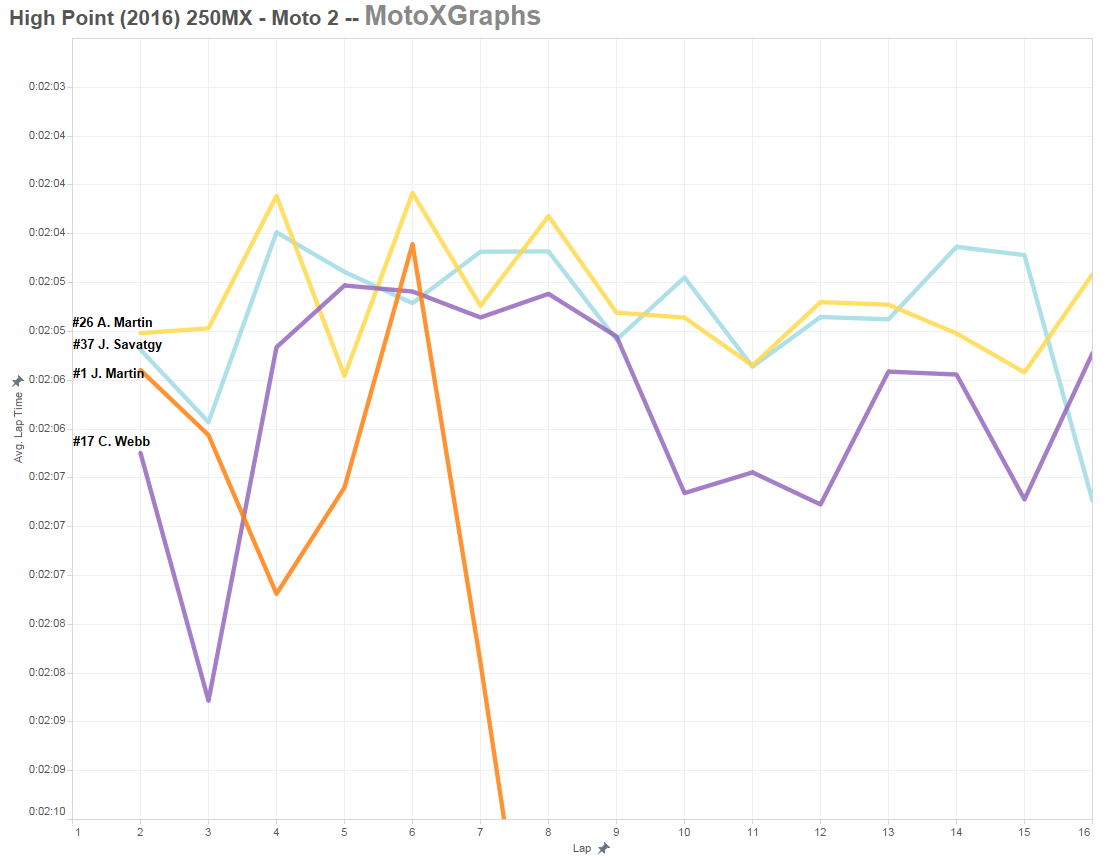 Four races in, and each class has it's own set of surprises. In both cases, the current leader is not the preseason favorite. It was a very real possibility that Roczen was going to carry his late-season Supercross success into the outdoor season, but I don't think anyone saw him completely dominating, including running away from Dungey in every race (that Dungey was in). And now that Dungey's no longer a factor for the season title, it looks like it would be a huge surprise for anyone other than Roczen to take the championship.

And for the 250's, Jeremy Martin has not shown the consistency that was expected, but he has shown flashes of the racing expected of the consensus #1. While maybe an even bigger surprise is that his brother has come out of nowhere to become a title contender. And Savatgy holding the points lead is far from a shock, but if he wins it all then I think there will be very few who can say they expected him to beat Jeremy Martin.




Posted by: SagehenMacGyver47 ::: As always – Feedback welcomed




Previous: Pro MX Outdoor - 2016 Predictions After Week 3 | Back to Blog | Next: