2016 Pro MX Week 7 - By-The-Numbers Recap: Southwick
7/12/2016

What a set of races at the revamped Southwick! Unfortunately the timing system wasn't revamped, with only two segments at the track and no data on what happened in the first segment of Lap 1 for each race. I use the lap times and a few workarounds to build the lap charts, then fix the few inevitable anomalies. But, since I can't find a way to reliably figure out the timing of the first lap, the "anomalies" are pretty much every rider, leaving me with no way to build a lap chart that's correct. Actually, I can go old school and put the AMA Lap Chart into the graph, but doing that takes nearly an hour per lap chart, which is not something I feel like wasting half a day on.

So, my gripes aside, it was four great races on Saturday. I can't remember the last time that all four motos were exciting. It starts with the drama between Eli Tomac and Ken Roczen: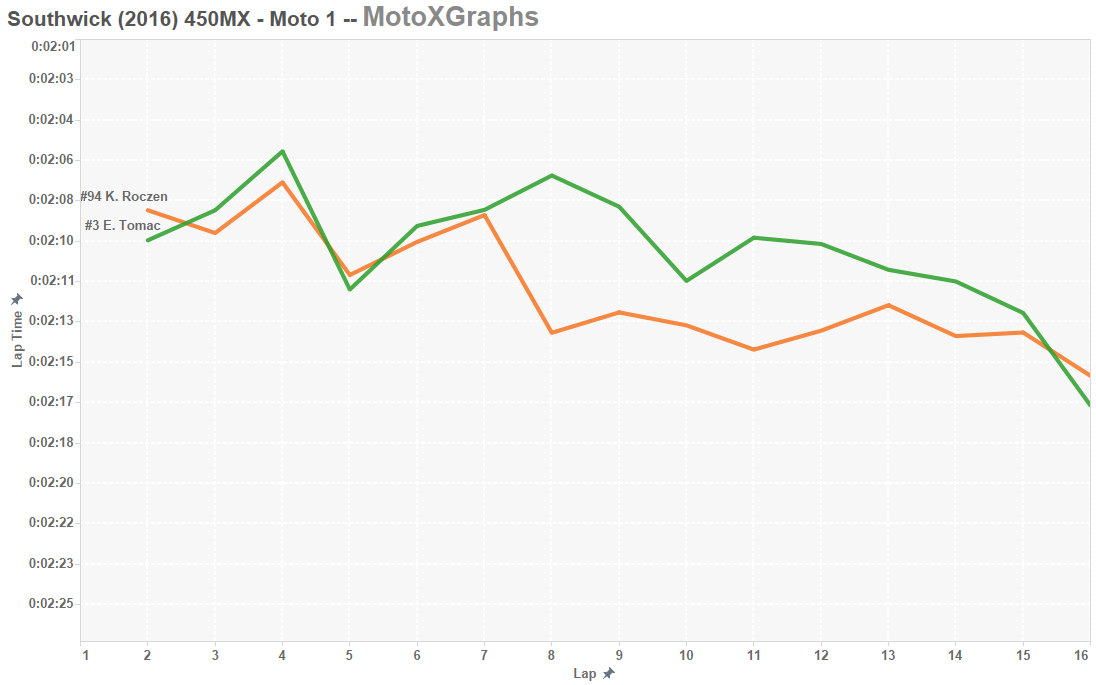 I almost forgot about the special moment in Moto 1, when after going back and forth a bit with Roczen for the first several laps, in Lap 8 Tomac just hit another level, leaving Roczen (and everyone else) in the dust. You can see in the graph above just how well Tomac did to find his speed in the sand, putting in his 2nd and 3rd fastest laptimes in Laps 8 & 9.

In terms of the MotoXGraphs predictions, the #1 and #2 were flipped, but Justin Barcia finally came around and took a podium spot, which makes the Barcia prediction look smart (finally). Hopefully he can keep it up and help make the rest of the 450 season interesting.

In Moto 2, though, was Barcia on the same level as Tomac and Roczen? Perhaps he was spent from having to catch up in Moto 1, after the opening crash sent him and a few other riders to the very back of the pack, but in Moto 2 he wasn't able to run at the same pace as the Top 2: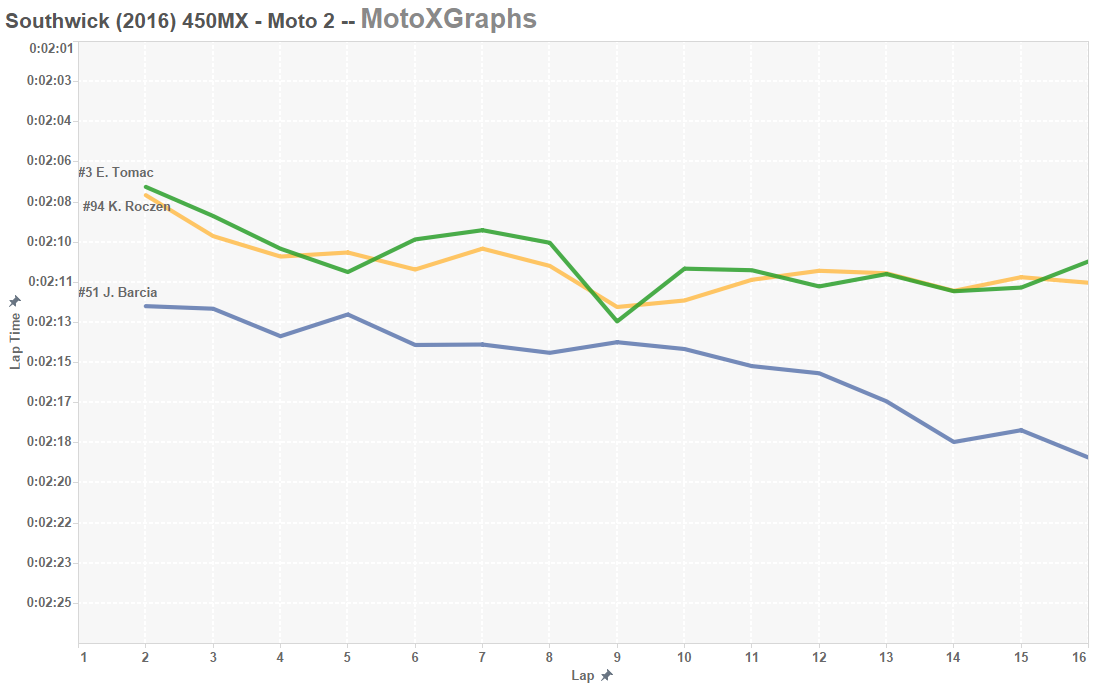 This-Week Predictions for Southwick

The predictions for the week had a lot of close-but-not-quite picks. The top 4 were good, and the top 8 were the correct riders, if rearranged a little bit -- in particular Broc Tickle who couldn't keep the momentum going once he arrived at sandy Southwick: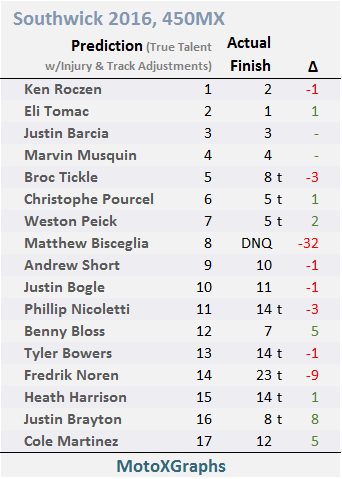 Major misses were Matt Bisceglia, who failed to qualify in the top 36 then couldn't make it cleanly through the LCQ, and Fredrik Noren who had a pair of 20th place finishes. Benny Bloss, Justin Brayton, and Cole Martinez all did much better than predicted, including rookie Bloss's best overall finish yet.

Speaking of Brayton, he was expected to have an unfavorable Track Adjustment (albeit based on data from 2013 and earlier), but instead he finished better at Southwick than his prediction. Justin Bogle was expected to do slightly worse than normal at Southwick, and Andrew Short was expected to do much better -- both of those predictions were correct: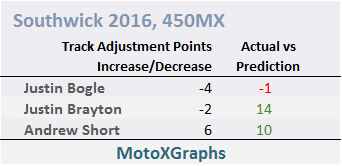 250MX Class

In Moto 1 for the Lites, the laptimes show about what we'd expect: general chaos early until Jeremy Martin pulled away and Cooper Webb rode to a solid 2nd. Webb made a valiant effort for what would have been an amazing comeback, but he ran out of time: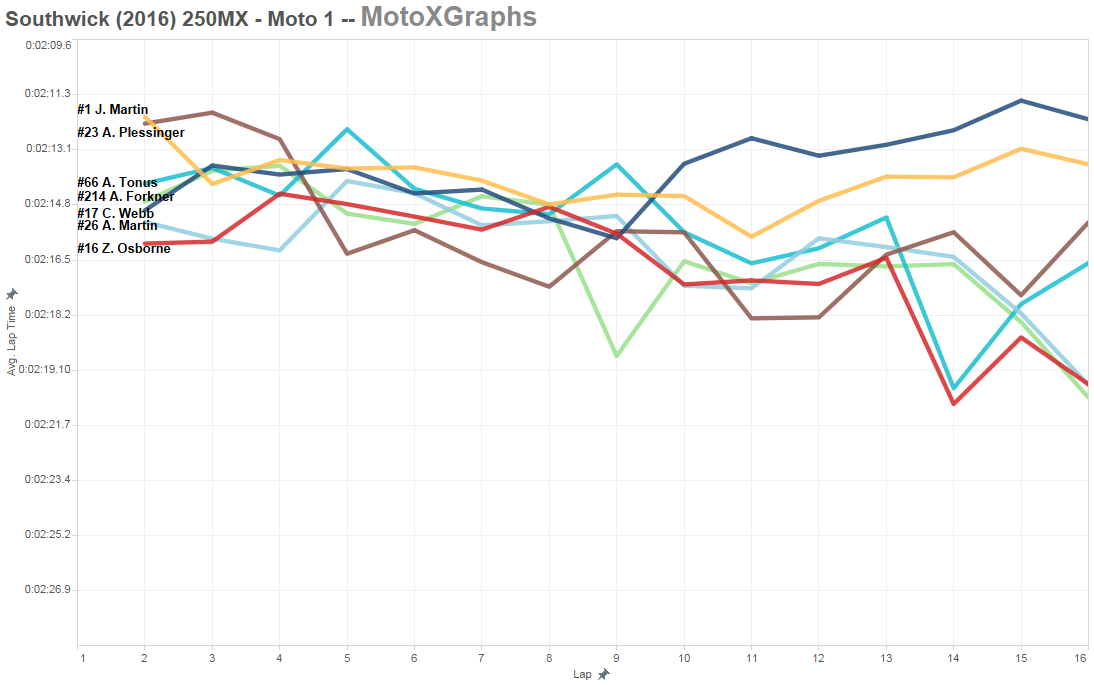 Arnaud Tonus had some very fast laps, and you can see his peaks popping up in Laps 5, 9, & 13 -- leading to his 3rd place finish in Moto 1. After the halfway point, Webb went to his new staple: explode and ride faster in the 2nd half of the race than the 1st. It's just nuts that Laps 10, 11, & 12 were significantly faster than any of his prior laps, then he rode even faster than those laps in Laps 14, 15, & 16! JMart did a little bit of that, but not nearly to the same extent -- maybe he went heavy on the throttle once he learned that Webb was closing on him late in the race.

Moto 2 was a little more normal, save the quick start from Austin Forkner. The rookie challenged Webb for a few laps, then backed off, saying that he realized after a couple laps that he couldn't safely run at that pace much longer -- very astute and mature for the 17 year old.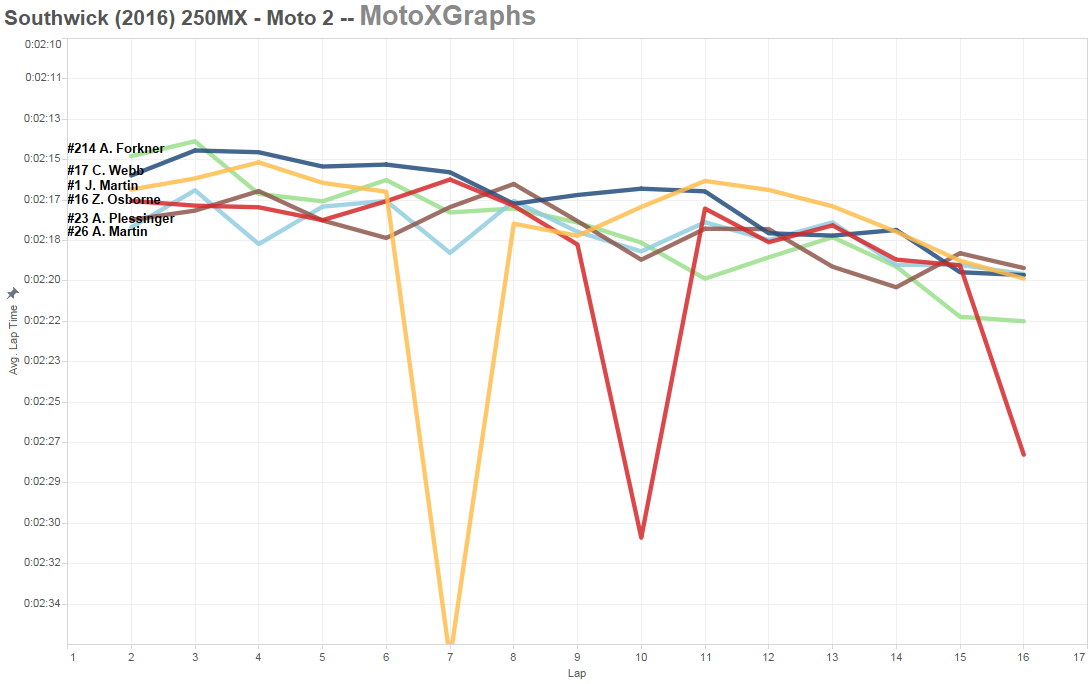 The top riders pictured above were all in the mix, but none of them could run with Webb over the long haul. Zach Osborne matched Webb for a couple laps at 7 & 8, but then crashed, then again ran at one of the faster paces in Laps 11 through 15.

Predictions for the 250 class at Southwick were about par for the course -- not great but not terrible. Like for the 450's, the top 8 riders were just shifted around, with the exception of Tonus, who was a surprise to pretty much everyone, I think: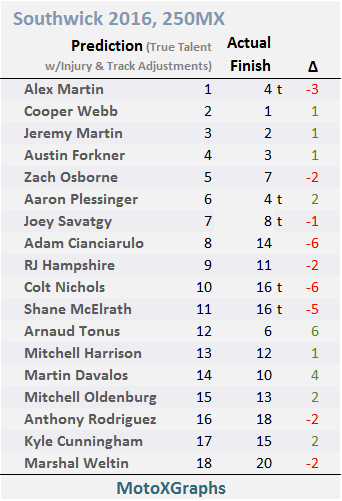 The Track Adjustment for the 250's was also less than great, probably due to being based on data that's so old for riders who are pretty young and very likely much, much different in 2016 than they were in 2013. The only Track Adjustment that was based on more than one year of data was for Alex Martin, who was expected to do much better at Southwick than his results elsewhere, but he only did slightly better: the Track Adjustment expected him to earn 5 more points this weekend than he would at a typical track, but he earned 2 more (his "average" prediction was 32 points but he earned 34).

Southwick definitely delivered, and next week we have something to look forward to in both classes. Can Tomac keep up the speed that put him in the #1 spot? Can anyone track down Webb to bring his points lead back within reach? Only time will tell.






Posted by: SagehenMacGyver47 ::: As always – Feedback welcomed




Previous: Pro MX Outdoor - 2016 Predictions After Week 6 | Back to Blog | Next: Pro MX Outdoor - 2016 Full-Season Predictions After Week 7