2016 Supercross Predictions - 450SX Update going into Week 11 at Detroit
3/18/2016

FULL-SEASON PREDICTIONS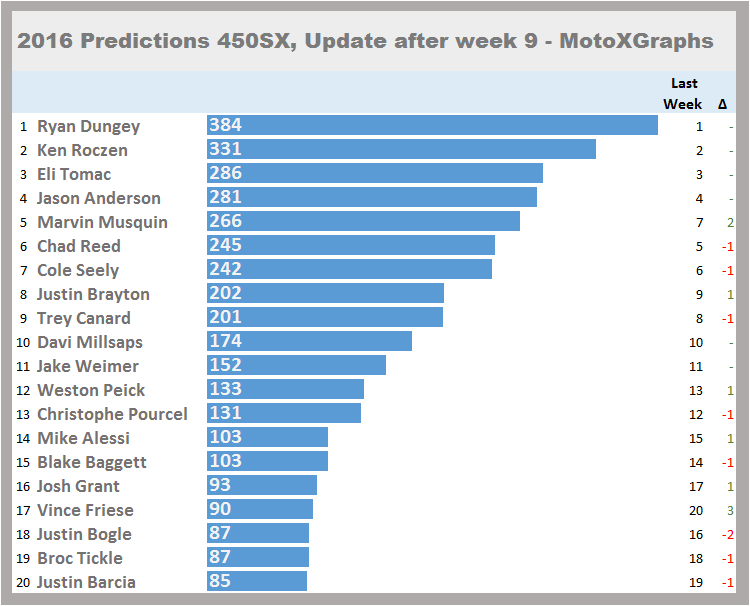 The major mover in this week's predictions is Marvin Musquin, from 7th up to 5th. It took another great result from Musquin combined with a DNF from Chad Reed. Otherwise it's a fairly tame update to the 450SX predictions. Ryan Dungey remains a prohibitive favorite, and for the first time no one falls out of the Top 20 from last week.


Due to that previously mentioned DNF, Chad Reed's full-season score looks more like Cole Seely's than it does like Ken Roczen's, Eli Tomac's, or even Jason Anderson's. What a difference just a couple weeks makes, since Reed used to be projected (predictions after Week 9) within striking distance of Tomac and Anderson.

Vince Friese makes a pretty good move, although in general the points seem tight at the bottom of the Top 20. His 12th at Toronto moved him into 16th in the current real standings and to 17th in our projected final standings.

When we factor in who's dealing with injuries that we're aware of, there aren't big changes for the full-season projections -- just three riders drop in the standings. Chad Reed loses a spot, as do Weston Peick and Blake Baggett: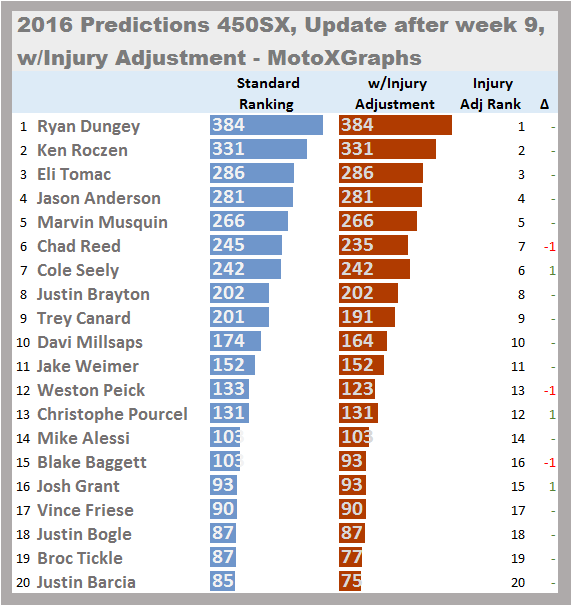 **Keep in mind the "injury adjustment" is more of an indicator that the rider was recently injured than an actual, precise prediction of how that recovery from injury will affect the rider.**



"THIS-WEEK" PREDICTIONS
Last week's
breakdown here
. For Week 11 heading into Detroit, we see the standard top 3 again -- Dungey / Roczen / Tomac -- in the True Talent estimation. Marvin Musquin makes a move in this projection, too. He's now projected as the 4th most talented rider, alhtough his prediction remains volatile since we're dealing with less than a full season of 450SX results for him. As we factor in injuries in the red column, Trey Canard slips down a ranking spot, as does Chad Reed.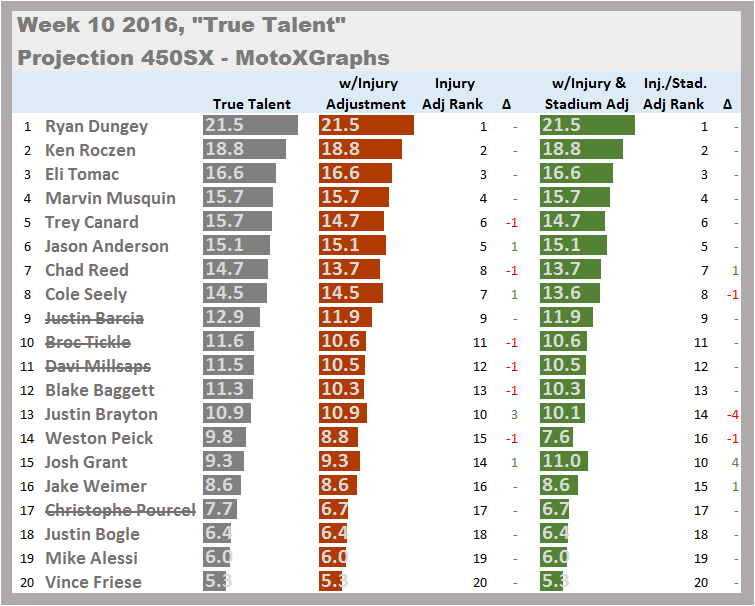 In week two of the Stadium Adjustment, which again is still experimental, notable adjustments are for Weston Peick, who has finished 2.4 spots worse at Ford Field, and Josh Grant, who has finished 3.3 spots better. Ford Field doesn't have much Supercross history--two races--so there's not much to go on. Justin Brayton has finished 1.6 spots worse at Ford Field, and that drops him back below Blake Baggett. But in general these aren't big adjustments and don't have much of an effect. The adjustments that were made only included those riders who had ridden both races at Ford Field, in 2014 and 2015. If we'd included riders with just one race, notable adjustments would have been for Eli Tomac, who won his only race at Ford Field, and for Ken Roczen and Jason Anderson, who finished 20th and 21st, respectively, in their one race. Even if these adjustments were in place, Tomac would only move to #2, not all the way up to #1.







Posted by: SagehenMacGyver47 ::: As always – Feedback welcomed




Previous: Toronto "This-Week" Predictions Review | Back to Blog | Next: 2016 Week 10 - By-The-Numbers Recap: Detroit