2016 Supercross Predictions - 450SX Update going into Week 9 at Daytona
3/4/2016


FULL-SEASON PREDICTIONS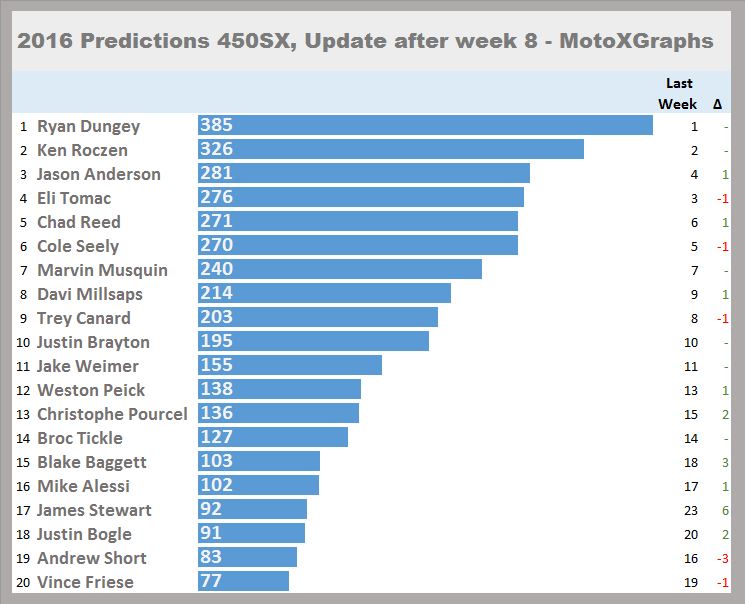 The main change for the 450SX predictions going into Daytona is Jason Anderson sliding in above Eli Tomac. Now that we're nearly halfway through the season, the 2016 performance is weighing heavily enough against the prior seasons, and Tomac's underperformance has caught up to him while Anderson's improvement over 2015 is showing up. Outside of that, Christophe Pourcel continues to creep up, and Blake Baggett gets a bit of a bump since he's supposedly returning at Daytona (per RacerX). Andrew Short drops down some, partly due to the wreck at Atlanta, and partly due to missing the race (presumably) at Daytona, if not more, because of a concussion.


Returning to the rankings is James Stewart, though his 14th in Atlanta didn't make enough of an impact to weigh very heavily against his two DNF's in his other completed races. Having missed so much time, I think the best case for Stewart is to end the season by squeaking into the Top 10. But that would require not only returning to finishing in the Top 10 the rest of the way, but also avoiding injury for the remaining 8 races.

Based on the above, we'll then factor in riders who are dealing with injuries (that we're aware of). Again Eli Tomac is adjusted down (same comment as last week) until he proves that he's 100% over his shoulder surgeries. Some other adjustments are in there, but don't change the rankings much (Trey Canard, Weston Peick (injured wrist), Broc Tickle, James Stewart, and Andrew Short).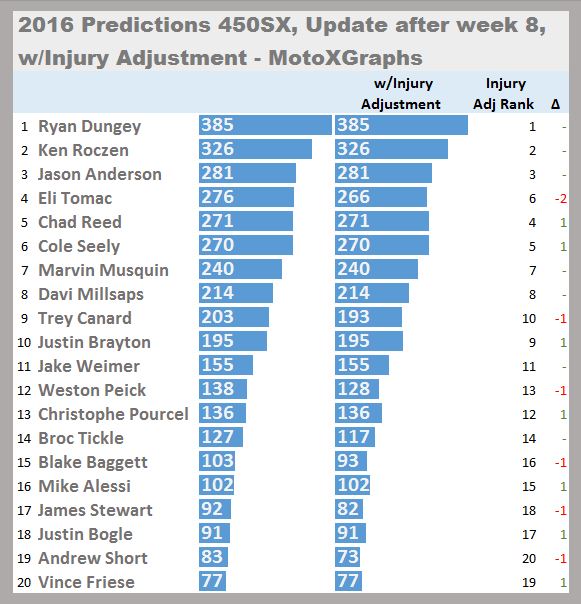 **Keep in mind this is more of an indicator that the rider was recently injured than an actual, precise prediction of how that recovery from injury will affect the rider.**



"THIS-WEEK" PREDICTIONS
Last week's weren't so great -- see the
breakdown here
. Let's move quickly on to this week: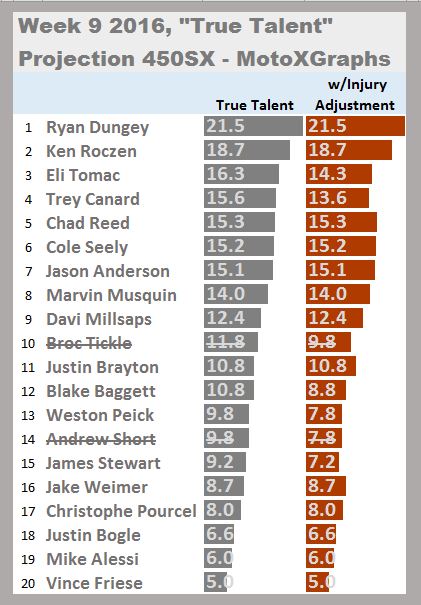 The first thing I notice is that Jason Anderson STILL has not quite passed up Chad Reed and Cole Seely -- they're in a virtual dead heat despite Anderson leading both of them in the actual standings. But then again Reed finished 3rd last week and Anderson finished just ahead of Seely, so maybe I shouldn't be so surprised.



Marvin Musquin, while only 8th/7th in estimated "true talent" (without/with injury adjustment) has not really improved his ranking compared to last week (8th/8th), but he has narrowed the gap between him and the upper riders -- I would say that the rankings see him as a member of this group now (i.e. comparable to Canard/Seely/Anderson rather than a step behind them), as would those judging his performance only with their eyes.

Justin Brayton is projected at 10th/9th (without/with injury adjustment) even though he's finished no lower than 11th while finishing all 8 races so far. So, after a 5th place finish last week, perhaps the numbers are selling him a bit short.




Posted by: SagehenMacGyver47 ::: As always – Feedback welcomed




Previous: Starting Spot vs Finishing Position | Back to Blog | Next: 2016 Supercross Predictions - 450SX Update going into Week 10 at Toronto