2016 Supercross Predictions - 450SX Update going into Week 16 at East Rutherford
4/26/2016

FULL-SEASON PREDICTIONS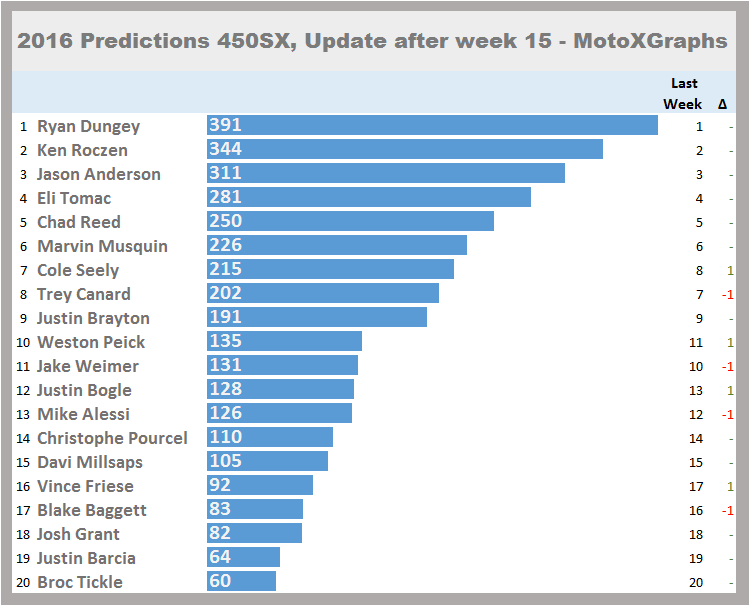 In Massachusetts, Ken Roczen blew past everyone and managed to prolong the title chase for at least one more week. For week 16, though, if Ryan Dungey finishes 13th or higher, Dungey will have at least 26 points more than Roczen, which means that Dungey clinches the 2016 Supercross title. (Roczen's max points after East Rutherford will be 330; Dungey has 348 right now and 8 points for 13th would give him 356.)

With only two races left, the order of riders in the current standings is nearly the same as the predicted final standings. The prediction expects Cole Seely to remain in front of Trey Canard for 7th, based on Seely's successful return last week. Also predicted is that Justin Bogle (currently in 13th) will pass Mike Alessi for 12th. The race for 14th/15th between Davi Millsaps and Christophe Pourcel comes down to whether either of them return from injury -- right now the understanding is Pourcel should be back for at least one of the two final weeks while Millsaps might not. Blake Baggett is expected to pass Josh Grant for 17th, by 1 point. And Justin Barcia and Broc Tickle are predicted to pass Will Hahn for 19th/20th since Hahn is still out with his injury.


When we factor in who's dealing with injuries that we're aware of, the changes again are minor, especially because there are only two weeks left: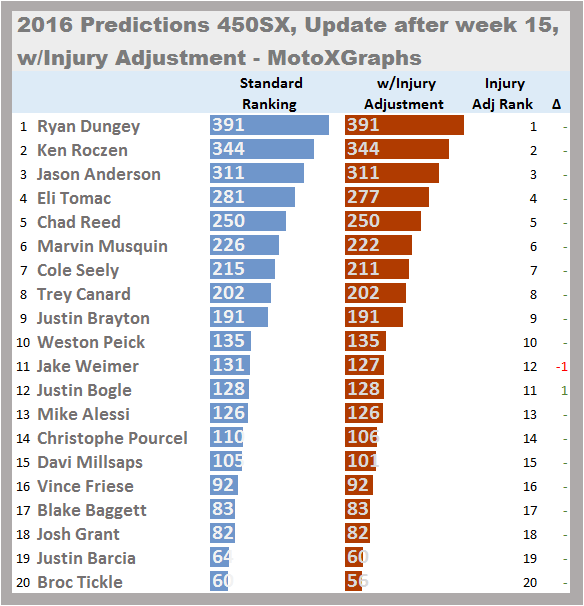 **Keep in mind the "injury adjustment" is more of an indicator that the rider was recently injured than an actual, precise prediction of how that recovery from injury will affect the rider.**

Bogle is expected to nip Weimer for 11th based on Weimer's injury still bothering him. That's speculative, of course, as are all of the injury predictions, but Weimer is only 3 weeks out from a dislocated shoulder.



As for the Location Adjustment, again there were only two of any significance, and they were relatively minor. And, the adjustment had to be derived from other locations, since Foxborough hadn't been used for Supercross in more than 20 years (detailed the adjustment here. So how did it go?






"THIS-WEEK" PREDICTIONS
After we apply the injury and stadium adjustments, Dungey and Roczen are again at the top at 1 and 2. They're followed very closely by Tomac, then Anderson, Canard, and Reed.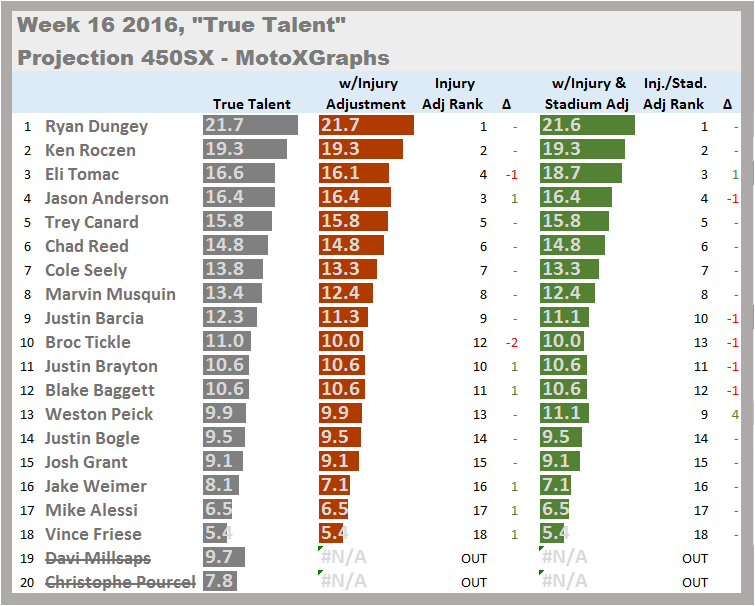 For the Stadium Adjustment, the biggest adjustment is for Eli Tomac, who's finished 1st and 2nd in the two races at MetLife Stadium. Justin Barcia had the biggest negative variance, but the results weren't consistent -- 4th and 20th -- so the adjustment is rather small. But, that small adjustment to Barcia allows Weston Peick to move up to 9th in the prediction, as his results in MetLife Stadium are 10th and 10th, compared to his average finishing place of 12.5 in other venues.

Also interesting will be Benny Bloss, in his second 450 Supercross race - his prediction for this week is similar to last week's, around the low 20's and possibly sneaking in to the upper teens.




Posted by: SagehenMacGyver47 ::: As always – Feedback welcomed




Previous: Foxborough "This-Week" Predictions Review | Back to Blog | Next: 2016 Week 16 - By-The-Numbers Recap: East Rutherford