Short Track: Foxborough "This-Week" Predictions Review
4/26/2016

How did the "This-Week" predictions do for Week 15 in Foxborough? Not a great week, I would say, in terms of total number of spots off. Each of the previous 4 weeks had smaller discrepancies in total than the predictions for Week 15. And, the Foxborough predictions missed the winner as well as Eli Tomac moving up to #2. But, the predicted Top 5 were all actually in the Top 5, with Roczen, Anderson, and Canard off by only one spot: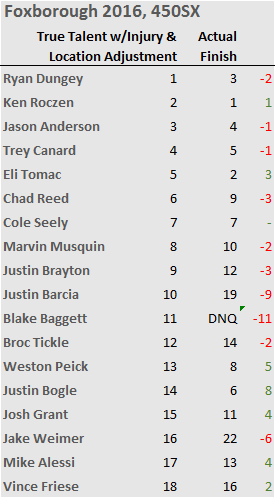 After the Top 5, Bogle was a pretty big miss, since he finished 6th but was predicted 14th (that his prediction was likely to low was addressed here.


#7 was Cole Seely, who was predicted to finish in that spot.
Marving Musquin, Justin Brayton, and Broc Tickle were not too bad, each off by 2 or 3 spots. Justin Barcia and Blake Baggett, though were not nearly as close, but Barcia got caught in a wreck in Lap 3 and Baggett had a bunch of things go wrong for him at every stage up through the LCQ.

And after that, Weston Peick, Josh Grant, and Mike Alessi did much better than their predictions, while Weimer did much worse (because of the aforementioned wreck). And Vince Friese finished 16th, not too far from his prediction in 18th.



As for the Location Adjustment, again there were only two of any significance, and they were relatively minor. And, the adjustment had to be derived from other locations, since Foxborough hadn't been used for Supercross in more than 20 years (detailed the adjustment here. So how did it go?






Brayton was expected to do slightly better than normal (approx. 1.7 spots), but he finished 1 spot worse than his prediction without the location adjustment. Weston Peick was predicted to finish about 1 spot better than his prediction without the location adjustment, and he finished 7 spots better. I'd say this one works out to favor the Location Adjustment, but (like the last two weeks,
Indy
and St. Louis
), it's hard to draw much from that.




Posted by: SagehenMacGyver47 ::: As always – Feedback welcomed




Previous: 2016 Week 15 - By-The-Numbers Recap: Foxborough | Back to Blog | Next: 2016 Supercross Predictions - 450SX Update going into Week 16 at East Rutherford