2016 Week 4 - By-The-Numbers Recap: Oakland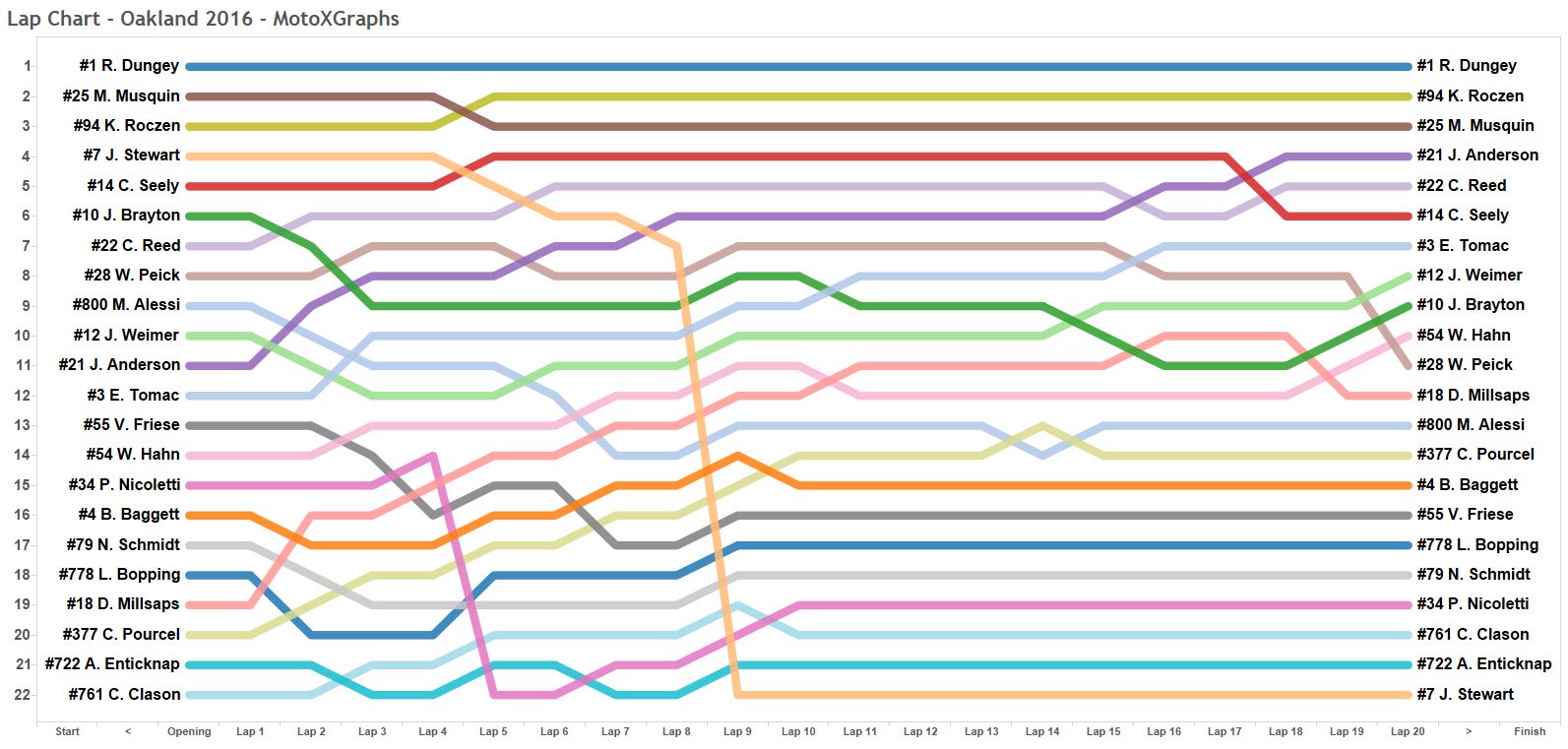 (Lap Times chart at bottom of page)

Many Supercross stories emerged out of the 450SX at Oakland last night, generating enough for us to talk about -- though none of them exactly shocked the airwaves. The biggest story, I think, is that Ryan Dungey not only maintained his chokehold on the season, but he demonstrated again that no one else is even close to his level right now. Not Ken Roczen, which we'll talk about. Neither Jason Anderson -- the only one who's beaten Dungey this season -- nor Chad Reed, arguably the two most impressive non-Dungey riders so far in 2016. And apparently not James Stewart, at least not yet, who we'll also talk about.

Dungey not only cut to the front of the line to get the holeshot, but he kept the lead comfortably the whole way. There's not a lot more to say. A bit more on his numbers below.

Though Roczen had a perfectly good finish in 2nd, some post-race comments from him suggest that he's a bit lost. This hasn't triggered a lot of coverage or conversation, that I've seen (except RacerX mentions it in their recap), but Roczen seems flummoxed by his own inability to match Dungey. Coming into the season, I think it's accurate to say that the conventional wisdom was that if Roczen and Dungey were matched up 1-2 at the top of a race, Roczen was the faster rider and would come out ahead -- Dungey may be more consistent, but Roczen was faster.
Prior to Oakland, Roczen's starts had been to blame: 17th/6th/9th -- each race he's caught up with remarkable pace, but he'd been too far back to really challenge Dungey. But at Oakland, Roczen opened up in 3rd, and after passing Marvin Musquin in Lap 6, all Roczen had to do was catch Dungey. So much for conventional wisdom -- not only could Roczen not catch Dungey, instead Dungey extended his lead slowly but surely throughout the race. Of the first 18 laps, Roczen was only faster than Dungey in two laps -- Lap 4 and Lap 8. All other 16 laps, Dungey had a better time than his closest competitor, Roczen. (I use 18 laps because apparently after Lap 18 Dungey let up a bit, and each of his last two laps were 3 full seconds slower than his average.) Whatever Roczen and others thought about Dungey running away with 2016 before Oakland, they must now be at a loss for how anyone's going to stop him.

Musquin had his best day on the 450, and plenty of stories have and will mention him being "more comfortable" on his bigger bike and finally getting it dialed in, which allowed him to tap into his talent and get the final podium spot at Oakland. This performance will put him back in the range of our preseason prediction for him, 7th overall (he's currently 7th overall in the actual standings right now, too). I'm sure there'll be lots of chatter heading into Glendale next week that Musquin can keep improving (same RacerX story, Musquin talks about how he was riding simple last night, and he hopes he can go faster as he feels more confident and relaxed so he can increase his aggression on the bike) and does Musquin have a shot at getting into the top 3 and/or can he be the one to catch up to Dungey? Let's not overreact to one good race though. Musquin got a good start and followed it up by only being passed by Roczen and not even really being challenged by anyone else -- but we're a ways off from this being the expected performance from Musquin. Remember how the talking heads built up Anderson after one week and Reed after two? Well, that was a bit hasty, as would expecting Musquin to be a week-in-week-out podium winner -- though that would certainly make for a good story if it happens.

Speaking of good stories, Jason Anderson has taken the Supercross by world by storm in 2016, making his name as an aggressive rider, who charged from behind for a runaway win in week 1 and three other races where he's charged from way back in the pack to finish either 4th or 5th. In Oakland, Anderson's first 4 laps were not up to par with the top of the pack. But once he got going, Anderson was faster than Musquin in 10 of the 15 final laps (laps 6, 9, 10, 11, 13, 16, 17, 18, 19, and 20), though 8 of 13 if we toss out 19 and 20 because Musquin may have also been coasting a bit with a large lead over his closest challenger. Anderson had a similar pattern in his win at Anaheim 1, where he came from behind to pass Dungey and the rest, built a comfortable lead, then lost no time to Dungey the rest of the way (recapped here). After starting off 11th, Anderson used those late-charging ways to pass Cole Seely and Reed near the end of the race.

Chad Reed couldn't keep his 2nd-place streak alive, but his 5th-place finish leaves him still 2nd overall in points, tied with Anderson. Unlike Anderson, Reed has moved up very little in each of his races. That's not a knock on him, just interesting. Week 1: started 9th, finished 6th; Week 2: 5th to 2nd; Week 3: 3rd to 2nd; Week 4: 7th to 5th. Part of that is having good to decent starts, though.

Our preseason prediction for Cole Seely was perhaps too low (9th), considering his talent and his solid 2015 450SX season. In Oakland, Seely got passed by Anderson and Reed near the end of the race, and Seely owned up after the race that it was a tough track that wore him down throughout the Main Event. Seely's currently holding on to 5th in the actual standings, with some help from injuries to Trey Canard, Justin Barcia, and James Stewart. Seely now will have to hold off Eli Tomac and Marvin Musquin to keep that 5th-place spot -- though both have seemed streaky this season.

Eli Tomac had a down day, starting poorly again, but this time unable to make up enough ground (whereas in weeks 1 through 3 he managed to climb into 4th). The field is stacked, as has been mentioned by many, so there's no room for error, even if you have Tomac's talent. He's expected by most (us included) to challenge for #1/2/3, but with his highest finish being 4th, he's sitting in 6th overall, facing a 7 point gap between him and 2nd place. Tomac won his Heat race, after starting out 3rd, so once again he had success on the day going into the main event, but he couldn't capitalize to finish off the night.

Jacob Weimer had a reasonably good night, moving up 2 spots from his start to finish in 8th. Four weeks of relatively good racing have him 9th overall. If I had a criticism of Weimer, it would be that his fastest lap was pretty mediocre, only faster than 4 of the other top 16 riders, and not faster than them by much. Still, who am I to criticize since his 2016 has looked much better than his 2015 season (which was holding down his preseason prediction (19th)). Wil Hahn also moved up after the start, gaining 4 spots from his opening position to finish 10th.

On the other hand, Justin Brayton lost 3 spots off his starting position, dropping down to 9th. A reasonably good night for him, as well, with the same criticism that his fastest was still not as fast as most of the others.

Weston Peick started 8th and was fighting to keep that spot throughout the entire race, but then he crashed near the finish. His end result was deemed to be 11th based on all the riders behind him having already been lapped. In the two races that Peick has finished (I think we're all well aware of why he had no official results in Weeks 1 and 2), he has done better than his preseason prediction (18th).

While I imagine Weimer, Brayton, Hahn, and Peick are relatively happy with their 8th through 11th finishes, respectively, Davi Millsaps was considerably lower than expected. He got a particularly bad start, in 19th, then could only make his way back to 12th, although he was knocking on the door to pick up the 9th spot, but that effort resulted in a crash in the final lap. He only put up the 16th best qualifying time. He was 7th in his Heat race, which doesn't look great, though 1 through 5 were Tomac, Stewart, Roczen, Seely, and Anderson. Millsaps did finish 2nd in his Semi race, which looks a little better. Maybe it just gets chalked up to a slightly off day with a bad start (I didn't see or hear if there was any collisions or anything at the start) and losing a couple spots right at the end.

Again, Christophe Pourcel put up a great qualifying time -- 3rd -- then had a mediocre finish in the main event (14th), just behind Mike Alessi. Pourcel now has had a great start (Week 2) where he faded to the middle of the pack, a medium start (Week 3) where he stayed in the middle of the pack, and a bad start (Week 4) where he rose up to the middle of the pack. Maybe that says something. I'd still like to get to the bottom of the fast-qualifying-slow-racing thing, but the best I've heard is that it's related to a lack of endurance, something that might build up over time.

Blake Baggett, in his first race back, finished an underwhelming 15th, including a DNF in his Heat and a slim 4th place finish in his Semi. Overall, his top speed wasn't there, based on his poor fastest lap, but I think we all expect that to improve as he gets a few races under him.

Last but not least, some big news was that James Stewart officially returned to action. He started the day effectively, with the 6th-fastest qualifying lap, then was in 1st for most of his Heat race, until Tomac nipped him at the end by putting up the heat's fastest lap. In the main event, Stewart's first 4 laps were going just fine after starting in 4th. His times were not great, as he was losing ground on Dungey, Musquin, and Roczen, but not bad either, as he was keeping pace with Seely and Reed who were right behind him.
His fifth lap, though was a full second slower than his fourth, and his sixth another second and a half slower than that. He improved a little in Lap 7, but Stewart's Lap 8 was another full second slower than his previous worst lap, and at that point he chose to exit the race. The good news is that for most of the day he looked back to normal -- at least from a distance. The bad news, obviously, was that he didn't feel right (later released that he had "blurred vision") -- and on paper also didn't look right -- causing further concern.

So, what did we learn? Dungey proved again that as good as we thought he was, we might have been underestimating him. Roczen put up another good race, looking more like the #2 overall than either Reed or Anderson, who currently sit tied for 2nd. Musquin gave his supporters confidence that he can compete at the top and put up a solid podium race. Tomac and Seely both slipped, I'd say, and while having Stewart back in competition was a moral victory, we're still left wondering if Bubba can return to form -- or if he's willing and able to return at all.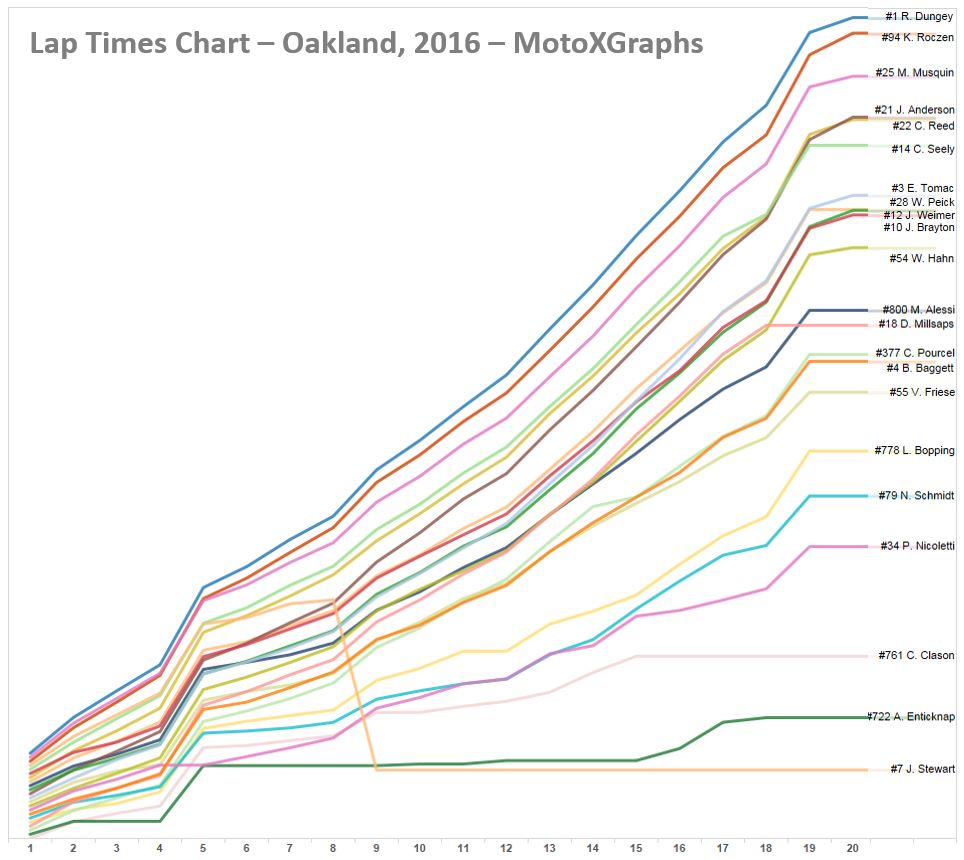 Posted by: SagehenMacGyver47 ::: As always – Feedback welcomed
Previous: 2016 Supercross Predictions - 450SX Update after week 3 at A2 | Back to Blog | Next: Rider Profile: Eli Tomac – Can he rebound again?