Pro MX Outdoor - 2016 Full-Season Predictions After Week 11
8/24/2016

Last week of the season, heading to Ironman! Most of the spots are locked up, notably 1st, 2nd, and 3rd. Well, if Marvin Musquin earns zero points and Justin Barcia wins both motos, then Barcia could take over 3rd, but I think that's a remote enough possibility that we can consider the top 4 spots solidified.

450MX CLASS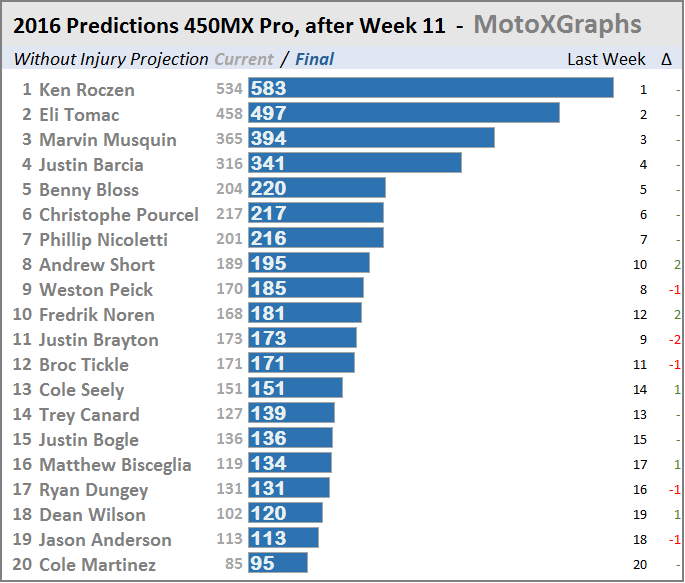 So what spots are still in contention?
5th - The one getting the most attention is the final spot in the Top 5. Christophe Pourcel still holds the points lead, but Benny Bloss and Phil Nicoletti are within 14 and 17 points, respectively, of taking over 5th. And since Pourcel isn't riding due to injury, it's very likely that one of Bloss or Nicoletti (or others -- see below) will overtake Pourcel: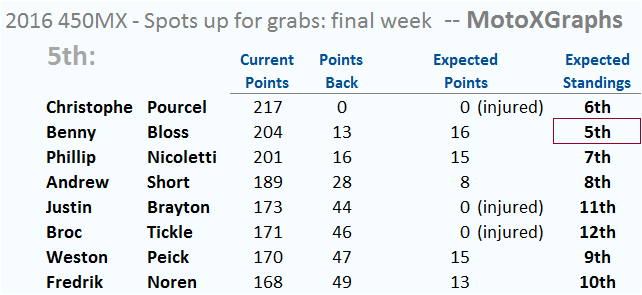 9th/10th - the last two spots in the Top 10 are definitely still open. In 9th is Justin Brayton and 2 points behind him, in 10th, is Broc Tickle -- both of whom are injured. Trailing Tickle is Weston Peick, by 1 point, and Fredrik Noren, by 3 points. The other 4 riders within 50 points of Tickle are all injured (Cole Seely, Justin Bogle, Ryan Dungey, and Trey Canard (if Canard does return for Ironman, he would need 2 moto wins to move into 10th)). This leaves Peick and Noren as shoe-ins for the Top 10, barring something drastic: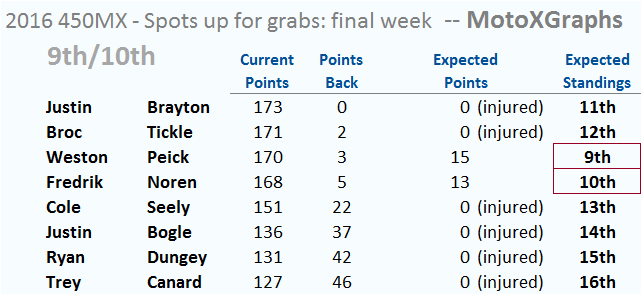 The last one I see that's of interest is Matt Bisceglia, currently in 17th. He could reach the 13th, but he would need 32 points to tie Seely (inactive), meaning Bisceglia would need to finish in the Top 5 at Ironman. More likely would be a move into 14th -- which sounds a lot better than 17th -- with Bisceglia getting 17 points this week to pass injured Bogle. Bisceglia would also pass inured Dungey and Canard along the way. Getting 18 points to take sole possession of 14th just means an average finish of 12th, which is very plausible for Bisceglia, who has finished 9 / 10 / 9 / 12 the last 4 motos. However, the predictions only have him earning 16 points (gulp) this week, so he's just shy of 14th.






250MX CLASS

In the Lites class other than Cooper Webb at #1, the rest of the Top 5 is technically still open. Joey Savatgy is 23 points back of Alex Martin in 2nd. Austin Forkner is another 30 points back from Savatgy. Aaron Plessinger is 8 points back of the injured Justin Martin for 5th, and only another 10 points back of Forkner.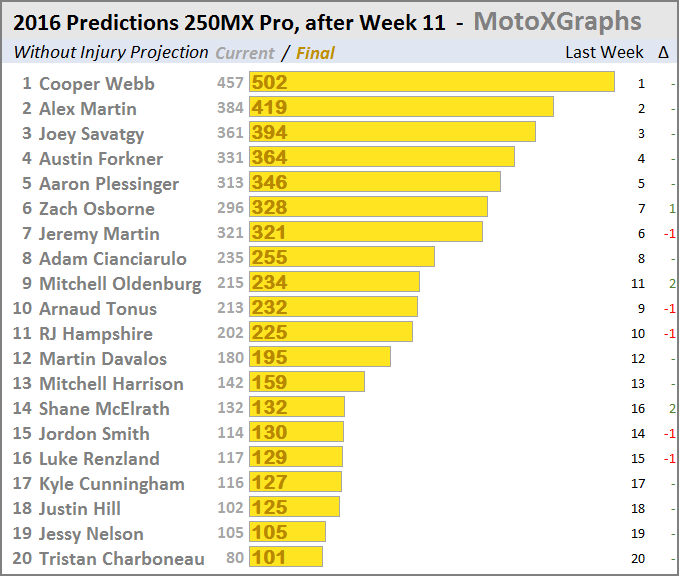 So, even though the champions are decided, there's still some fame and fortune to be had, so that some of these riders can say "I was Top ___ last year".







Posted by: SagehenMacGyver47 ::: As always – Feedback welcomed




Previous: Budds Creek Predictions Review | Back to Blog | Next: Pro MX Outdoor - 2016 Ironman Predictions