Pro MX Outdoor - 2016 Ironman Predictions
8/25/2016

"THIS-WEEK" PREDICTIONS
Who's got the talent and primed to win in Week 12 at Ironman? The "This-Week" rankings look at the rider's perceived ability (aka "true talent") as well as injuries and the rider's history at the upcoming track.

Here are the predictions for the 450 class this weekend -- one last time: same Top 3 of Ken Roczen, Eli Tomac, and Marvin Musquin. Justin Barcia is in 4th again, but a big surprise (at least to me) at #5 -- Justin Anderson is actually going to return for the final week's races (he'll figure in at 6th after the injury adjustment). Dean Wilson is also right there, but then a fairly large gap down to Benny Bloss, Phil Nicoletti, Weston Peick, and Matt Bisceglia, rounding out the Top 10.

As detailed here, some spots are still up for grabs, notably 5th, with Bloss and Nicoletti having the best shot at moving up and finishing the season in the Top 5.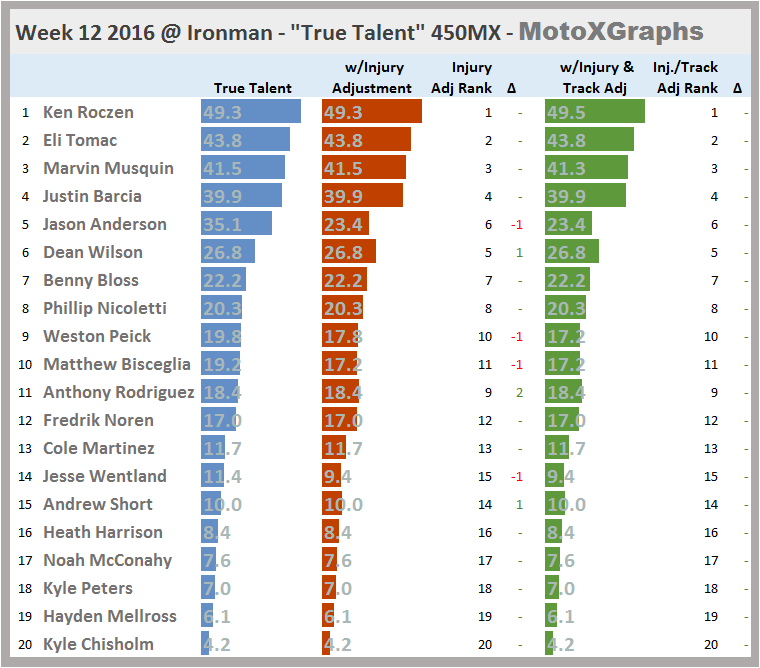 No major track adjustments, partly because Ironman has only been part of the Outdoor Nationals for two years so far. Ken Roczen, though, finished 1st and 2nd in 2014 and 2015, so he seems to like the track. Weston Peick finished 11th in '14 and 40th (DNF, I assume) in '15, so something to watch for there -- he certainly has not had good luck with the track so far.

Here are the predictions for the 250 class at Ironman: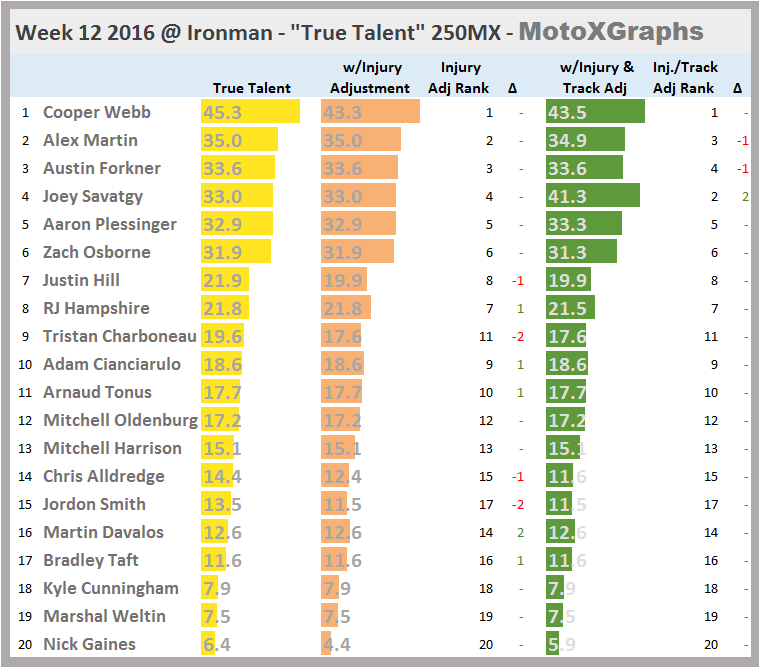 The interesting development here, I think, is Austin Forkner in 3rd (he was predicted 4th last week). But, if you apply the track adjustment -- albeit with only 2 seasons' worth of data -- Joey Savatgy moves up from 4th to 2nd, based on his finishing 2nd overall in both tries at Ironman. Justin Hill also moves up, in 7th this week compared to 11th last week. He hasn't finished any moto lower than 10th since returning from injury -- but his pre-injury results are/were still weighing him down since he finished 21st, 13th, and 17th in his 3 motos before the one where he was injured.

It seems like only yesterday that most people had Ryan Dungey pegged as pre-season number 1 (us included) and had Jeremy Martin running away with the Lites class (us included). But now, here we are, about to wrap it up with the supposed #2 guy in each class already having clinched the title -- after blowing away the competition. So let's see two last motos for 2016, then we can recap it what all happened as the season went along.







Posted by: SagehenMacGyver47 ::: As always – Feedback welcomed




Previous: Pro MX Outdoor - 2016 Full-Season Predictions After Week 11 | Back to Blog | Next: 2016 Pro MX Week 12 - By-The-Numbers Recap: Ironman