Supercross 2017 Predictions -- Update After Week 1
1/11/2017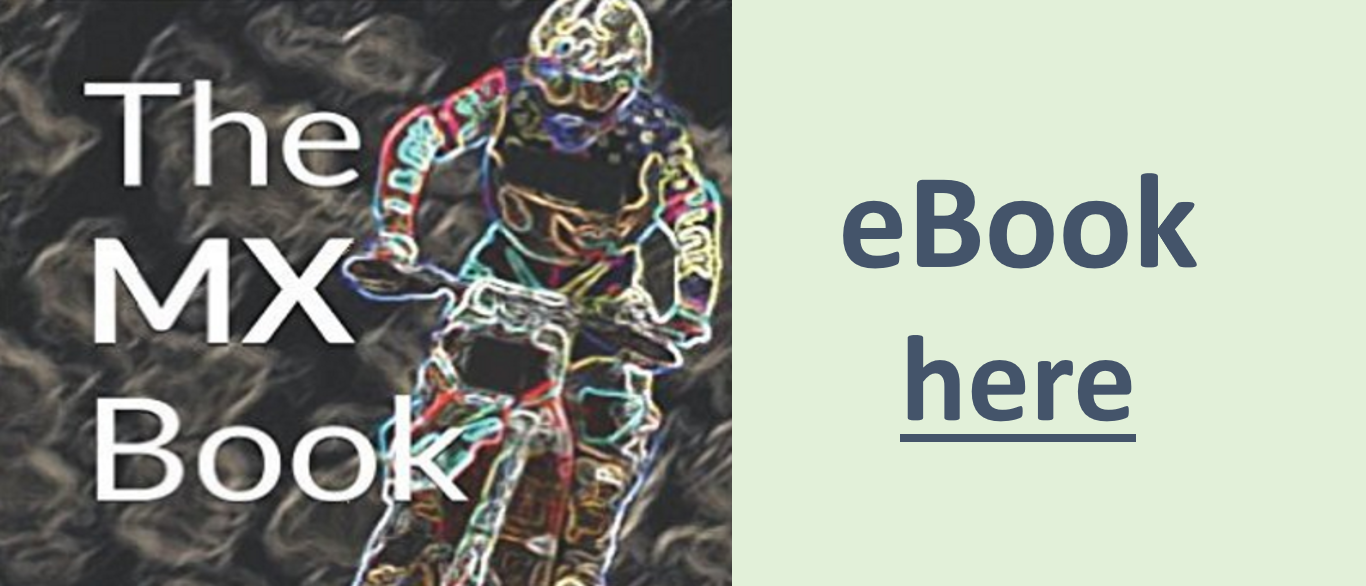 Now that a race is on the books for 2017, what's changed in the predictions? At the top, things look pretty much the same, but there are a few big risers and big decliners.

SEASON PREDICTIONS
With his win at Anaheim 1, Ken Roczen extends his predicted lead over 2nd place from 16 points to 22 points: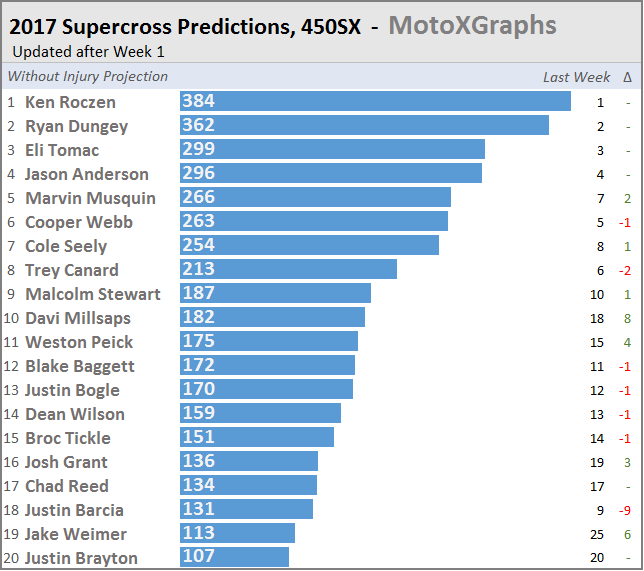 While it seems like Roczen is heads and tails above the field right now, the prediction reminds us that it's a long season where anything can happen -- and we've only seen 1 race. Ryan Dungey also gains ground on the riders behind him -- Eli Tomac (3rd) and Jason Anderson (4th) who are nearly in a dead heat.

Marvin Musquin jumps a couple spots by virtue of his 3rd place at A1. On the other hand, Trey Canard drops 2 spots due to getting only 1 point at Anaheim 1, plus he'll miss the upcoming race in San Diego.

The biggest riser is Davi Millsaps, who finished 7th at A1 and picks up 8 spots, moving from 18th to 10th. This is probably a little bit of an overreaction by the model to 1 result from Millsaps -- he doesn't have any results from 2014 or from the 2016 MX season, so his numbers are more heavily affected by 1 week of data. However, Millsaps has been riding through various injuries in his recent seasons, so if he stays healthy maybe we do see a return to consistent Top 10 form for him.

Josh Grant moves up just 3 spots, from 19th to 16th. As a 29 year old, his age adjustment is holding his prediction down quite a bit. Without the adjustment, he'd rank 13th. I think he's still a wildcard since in any week, you wouldn't be totally surprised if he beat any of Weston Peick, Justin Bogle, Dean Wilson, or Broc Tickle, for instance -- and if he beats all of them he'll be in the Top 10 like at A1.

Chad Reed holds steady in 17th despite his crash at Anaheim. Part of this is because Christophe Pourcel dropped from above Reed, in 16th, out of the Top 20 with his DNQ (not making the Main Event is clearly not good for the ranking). Also, Justin Barcia takes a major hit from his injury, missing what looks like at least 4 weeks, dropping him to 18th. In addition, Barcia's results haven't been there (as discussed in the original prediction) in recent supercross seasons: no higher than 10th in 2016, and in 2015 he had a 4th and two 6th place finishes, but also a 20th and a 16th. Maybe Barcia returns healthy and stays that way, and while other riders succumb to injury, he would easily surpass the current predicted spot of 18th (as you can see in the chart below).

After factoring in riders dealing with injuries as well as projecting future injuries, a few more things change in the predictions below. The projections based on his injury history do NOT like Millsaps's chances of staying healthy, dropping him back out of the Top 10 to 16th.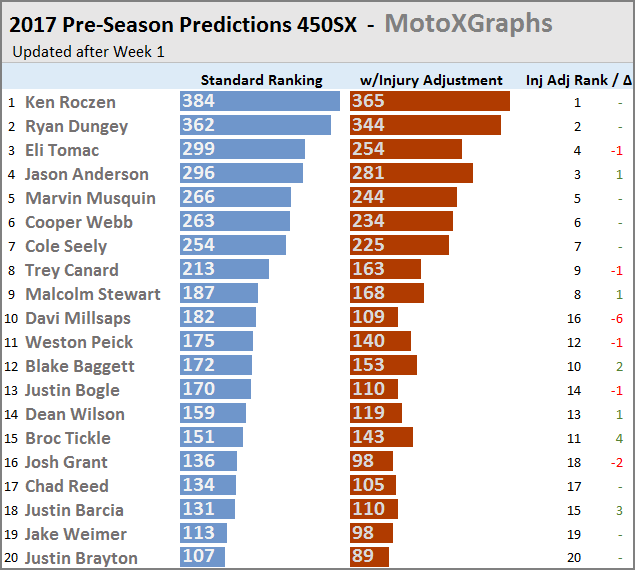 Grant also gets docked a few spots. Tickle improves his projected standing from 15th to 11th, which has been something -- prior to 2016 -- that he has been good at: staying healthy. Also of note, Anderson slides in front of Tomac for 3rd, as Anderson has had a pretty clean injury history while Tomac's history is not as good.







Posted by: SagehenMacGyver47 ::: As always – Feedback welcomed




Previous: Anaheim 1 2017 -- Predictions Review | Back to Blog | Next: Supercross "This Week" Predictions -- San Diego 2017