Supercross 2017 Predictions -- Update After Week 2
1/18/2017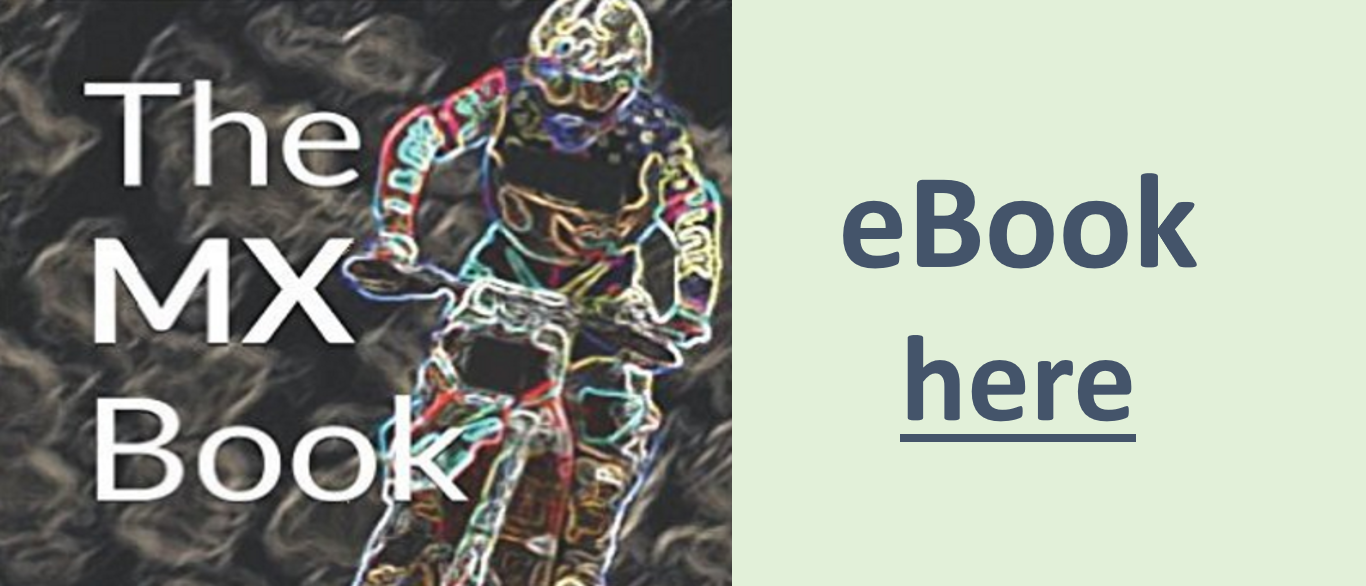 Twice as much data from 2017 compared to last week's update, what's changed in the predictions? At the top, most notably the gap between Ken Roczen and Ryan Dungey shrinks slightly, while Eli Tomac loses a couple spots, somewhat predictably.

SEASON PREDICTIONS
By nearly matching Roczen's laptimes at Petco, Dungey evens things out slightly in the race for #1: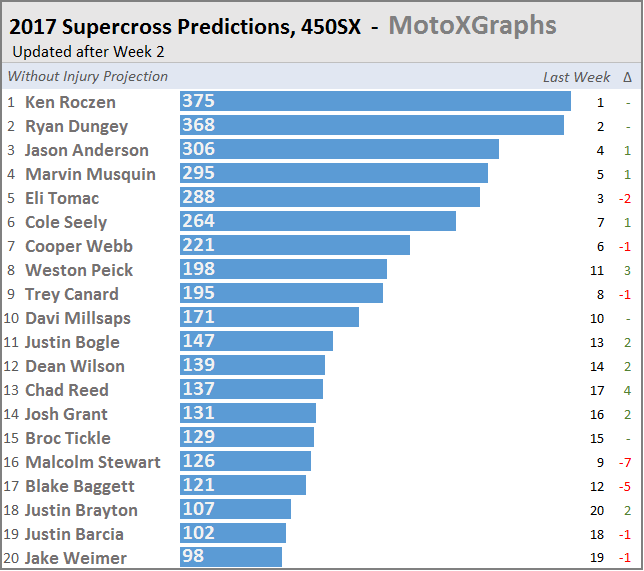 Despite two 3rd place finishes, Marvin Musquin can't quite get his prediction to top that of Jason Anderson's -- still trailing in the updated prediction by 11 points. One problem is that Musquin finished 2016 Supercross on a sour note (detailed in the original 2017 prediction). The other issue is that Anderson is a couple years younger than Musquin, and the model expects Anderson to improve more as the season goes along. Right now, Musquin has been 2 tenths of a second faster per lap that Anderson in 2017. That's a small margin, and not enough to overcome the negative aspects holding Musquin's projection down.

The least surprising change is Tomac falling behind Anderson and Musquin. Tomac has been about a half second slower than Anderson/Musquin in 2017, and essentially the same speed as Cole Seely, who's predicted in 6th.

After Seely, no one else is particularly close in predicted points -- that's because no one has been nearly as fast. Weston Peick and Davi Millsaps have been about a half second slower than Seely, per lap, and after that the next closest are Chad Reed and Josh Grant, another half second behind.

Cooper Webb still holds a ranking better than his results, in 7th, due almost entirely to his young age and therefore expected improvement. As mentioned in the San Diego Predictions Review, the hope for Webb is that he can follow Musquin's example from 2016 where Musquin started 14th, 9th, and 9th but managed to put in several podium finishes later in the season.

- Weston Peick has looked very good, considering his pre-season prediction was 15th. He seems to have returned to 2015 form, shaking off a subpar 2016.
- Malcolm Stewart drops way down, but that's mostly because he didn't ride at San Diego -- at the time of last week's full-season predictions, it was unknown whether he would ride that week. The prediction doesn't really take into account that he would probably be rusty on his return--compared to his competitors who've had a couple weeks to get their bodies/bikes re-adjusted to racing--so adjust for yourself as to the effect on him from that.
- Blake Baggett finished 20th at Petco, knocking him down several spots in a field that's very crowded in 11th through 17th.
- Christophe Pourcel, with repeated no-shows in the Main Event, falls out of the Top 20 (to #21).
- It's odd to see Jake Weimer in 20th, which seems crazy-low, but who should he be above -- Justin Barcia? Justin Brayton, Blake Baggett, or Broc Tickle? I think the issue is just that there's a logjam pretty much the entire ranking below 10th.

Injury Adjustment
After factoring in riders dealing with injuries as well as projecting future injuries, a few more things change. Again, the projections based on his injury history do NOT like the recent injury history of Millsaps, dropping him back out of the Top 10 to 15th.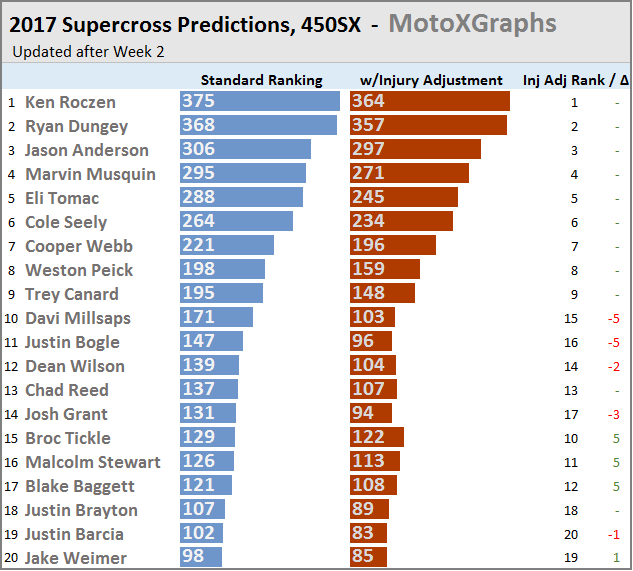 With the field so crowded outside the Top 10, several riders lose or gain multiple spots. This early in the season, it's very much a toss-up when we're talking about a difference of 26 points separating 11th from 17th before the injury adjustment. It will be interesting to see if Tickle and Baggett do make their way back up to (or close to) the Top 10 by staying healthy as suggested by the predictions with the injury adjustments.

So, back to Anaheim, where the top 2 will square off again, Marvin Musquin will get a chance to prove he truly belongs at #3, and Eli Tomac can try to salvage a season that sees any chance at contending for #1 slipping away quickly. Oh, and Malcolm Stewart should be there.







Posted by: SagehenMacGyver47 ::: As always – Feedback welcomed




Previous: Supercross 2017: San Diego -- Predictions Review | Back to Blog | Next: Supercross "This Week" Predictions -- Anaheim 2 2017