2017 Supercross Week 1 -- By-The-Numbers Recap: Anaheim 1
1/8/2017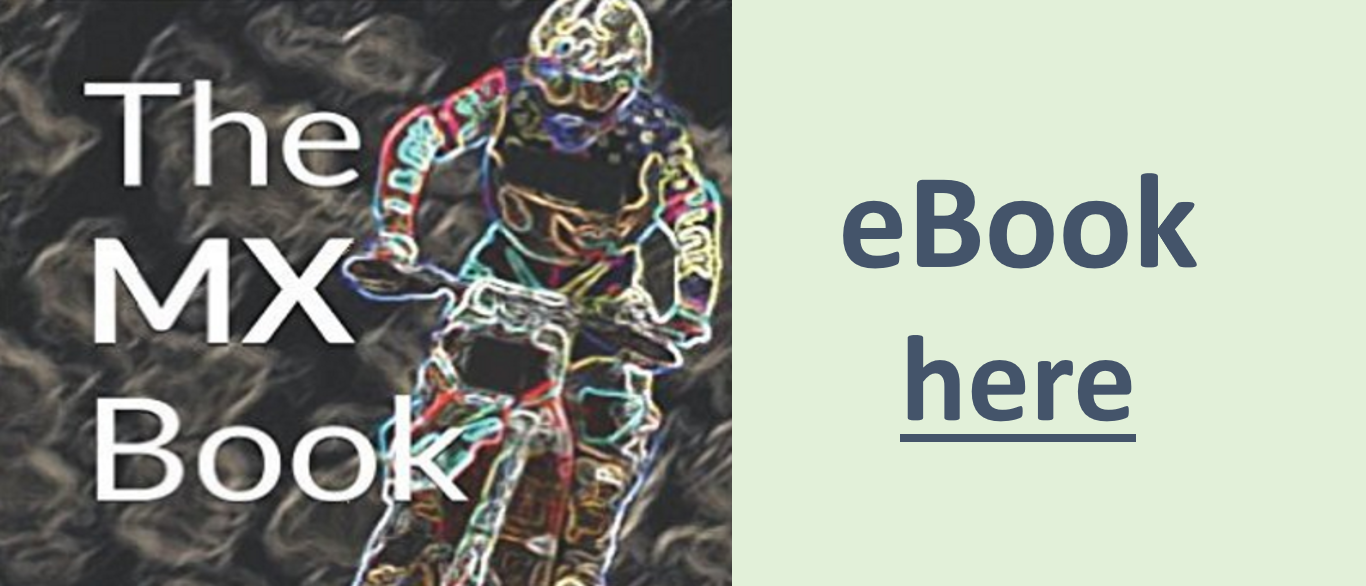 The buildup, the race, and now the dust settles after Anaheim 1. Ken Roczen looked sharp from the get go -- remember, he doesn't go 100% in the qualifying laps unless he has to, so qualifying 5th was just an illusion. From the beginning of the Heat races through the end of the Main Event, the fear has come true: Roczen looks unstoppable.

LAP CHART
(Note: now interactive, so hover over the lines to see the Rider/Lap/Position.)


450MX Class
Since Roczen took off without a challenge from the pack (still auto-fill, continuing from the MX Outdoor recaps), let's look at what else went down.

Eli Tomac looked to have some real speed in qualifying (2nd) and his Heat race (1st), leading up through the beginning of the Main Event, where he was 3rd in the opening section, behind Roczen and then Marvin Musquin. Tomac quickly pulled ahead of Musquin and looked like he might run away with 2nd, even if he couldn't catch up to Roczen.
**Update: RacerX reported that Tomac suffered from arm pump, which hasn't bothered him in the past.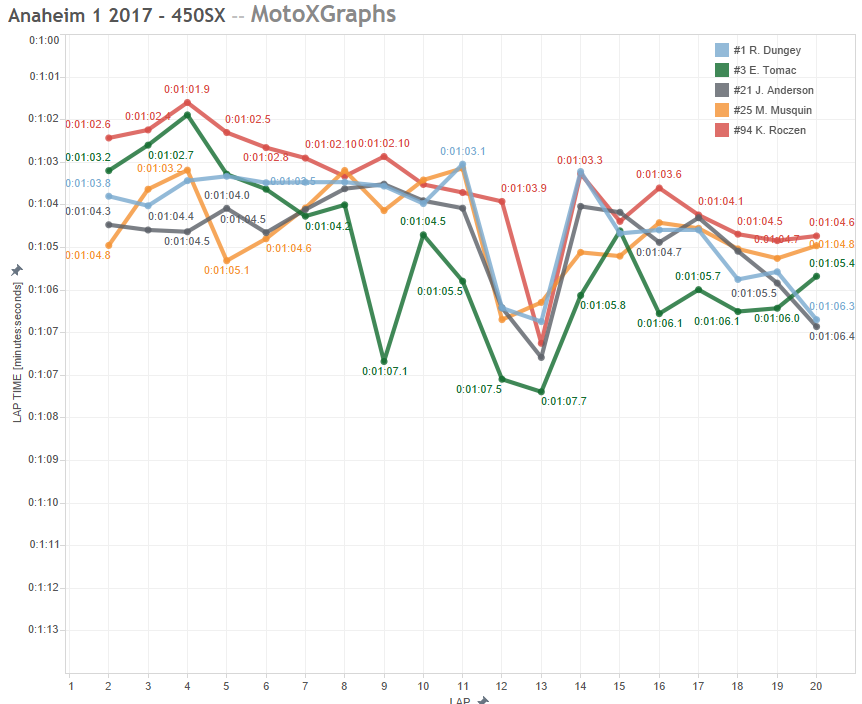 But then something happened. As you can see in that chart, Tomac was the fastest non-Roczen rider through Lap 5, until he slowed noticeably. After that, he was the slower than the other guys from the Top 5 in nearly every lap. In the Anaheim preview, it was noted that Tomac hasn't fared particularly well at Angels Stadium so maybe there's something to the Track Adjustment for him, or maybe it was a coincidence and/or something mechanical. Perhaps the takeaway from a frustrating night for Tomac is that for a good part of the night he did look like he was much faster than everyone out there (except Roczen).

Chad Reed had high hopes, although the predictions for 2017 and for Anaheim weren't fond of his prospects. He's defied the effects of aging so far in his career (and in the predictions), so maybe his outlier status would continue into 2017. He looked good but not great leading up to the Main Event (qualified 8th, 3rd in Heat) and was riding between 9th and 10th before apparently getting tangled up with Weston Peick in Lap 13, ending Reed's night on a downer (DNF in 21st) with a mechanical.

Baker's Boys
Marvin Musquin had an encouraging offseason, including a head-to-head victory against teammate Ryan Dungey at Red Bull Straight Rhythm. While the MXG predictions put Musquin near the Top 5 (in 7th), he was far behind Dungey (predicted in 2nd). Musquin backed up his promising offseason by logging the fastest qualifying time and finishing 3nd in his Heat race (albeit behind Dungey). Things looked even more encouraging when Musquin nearly took the holeshot in the Main Event and was battling Tomac for 2nd.

Then reality struck, as Tomac pulled away, and in Lap 5, Dungey caught Musquin, passing him with relative ease. Later on, Musquin would catch back up to Tomac, meaning Musquin finished 3rd, which is hardly a disappointment. But if those in the Musquin camp thought he could rival Roczen or Dungey, they have to be a little anxious about what looked like those two still being on another level once push came to shove. Still, in both last year's Supercross and Motocross seasons, Musquin improved quite a bit as the year went along -- it's a long season and he's only been on the 450 for just over a year -- so there still could be improvement on the way.

But Musquin still has to watch out for 4th place finisher and training partner Jason Anderson, who turned a 14th place position at the opening section into a 4th place finish. For Anderson, the race went exactly according to his style -- come roaring from the back of the pack -- but although he made short work of very good riders like Tomac and Cole Seely, he couldn't get closer than a few seconds behind Musquin, finishing 6 seconds back.

Seely's Bandwagon
Cole Seely had been impressing in his workouts leading up to Anaheim, (enough that Steve Matthes was sold yet was apparently told to join the bandwagon), and he looked quite good in qualifying (3rd). While he just made it through is Heat race in 4th, he spent most of the Main Event in 5th and 6th, ending up in 6th (ahem, where he was predicted once the Track Adjustment was included). Good news for Seely was that he didn't just get a good start and hold on (well, sort of good news -- I mean, I'm sure he'd rather have had a good start). He opened up in 9th and had to make some passes to get up to 5th (falling to 6th when Anderson blew by).


The Rookie Webb
In Cooper Webb's 450SX debut (well, his debut for this series, as he's ridden some 450 Supercross before), he looked a bit tentative, even a bit off. Understandable if you're a tad uneasy trying to corner at full speed on a bike that's still not 100% familiar -- while riding against the very best of the best. He qualified in 13th, and needed to go through his Semi race to make the final. Starting off in 12th position after the opening section, he dropped to 13th but eventually made his way up to the #10 spot. The numbers see better finishes in Webb's future, but it's apparent that even once he gets his confidence on the 450, getting into the Top 5 rather than the Top 10 is no small feat.

I wondered if Webb recovered a bit as the race went along, partly as he got comfortable on the bike and partly because he's been a strong finisher in his 250 races. But, as you can see, though he held his speed relatively well, at no point does he really get to the same speed as the Top 5 riders: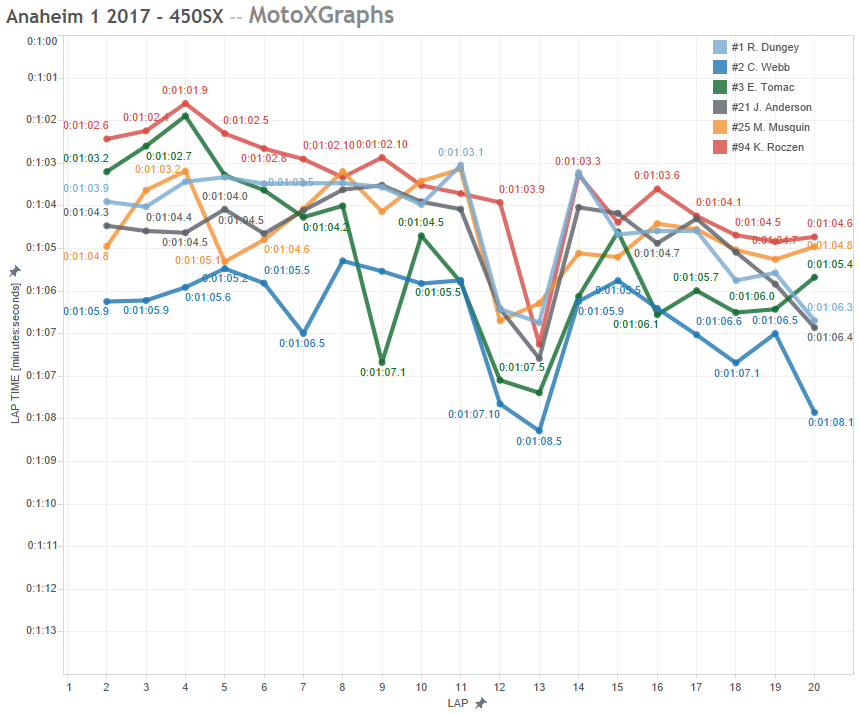 He approaches Tomac's speed a few times, but being as fast as Tomac when Tomac is getting passed is not exactly a commendable accomplishment. Still, you'd expect that Webb improves over the next few weeks as he adjusts to the bike and the competition, so his prediction in the Top 5 is still plausible.

Others
- Blake Baggett had many taking note of his offseason speed while prepping for A1, and he looked good with a 6th in qualifying and 2nd in his Heat race, but an opening section position of 5th was ruined by a Lap 2 crash.
- Broc Tickle had a bad start (18th) yet made his way to 12th -- about where you'd expect him to finish -- but had some problem in Lap 16 as he dropped by to #16, where he finished.
- Dean Wilson, in privateer mode, had a similar story, starting dead last, making his way to 9th (impressive) but then fell back to 13th due to a crash (presumably) in Lap 10.
- Josh Grant wasn't favored by the predictions (20th, partly because of a poor history at Angel Stadium), and that almost came to pass as he had to go through the LCQ to make the final. But he recovered nicely with a 9th place finish in the Main Event. Grant has a lot of unknowns -- he's still a young rider, and as mentioned in the predictions, a consistent factory ride might be enough to land him closer to the Top 10 than to the lower teens.

A1's done. The bikes are back in action and the dirt was flying. The months of hype are all over, and now the riding can do the talking. The MXG predictions will be updated by Tuesday, and having real lap time data from 2017 can cause some major swings. Heading into San Diego, Roczen will be favored by even more (haven't done the numbers yet, but I'd think so), and everybody else will be trying to crank up their speed and give him a true challenge. Can they? Well, there's only one way to find out.







Posted by: SagehenMacGyver47 ::: As always – Feedback welcomed




Previous: Supercross "This Week" Predictions -- Anaheim 1 2017 | Back to Blog | Next: Anaheim 1 2017 -- Predictions Review