2017 Supercross Week 2 -- By-The-Numbers Recap: San Diego
1/15/2017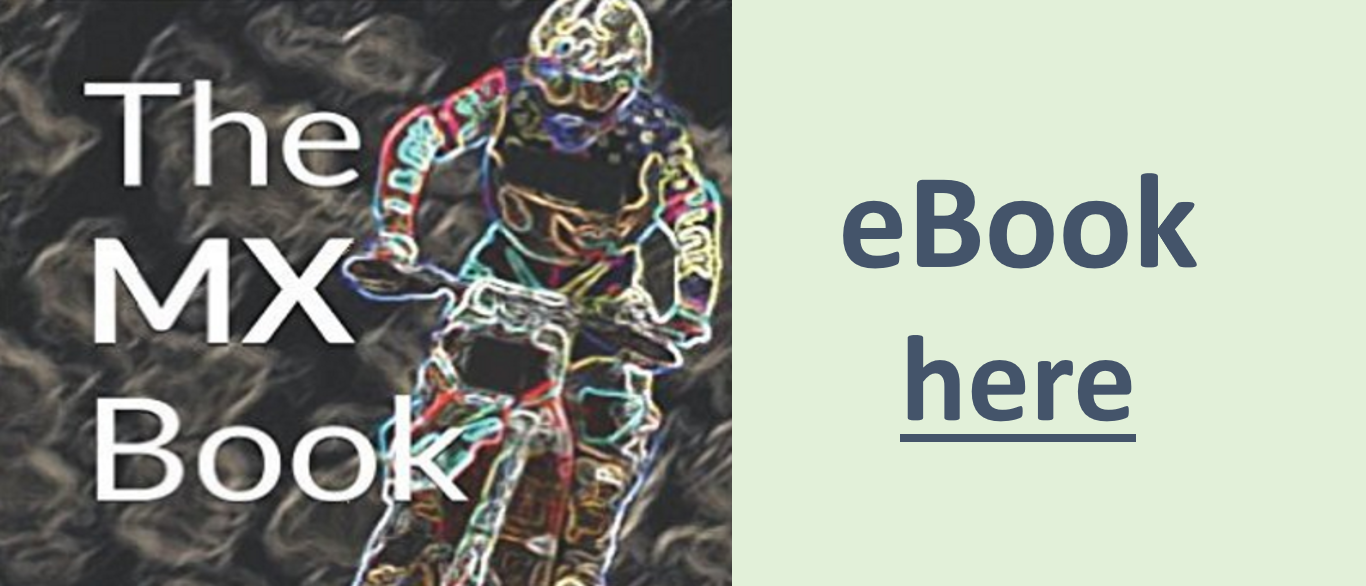 Whew! ...KRoc has some competition! I think we were all at least a little worried that 2017 was over before it started -- the eyeballs said he looked way faster than everyone else, perhaps unstoppable, and the numbers didn't disagree. But tonight's race at San Diego was about all that us fans could ask for -- the two best in the sport right now raced neck and neck the whole way. And if Ken Roczen wins every race this year but each one has a back and forth like that with Ryan Dungey, then we'll all be spoiled.

LAP CHART
(Note: now interactive, so hover over the lines to see the Rider/Lap/Position.)


--Also new, at the very bottom of the article, a laptimes tool to see times of any rider or riders--

The battle between Roczen and Dungey was certainly the story of the night, but--as exciting as it was--I'm not really going to go into it all that much. There's a chart below comparing their speed -- no surprises, though: they rode nearly the same speed all race long. We'll go a little deeper into some of the other riders that didn't get as much screen time due to the 1 vs 2 matchup that stole the show.

My favorite part of the Lap Chart is where Eli Tomac and Cole Seely are battling back and forth around laps 10 through 12, with a bunch of squiggles -- and then there's the line for Jason Anderson, catching right up and passing both of them in Lap 13 like it's no big deal.

450MX Class
For the first time since Week 9 of the 2016 MX season (at Washougal), the first line in the 450 recap ISN'T "Since Roczen took off without a challenge from the pack...". Dungey took the hole shot and made a run for it. Watching it unfold, it looked possible that Dungey might just go wire-to-wire for the win, as he seemed to be riding fast, comfortably, and maintaining his lead. When we look at their respective lap times (below), that pretty much was the case through Lap 7, but in Lap 8 Roczen pulled ahead and logged 4 good laps while Dungey fell behind. If you showed me a snapshot of just the start of the race through Lap 11, I'd assume that Roczen was going to just take off from there, building a huge lead as he did at A1 last week.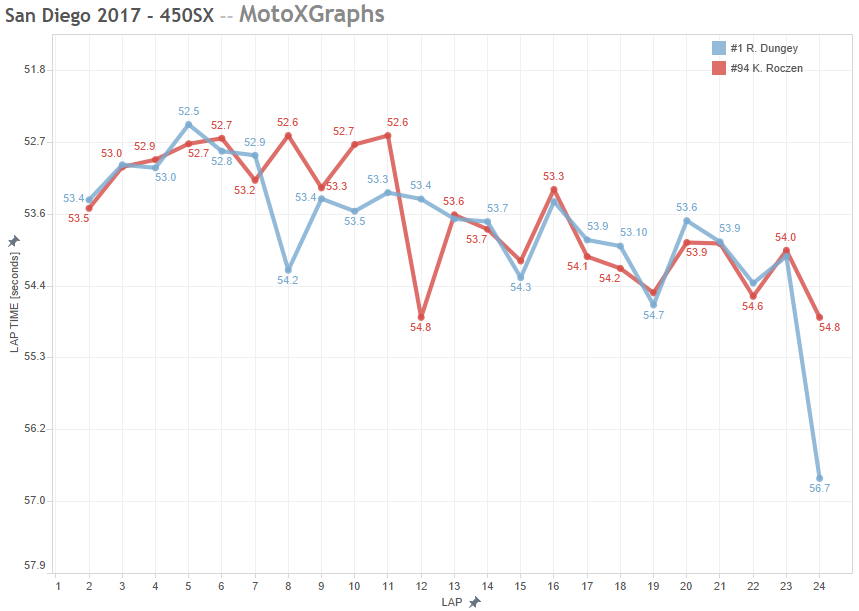 Instead, Roczen seemed to have a mistake in Lap 12 (I don't remember seeing that live -- went back to watch and it wasn't on screen nor was it mentioned), and Dungey narrowed the gap. From there, they were nearly equal (amazingly equal, actually) until Dungey's bobble while trying to make something happen in the final stretch, on Lap 24.

The Lonely Man In 3rd
Marvin Musquin nearly ended his own night about 5 seconds into the race, looping out a bit on a relatively small jump, but he barely managed to save it, going off the course and taking a little shortcut while maintaining his spot near the front. He was 3rd after the opening section, kept 3rd despite going off the course, then held 3rd throughout the entire race. He finished 21 seconds behind Roczen but 7 healthy seconds ahead of 4th place Anderson (and another 12 seconds ahead of 5th place Seely).

With Roczen and Dungey breaking away so completely from everyone else, I'd say it's a mark of success if any of your laps were on par with any of theirs. Musquin can at least claim that around 4 of his laps (I'd say laps 4, 9, 12, and 19) were pretty close to Roczen's: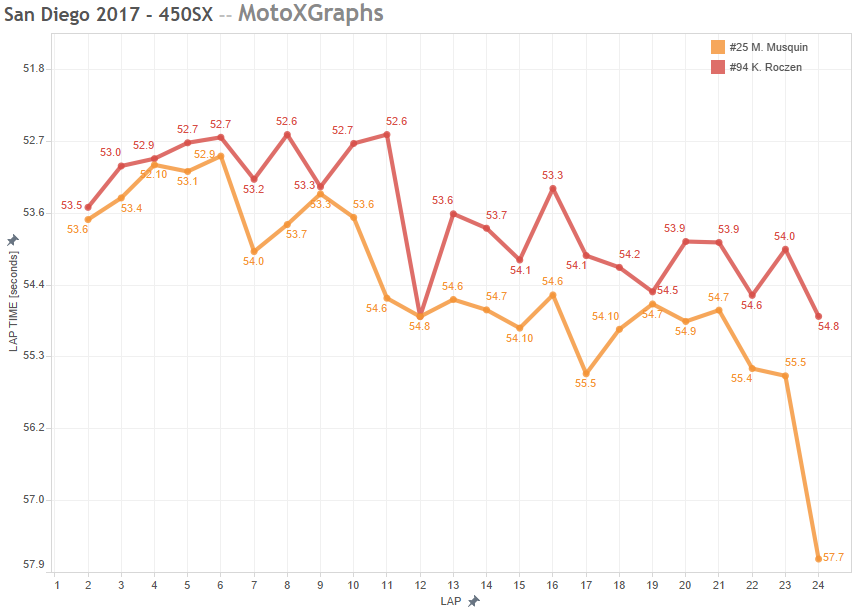 Seely and Tomac can't say the same, though they rode good races -- see below, where their lines are definitely a step below Musquin's. With Musquin's success in both weeks so far in 2017 Supercross, I hope the numbers adjust to reflect what looks like real progress -- he's had some fluky results in the past, coupled with injuries, that have held his results back (at the same time, the numbers for him are a tad low for a reason -- they're hedging their bets, so to speak, because fluky results in the past often indicate fluky results in the future (such as nearly looping out of the San Diego Main Event for no apparent reason)).

The Race For 4th
Anderson, Seely, and Tomac had their own little Main Event, with Anderson ending up the clear victor. He used his trademark late speed to catch both of them and then pull away for a comfortable lead by the end. As mentioned, neither Seely nor Tomac had laps that were up to Roczen's standard (maybe Lap 12 for Tomac, which coincided with Roczen's worst lap), but Anderson had multiple laps late in the race that were actually faster than Roczen's (laps 15 and 19, plus the aforementioned 12), as seen in the below (where the times are hidden to avoid muddling) graph: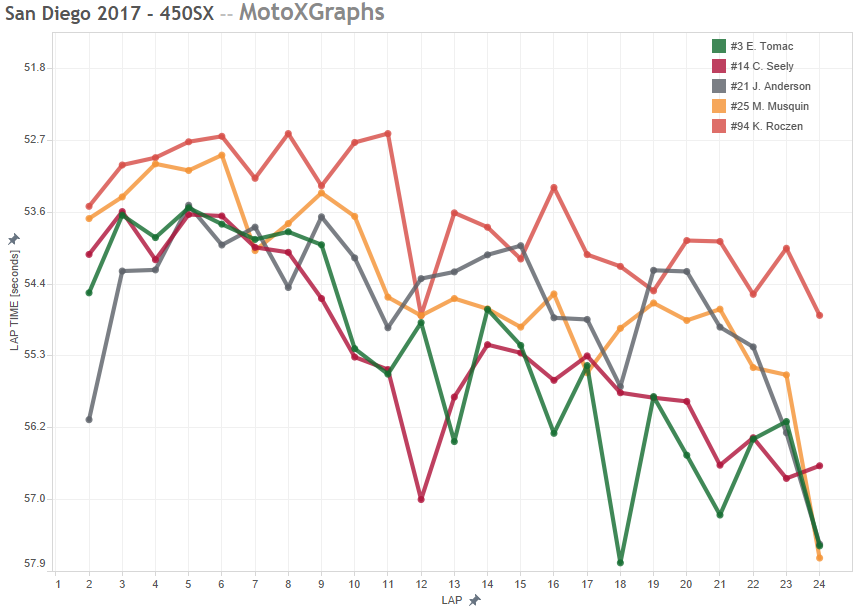 In trademark Anderson style, his laps early on were slower or about the same as Seely's and Tomac's, but then from Lap 10 onward, Anderson was faster than both of them on every single lap. In fact, during his first half of the race Anderson logged 7 of his fastest laps; in the second half, he had 5 of them (granted, his 4 fastest were laps 5, 6, 7, and 9) -- that's just better staying power than any other rider. Where it comes from is totally unknown to me: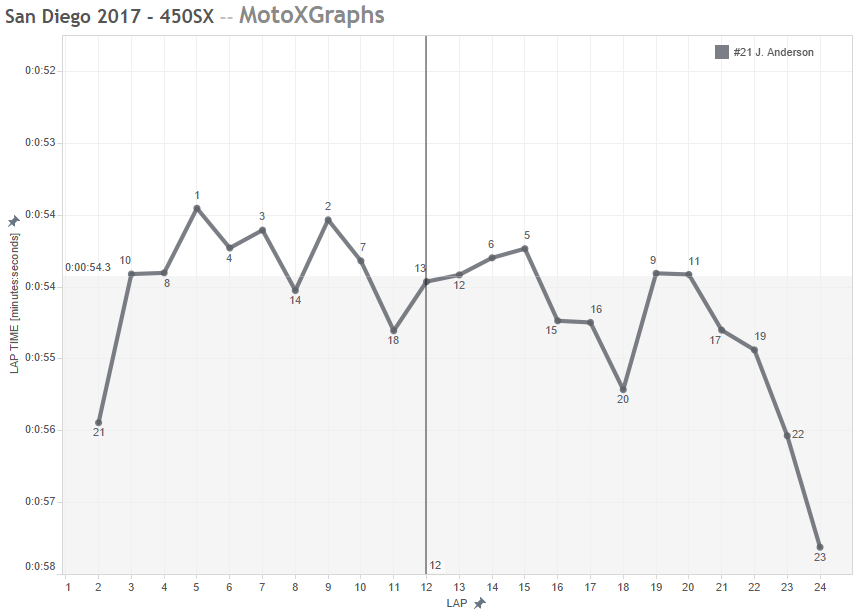 Tomac had another week where he slowed noticeably. Last week, prior to the arm pump, Tomac looked like he might have been the fastest rider; at no point during San Diego did that seem true. Perhaps he was still affected during the latter part of the race?

The San Diego Kid
Chad Reed has had amazing results at Petco (and in San Diego in general), and that lead to a steep "Track Adjustment" in the This Week Predictions. It wasn't to be for the 2017 version of San Diego Supercross, as Reed looked strong in the Heat Race but couldn't get past 9th for the Main Event. Maybe something happened early, because the list said he came through the opening section in 10th but was 14th after Lap 1. Perhaps he was stuck in traffic during the first few laps (several laps?), because after about Lap 6 he was pretty comparable to Seely: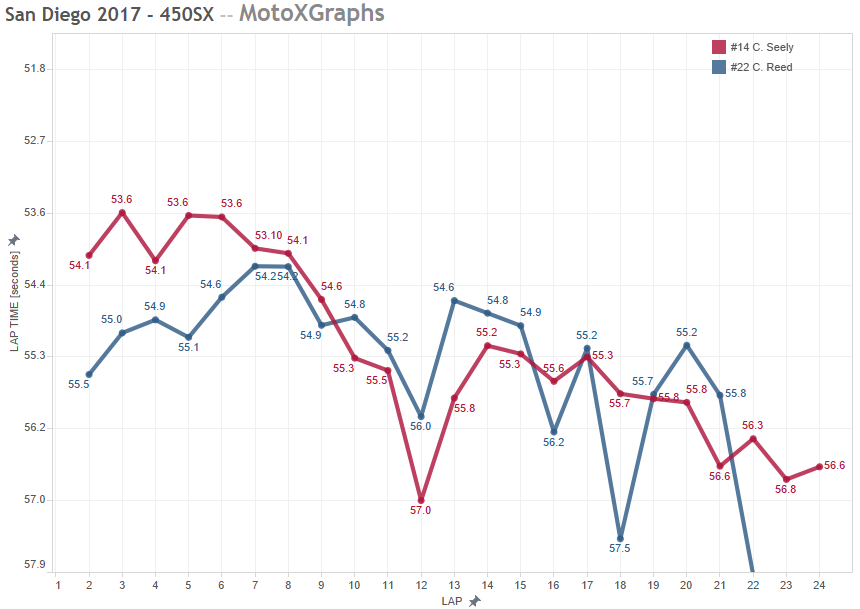 Peick Prompts Insertion Of Laptimes Tool At The Bottom Of The Recap
For just about any rider, you could put up a fairly interesting graph like the ones above. I look at Weston Peick in 7th and think, "Wait, he started off way worse than that, didn't he?" (only in 12th, actually). And it just got me to thinking, "Where do I draw the line?" (no pun intended). Because I know I want to look at what happened with Cooper Webb, also, but what about the guys in between, like Davi Millsaps who started off hot then fell back, or somebody like Justin Bogle who ended up in the Top 10? Well, Peick and Webb are in the graph below, but if you go to the very bottom of the page, there's an interactive laptimes graph where you can see any rider's or riders' times, largely courtesy of Tableau Public (who hosts the data and the visualizations). Let me know if there are any bugs or whatnot (sometimes it kind of refreshes itself without warning, which can be annoying).

As for Peick, he had the slow-start-and-or-caught-in-traffic bug that Reed had, but once he hit Lap 11 he compared pretty favorably to Tomac and Seely. He was predicted in 10th, so maybe that result is not so surprising. I also tossed Webb's laptimes in the chart, and you can really see the sporadic nature of his race tonight at Petco: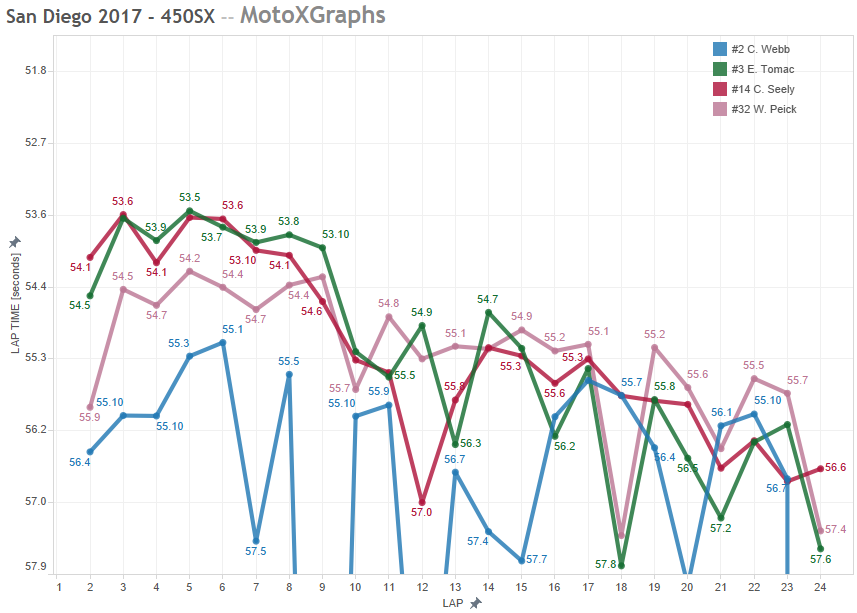 Like Anderson, Webb was also known to be a guy who carried his speed late into the race as a 250 rider, which he appears to in the graph above. Part of that may be getting used to riding the 450 in race conditions, but he put up his 4th, 5th, and 7th fastest laptimes in laps 17, 18, and 22, respectively. He would appear to have quite a bit more adjusting to do before he can become a true Top 10 guy (much less Top 5).

Others
- Blake Baggett had another tough go, with a crash literally out of the gate in his Heat Race and a crash (or mechanical) in the finals that dropped him from 9th to last, in Lap 4. Baggett could only get back to 20th.
- Justin Brayton also went from a good place to a bad one in Lap 4, with what must have been a series of problems that dropped him from 6th to 10th in Lap 2 and from 11th to 21st in Lap 4. He recovered to 17th.
- Speaking of Millsaps, he stayed hot with another Top 10 finish, aided by a great start that had him in 2nd after the opening section. He dropped back to 8th pretty quickly (by Lap 8), but held on to that spot the rest of the way.
- Josh Grant cooled off, but just a little bit in Week 2, finishing 11th and not quite able to duplicate his Top 10 from A1 (9th place).

The chaos from opening week is way in the past, and now we've got another data point with San Diego in the books. There's a renewed rivalry between the two expected top dogs, and the predictions will get a little more solid across the board from here on out (if also a bit less dramatic). But the top spot -- the one we really care about -- just got closer and less predictable, which is a good thing.


LAPTIMES TOOL
(Laptimes above 1 minute are missing the "1" in front of the "seconds". Please pretend it's there.)








Posted by: SagehenMacGyver47 ::: As always – Feedback welcomed




Previous: Supercross "This Week" Predictions -- San Diego 2017 | Back to Blog | Next: Supercross 2017: San Diego -- Predictions Review