Tomac's Mythical 2015 Hangtown
5/24/2016

Better late than never, but I wanted to take a look at just how fast Eli Tomac was at Hangtown in 2015. That race seems to stand out in everyone's memory as the time when one rider just went so amazingly fast that it boggles their mind. Prompted by a comment from richiew13 after the charts on Tomac & others at Hangtown '16, here's a similar set of charts for Hangtown 2015. To limit the clutter in the chart, these are just the riders who finished Top 5 in either Moto 1 and/or Moto 2: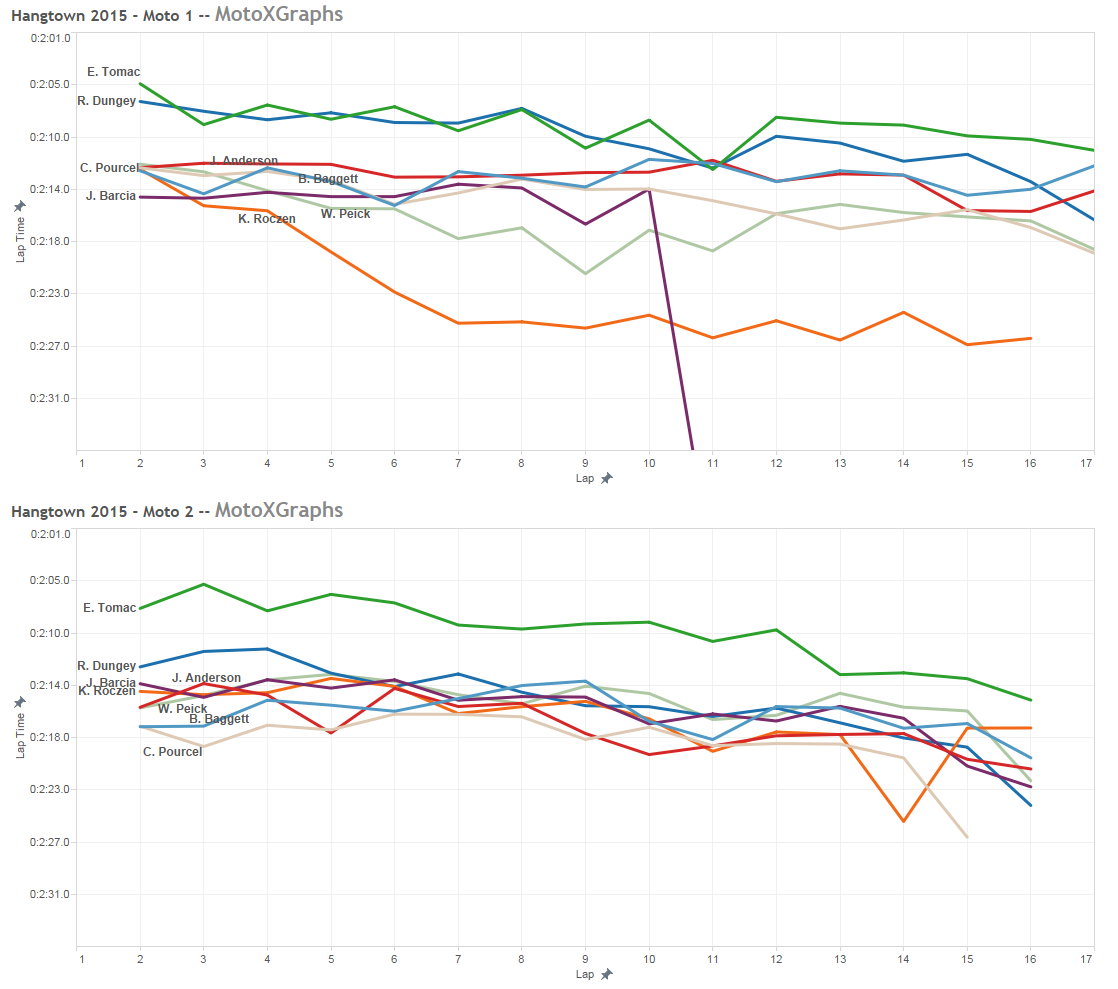 There's not a lot to say, once you see Tomac's green line in Moto 2.

He was going back and forth with Ryan Dungey in Moto 1, right up until Lap 12, when he really started to pull away -- so maybe the memorable display of speed really started during Moto 1. But in Moto 2, there is sizeable gap between Tomac and everyone else the whole way. Keep in mind, this "everyone else" is just the other fastest riders in the race -- it doesn't even include the other 30 or so guys who were riding a much slower pace.

Tomac slowed down a little after Lap 12 of Moto 2, probably because he was ahead by more than a minute ahead of everyone else, but before that, his slowest lap time was better than every single lap from everyone else in the moto. That's the way to completely dominate a race -- when your worst is better than their best.


Just for fun, here's the two graphs in "moving average" form, just to smooth out the lines a little bit (though the accuracy is lessened). Gives a sense that even though Tomac and Dungey were trading fast laps in Moto 1, Tomac was getting the better of Dungey.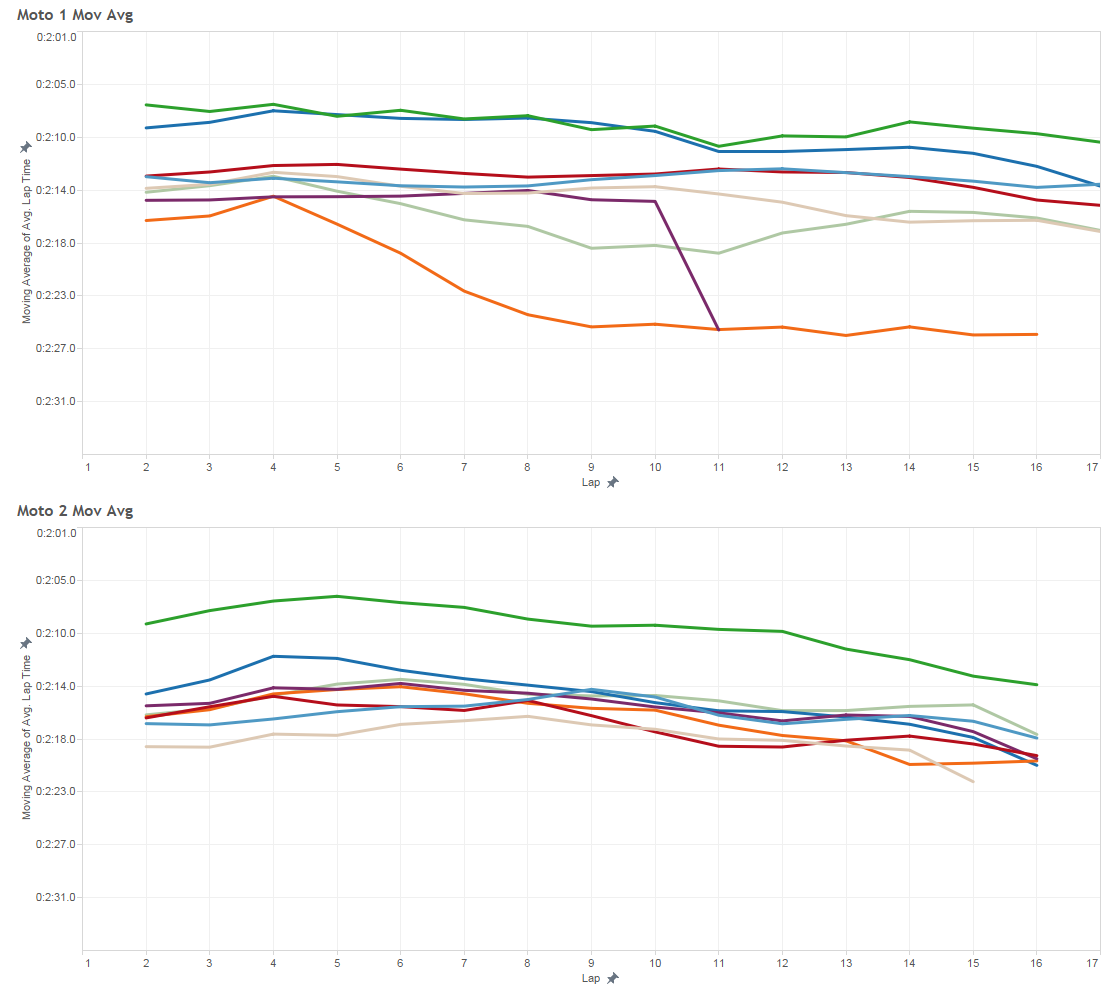 And one more for good measure, where in a bar you can see Tomac's average lap time vs the other top riders -- small difference amongst themselves, BIG difference with Tomac: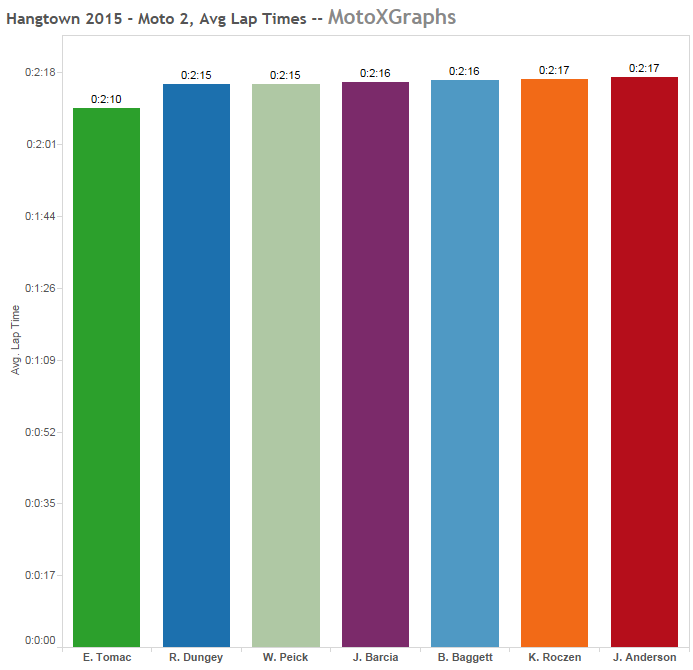 So there's Tomac's 2015 Hangtown in graphs. Maybe at some point we can check recent history (or beyond) for a similar racer where one guy blew away the field similar to how Tomac did.






Posted by: SagehenMacGyver47 ::: As always – Feedback welcomed




Previous: Hangtown "This-Week" Predictions Review | Back to Blog | Next: Pro MX Outdoor - 2016 Predictions After Week 1