2016 Supercross Predictions - 450SX Update going into Week 13 at Indy
4/7/2016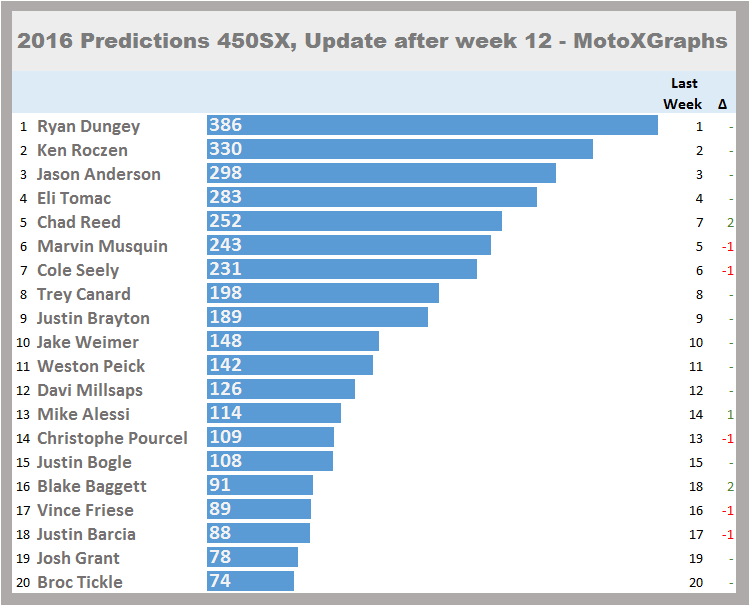 At this point in the season, the top of the board is pretty much locked up. Anything can happen, of course, until Ryan Dungey mathematically locks up 1st, and 2nd/3rd/4th/5th/6th are still up for grabs with Ken Roczen currently sporting a 16 point lead over Jason Anderson, who leads Eli Tomac by 20 points, while Marvin Musquin trails by another 18 points, with Chad Reed 4 points behind him - but the predictions don't forecast any change from how the top 6 currently stand.


Compared to last week, Reed moves into 6th over Cole Seely due to Seely's injury, and Seely now will be in danger of losing another spot or two as he misses Indy and possibly St. Louis. Trey Canard and Justin Brayton have a big gap to make up, but two weeks of no points for Seely will help shrink that gap quickly.

[Edit: Broc Tickle is returning for Indianapolis, so he'd added back in to the "This Week" projections below. He has a good history at Indy, so while his injury adjustment lowers his prediciton, his location adjustment brings it back up some, and he's predicted at 10th. Seems a bit high to me, but we'll see. At least we'll be gathering more data as to the accuracy of the injury adjustments.]
[Edit 2: Marvin Musquin just announced he is out for Indy. That has an impact, moving him down a spot for the full season predicted standings, to 6th. If he's out longer than one week, he might also be in danger of being caught by Seely.

When we factor in who's dealing with injuries that we're aware of, leading up to week 13 there again aren't big changes for the full-season projections: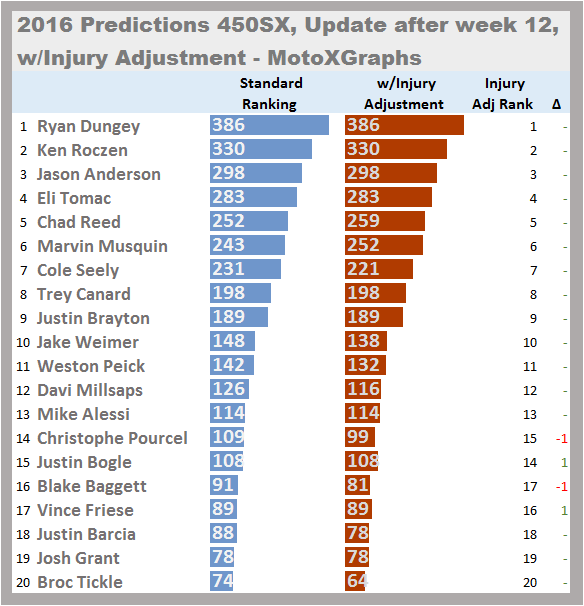 **Keep in mind the "injury adjustment" is more of an indicator that the rider was recently injured than an actual, precise prediction of how that recovery from injury will affect the rider.**

Christophe Pourcel and Blake Baggett each stand to lose a spot. But in general the injuries remain spread out, causing the actual changing of positions to be minimal.



"THIS-WEEK" PREDICTIONS
Again, the standard top 3: Dungey / Roczen / Tomac -- even though Tomac had a pretty bad result last week. Notably, Musquin had an even worse result at Santa Clara, and he drops from
4th last week
to 6th in this week's prediction, largely because he doesn't have a long 450SX track history, so one result can have a big impact. There's still a near tie between 4th/5th/6th, but now Anderson is 4th, up from 6th.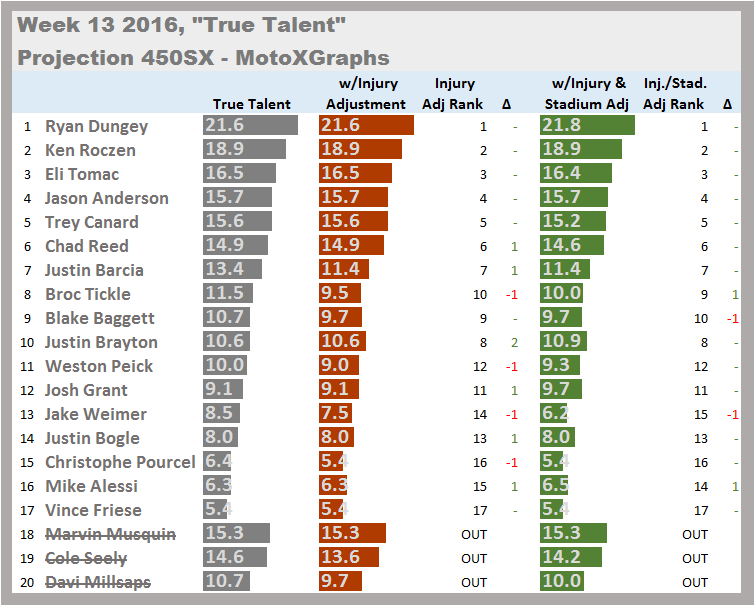 The injury adjustment drops Baggett, Weston Peick, Jake Weimer, and Pourcel 1 spot each. The adjustment is probably a little low for Justin Barcia since he's still getting back to form after missing 9 weeks, and probably too high for Pourcel who has only missed two weeks with a fairly minor (I think) neck injury.



James Stewart is again outside the predicted top 20 finishers for the full season, but he would slot it at #16 in the True Talent ranking. Same comment as last week: for Stewart this ranking is low because of his propensity to DNF this season; if we looked only at the races he finished, he would be projected at #9 for the week.

Things to watch include whether Dungey can increase his lead and come closer to locking up the title, and how will the other top riders break down - one week ago it looked like Musquin was going to charge into 3rd, but now it appears it might be Anderson's spot. The location adjustment docked Canard because he hasn't ridden particularly well at Indy in the past, and same for Jake Weimer -- so we'll get another test of the location adjustment, this week with more history to predict from at Indianapolis.




Posted by: SagehenMacGyver47 ::: As always – Feedback welcomed




Previous: Santa Clara "This-Week" Predictions Review | Back to Blog | Next: 2016 Week 13 - By-The-Numbers Recap: Indy