2016 Supercross Predictions - 450SX Update after Anaheim 1
The prediction is back!  Not a lot of changes compared to the pre-season prediction, but there's only been one race, so...  The biggest changes you could probably guess (i.e., Jason Anderson made a huge leap), but we break down the major changes below.  (Last week's prediction and the change from last week are on the right.)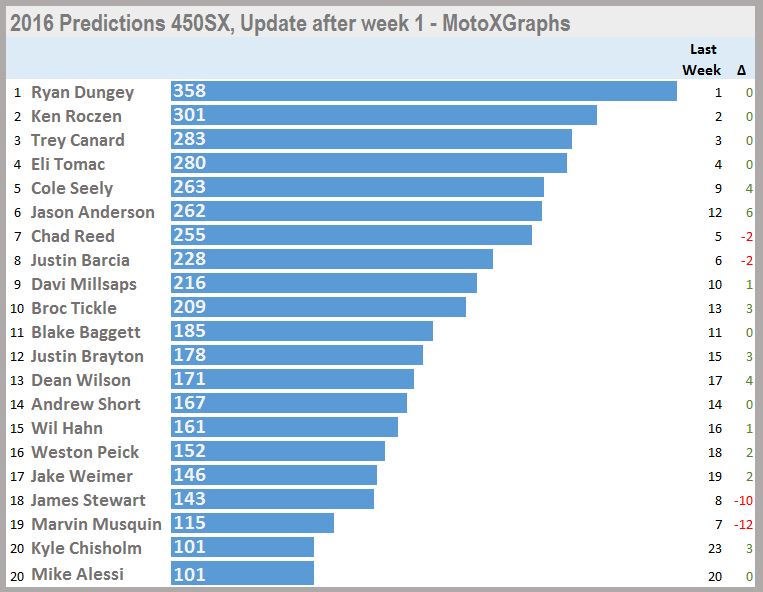 Still at the top
Ryan Dungey is still projected with a comfortable lead (no surprise) and Ken Roczen, Trey Canard, Eli Tomac follow in that order, same as with the original prediction.  Out of those four, the biggest worry for me is Canard who started strong at A1 and then faded (promising times before the Main Event, though) -- in San Diego will he look more like the rider we predicted at #3 for the season, or will he end up on the outside looking in at Dungey/Roczen/Tomac/Seely and even Anderson?
Coming up
Cole Seely made up significant ground in terms of ranking—also no big surprise based on his good A1 result—but his rise was due as much from others' falling down as his good performance (see Barcia, Musquin, and Stewart below).  From a projection standpoint, the farther away Seely gets from his mediocre 2012 season, the more it will help his ranking.
Jason Anderson improved by 6 spots – some might want him to be all the way up to #2 based on his impressive Anaheim win, coupled with the glowing pre-season scouting reports, but the numbers aren't ready to boost him up that quickly.
Too harsh?
Chad Reed dropped a couple spots despite finishing a not-too-bad 6th.  At second glance, no, it's not too harsh. On one hand, Seely and Anderson (who moved ahead of Reed) really impressed, while on the other, as Reed gets away from his impressive 2012 and 2014 seasons, his projection will keep sagging -- unless he manages more finishes around the top 5.
Not harsh enough?
Barcia dropped only two spots despite a #15 finish.  One race just wasn't enough to drastically affect his ranking, and with the riders right below him having problems and unable to move ahead (Marvin Musquin and James Stewart), the rest of the pack (Davi Millsaps, Broc Tickle, Blake Baggett, Justin Brayton, Dean Wilson) narrowed the gap but didn't quite catch all the way up.
Smaller story
Marvin Musquin was relatively well-liked by the numbers but subject to high variance due to his lack of a long history in 450SX.  His debut for 2016 was lackluster, and without the long history, this lackluster result weighs heavily on his updated prediction.  If he finishes in the top 10 in San Diego, then he'll be right back up around 7th/8th/9th, about where he was initially predicted.  Whatever the case, I would guess his ranking fluctuates more than most during the season.
The big story
James Stewart's DNF from the wreck and concussion caused his projected ranking to fall precipitously, down to 18th.  If the original prediction of 8th for Stewart seemed low to you, this new prediction must seem REALLY low.  But, Stewart's in a hole in terms of points since he's already 24 behind Dungey and the injury might be evidence that Stewart will have trouble staying healthy – so maybe a ranking in the low teens isn't that far-fetched.  Again, let's hope for the best because a season with JS7 vying for #1 is a lot more fun than one with him sidelined by injury or too far off the points lead to legitimately contend.  If Stewart makes a podium in San Diego (assuming he's cleared as healthy to race), he'd be right back in the predictions mix, probably in the top 5 – which is what his qualifying and heat results from A1 suggest he could be.
Posted by: SagehenMacGyver47 ::: As always – Feedback welcomed
Previous: 2016 Week 1 - Anaheim Surprises - 450SX | Back to Blog | Next: Week 2 – San Diego 1 – By-The-Numbers Recap