2016 Week 1 - Anaheim Surprises - 450SX
OK, the Supercross opening week drama in Anaheim gave the 2016 predictions their first test.  Let's run through the main surprises compared to those MotoXGraphs predictions.  Certainly the runaway winner was the main surprise, but we'll get to that at the end. Let us know any surprises I might have missed.
First, a graph, because that's half our name. (There's a second graph at the bottom - a bit "busy", not sure I like it, but it shows the riders' lap times, not just position in the race. Comments about which format is better are appreciated.) Anaheim 450SX, 1/9/2016:
James Stewart
An unfortunate crash in Lap 1 that was some part bad luck (James Stewart veered from the outside line at just the wrong time) and some part loss of control by—of all people, usually ultra-precise Ryan Dungey—left James Stewart with a severe concussion and out of the Main Event.  Before the crash, though, Stewart looked like one of the better riders on the day:
Qualifying A 1: 6th
Qualifying A 2: 2nd
Heat 2: 3rd
Main Event: was 2nd when the crash happened
Not amazing or anything but not too shabby — before the crash I'd say he was having as good a day as, say, Ken Roczen.
Now, our prediction had him 8th overall and nearly tied with 7th-place
Marvin Musquin
, which left many readers feeling like JS7 was getting projected too low.
Based on the times he put up on Saturday, maybe Stewart's prediction will prove too pessimistic, but in Anaheim sadly we didn't get to find out if Stewart could make the podium after all 20 laps.
Let's hope he's back strong for San Diego next week, because as I've said, I think motocross is better off if Stewart is on his game and pushing for the top spot week in and week out.
Ryan Dungey
No surprise that Dungey was predicted as our #1 finisher for the 2016 season, though some might think that being 40+ points ahead of his next-closest competitor was too much, considering that Tomac, Roczen, and others are looking strong going into this season.  The surprise of Anaheim for Dungey was that he DIDN'T win.  Even though he lost points to Jason Anderson, I think this race actually makes the prediction look even more solid, and here's why.  Dungey was knocked down, losing 3 spots and around 7 seconds, and then still finished comfortably in 2nd, passing Eli Tomac, Trey Canard, and Chad Reed (among others) who many think are set to be Dungey's 2016 challengers.  In true Dungey form, he did that without any one lap that was particularly fast — his best lap time was only the 5th fastest among the field.  Yet after he fell back to 7th, he steadily gained ground until he ended up with an impressive 2nd place race.
Eli Tomac / Trey Canard
Eli Tomac's predicted finish (4th this season, 1 point behind Canard) was another one that didn't sit well with some loyal readers — many think he's going to be neck-and-neck with Dungey for the #1 spot.  Tomac's opening week, though, left a little to be desired.  He started out in 3rd, but was passed by Canard in Lap 6 then shortly afterward by Anderson (but so was everyone else).  Tomac would later pass Justin Barcia and retake his lead over Canard to get back to 3rd, but in the end couldn't pass Cole Seely and couldn't hold off Dungey.  The good news for Tomac is that he had the fastest single lap of anyone in the Main Event, as well as the 2nd-fastest time in both Qualifying and the Heats (behind Canard each time) and Tomac won his Heat race (different heat from Canard).
Canard started a bit off the lead in 5th, made a big, quick run up to 2nd, but then couldn't hold off Tomac, Dungey, or Anderson. This may have largely been because he had a crash on Lap 13 (perhaps getting tangled up with Lawson Bopping?), dropping him from 3rd to 8th, which put him too far back to catch up, finishing a disappointing 7th in the end.  The silver lining for Canard, as mentioned above, is that he had the fastest qualifying lap and the fastest heat lap, as well as winning his Heat race (note that Dungey was caught up in an early wreck in that heat and wasn't a factor). 
Cole Seely
Our prediction for Seely's season is 9th overall, so finishing in 3rd certainly means he did better than we expected.  Not much to take away from this race other than he got the hole shot and then the only thing he did wrong was getting passed by Anderson and Dungey (hard to get down on someone for either of those).  One might say he got a lucky hole shot (not saying that, just hypothetically), but even if so, he held off all but two riders for 20 laps, which seems like more than luck.  It could be an Anaheim thing—maybe Seely just likes that venue—but his 450SX results there in 2015 were 14th, 6th, and 2nd, so not bad but not exactly crushing it or anything. 
Seely's downgrade from a numbers standpoint is due to his 2011, 2012, and 2014 results, which were middling; based on just 2015, he'd be predicted closer to #5.  Even so, that's below where he just finished in Anaheim, so on one hand you could say he's expected to fall back as the season progresses, but on the other it may be that Seely's just reached a new level of performance that the numbers didn't see coming.  I should also note that Seely's second half of 2015 was better than his first half, which seems promising.  To be continued, I guess.
Justin Barcia
Barcia started well, then fell off drastically and quickly — enough to make the announcer remark "There's something wrong with Barcia."  Barcia had a crash of some sort pushing him all the way down to 15th, but that happened after his drop from 2nd to the middle of the pack.  The prediction numbers like Barcia to at least contend, but it seems like something outside the numbers was bothering Barcia.
(Edit: according to RacerX "Then came the arm pump. 'I don't even remember the last time I got arm pump,' he said. He better hope it doesn't return this weekend."  
Marvin Musquin
Musquin went down at the start, but the bigger problem was that he couldn't make up ground throughout the race, fihishing 14th.  Musquin's 450SX track record has been good but short — without much of a history, the prediction is less certain (predicted 7th for the season).  His fastest laps were also unimpressive, not in the top half of either the Qualifying or the Main Event, and he had to go through the Semi to get to the Main Event.  Perhaps he's just getting used to the 450 bike and needs some tweaks, or maybe the limited success previously in 450SX was a mirage.
Ken Roczen
Roczen had a bad start, among the last several riders, but steadily progressed through the ranks into 9th by Lap 5 and into 5th by Lap 12.  He had several laps, though, to try to break through to Seely, Tomac, or Dungey but couldn't improve his position.  For the rider we predicted 2nd on the season, the good was that he made up so much ground so quickly, which was impressive (for instance, something Musquin, among others, couldn't do).  The bad was that he didn't look to be decidedly faster than Seely or Tomac, two guys who are rated below him. 
His fastest lap in the Main Event wasn't particularly impressive, and his qualifying times were good but not great.  He did have a DNS in his Heat race, so possibly that is a sign that something was up with his bike or his body. He finished 3rd in his Semi, which was also decent but not great.  But, we're one week into the season, so this may just be a blip on the radar once we get a month or two in.
Jason Anderson
Last but not least!  Taking the field by storm, Jason Anderson looked unbeatable.  (He's our prediction for #12 on the season.)  How unbeatable? — if Dungey had a few more laps, would he have caught Anderson?  In Lap 6, Dungey trailed Anderson by 3.9 seconds; 5 laps later, Dungey trailed by 10.0 seconds; after Lap 16, another 5 laps later, Dungey still trailed by 10.0 seconds (some rounding in there — also ignoring the last few laps because Anderson slowed his laps down, probably since he was winning by such a large margin).  So no, even Dungey's pace that was bypassing all the other riders wasn't eating in to Anderson's lead.  What a victory for Anderson!
The announcers kept mentioning that Anderson was flying around at Anaheim last season, so I wanted to check if that was some clue to how well Anderson performed in this 2016 season-opener at Anaheim.  Anderson raced 450SX three times at Anaheim (Angels Stadium) in 2015, finishing 2nd, 7th, and 9th.  His average 450SX finish for all non-Anaheim venues in 2015 was 10th – so, at Anaheim he finished better than his season average each time.  Hmmm.  Far from conclusive, and I'm nowhere near saying that his success on Saturday was because of the location.  But conventional wisdom is that certain riders race better on certain tracks, and this may be something to investigate further to see if we can confirm this or not through the numbers.
Anaheim 450SX pace based on lap times, 1/9/2016:
(As I said above, the format's not great and the squished lines make it difficult to actually get much info out of the graph. It's a start, though.)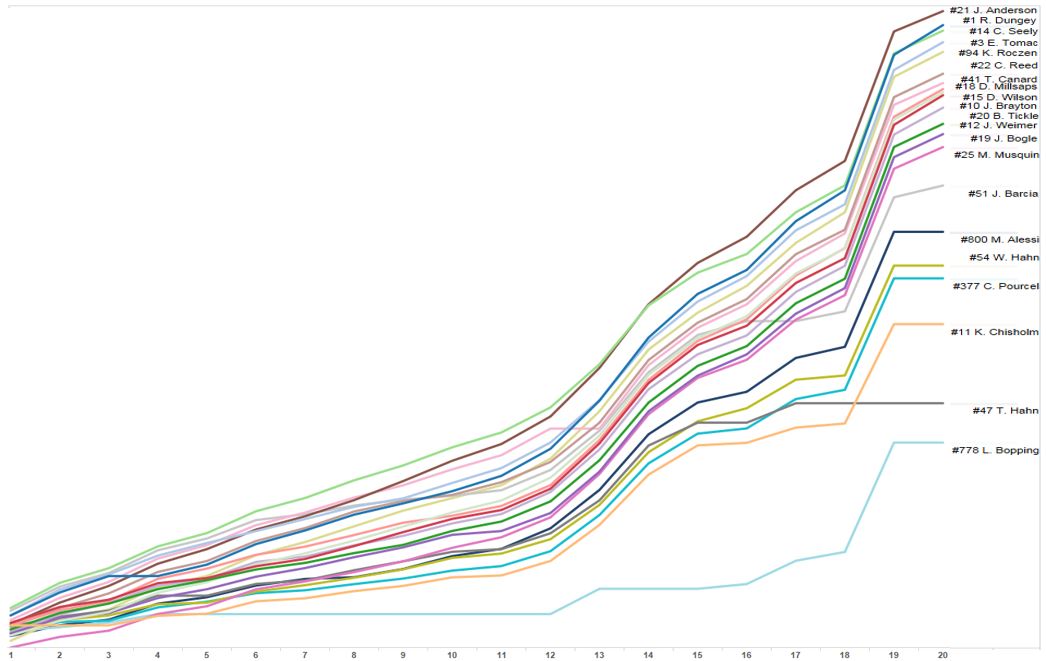 Posted by: SagehenMacGyver47 ::: As always – Feedback welcomed
Previous: 2016 Supercross Predictions | Back to Blog | Next: 2016 Supercross Predictions - 450SX Update after A1