2016 Supercross Predictions - Top 20 in 450SX
Want to get a data-based prediction of who'll finish at the top of 2016 Supercross 450 season? Then welcome to MotoXGraphs…trying to get smarter about following motocross. Some of the names will be exactly where you expect, but some will probably surprise you. Let's get right to it:
&nbsp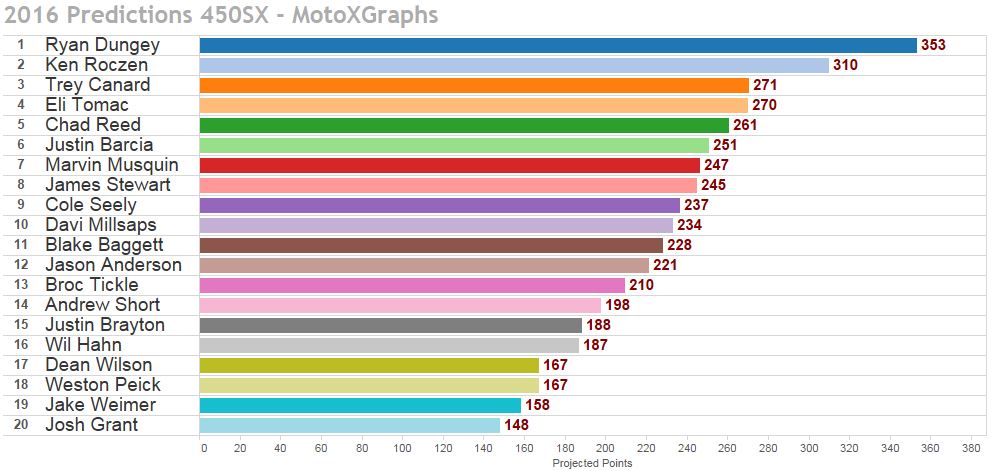 btw for a breif description of the methods see "What Else"
So what do we have here? Dungey is at the top -- by A LOT. This is by virtue of Dungey having four solid seasons in a row. Then, Roczen is in 2nd, also by a comfortable margin, over Canard and Tomac, who are in a virtual tie for 3rd. Roczen's projection is high based on his 2014 success as well as good races in 2015 before his injury.
Of note is that Musquin is predicted at #7 even though he'll technically be a rookie in the 450 class. This high projection is primarily because of his success in 2012 when he last raced 450SX -- this seems like one of the projections most subject to variance since we have so little history in 450SX to use. Musquin could vie for the title or finish out of the top 10, but the numbers peg him at 7th, so I'm sticking by that.
Along with Musquin, Dean Wilson will be a rookie in the 450SX with only 7 races to his name. A couple years youger than Musquin, Wilson actaully has more total races in SX (46 vs 32). Despite having youth and more experience in his favor, the numbers project Wilson only at #17 based on mediocre results in 2013 and 2014, with room to improve.
The other prediction that's highly subject to variance is for James Stewart. He's going to be a hot topic to start the 2016 Supercross season, and while I would love for him to make things exciting by challenging for the #1 spot again, the numbers don't like two things: 1) his 2013 and 2014 were good but not great, and 2) his age puts him on the down side of the aging curve (see graph below, where the best-fit trendline is not encouraging).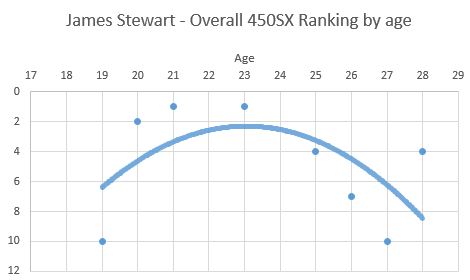 The typical Supercross rider peaks at age 25, and Stewart just turned 30. Granted, this is no "typical" rider we're talking about, but I would venture that nobody is immune from the effects of aging, even superstars like James Stewart. Add in that he's potentially got some rust from a year off, and the numbers put JS7 at #8 and a long, somber way from the top.
One final note about injuries, which, if you made it this far (or made it to this site in the first place), you already know that once injuries start affecting the results, all bets are off. The numbers we're using can factor in historical injury frequency for the riders, but they can't know, for instance that Blake Bagget and Andrew Short are dealing with injuries right now that will keep them out for multiple weeks. So, right off the bat those two should be downgraded a few slots -- but we're presenting the predictions as if there were no current injuries. If we were to take their injuries into the prediction, we'd estimate the amount of time they'd be out and prorate their points accordingly, then re-rank them. Also, the numbers can't know how close to 100% they or other riders will be when returning from injury, which gives us another chance to bring up that MotoXGraph numbers are never meant to be a replacement for actually seeing the racers perform and researching what's happening. The numbers are just here to provide an objective point of view, and maybe a concrete place to start the discussion.
(Edit: so far for Anaheim, Josh Grant isn't in the pre-entry list -- if he misses several races, then that would move Mike Alessi up to #20 on the list.)

Posted by: Sagehen MacGyver47 :: As always - Feedback welcomed
Previous: Visual recap of MX 2015 season | Back to Blog | Next: Anaheim 1 - 450SX Recap/Surprises