2016 Week 15 - By-The-Numbers Recap: Foxborough
4/24/2016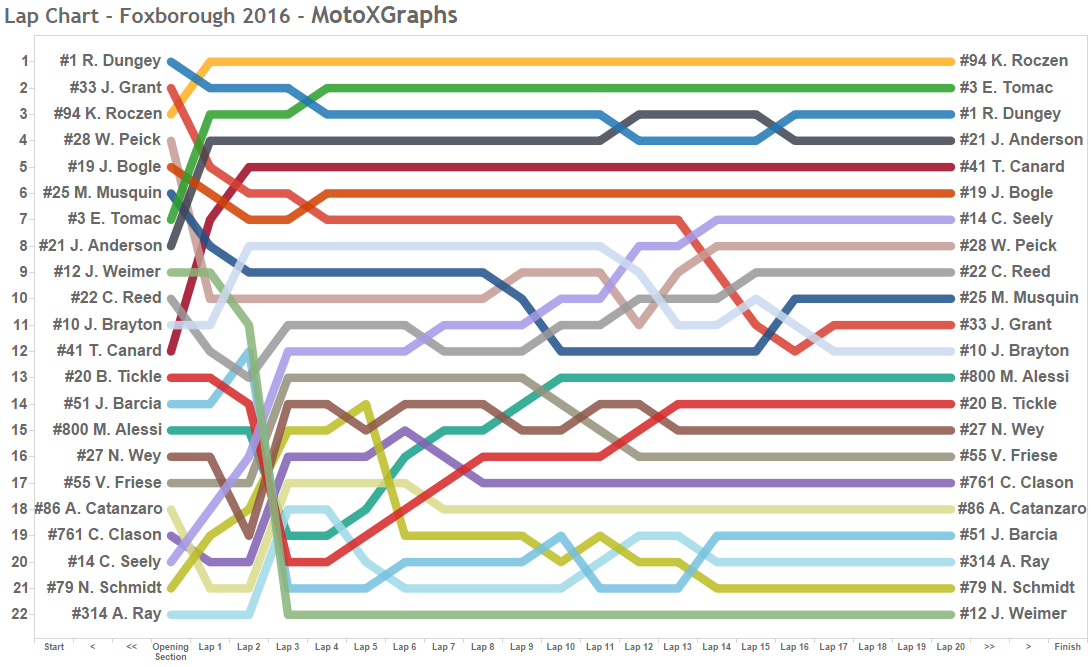 Finally Ken Roczen took his chance and ran away with it. Though Eli Tomac tried to play spoiler, he didn't have enough to pass Roczen. And Ryan Dungey's podium streak was nearly spoiled by Jason Anderson, but Dungey managed to retake 3rd place and hold on to it until the finish line (apparently Anderson had some problems with his brakes).


Roczen was absolutely dominating the field, as he lapped everyone from 10th place on down. In the first 7 laps, he was faster than Dungey in each one. In those same first 7 laps though, oddly, Tomac had faster laps that Roczen in 4 of them -- Tomac was also faster in 6 of the first 10. Yet Roczen was still in the lead.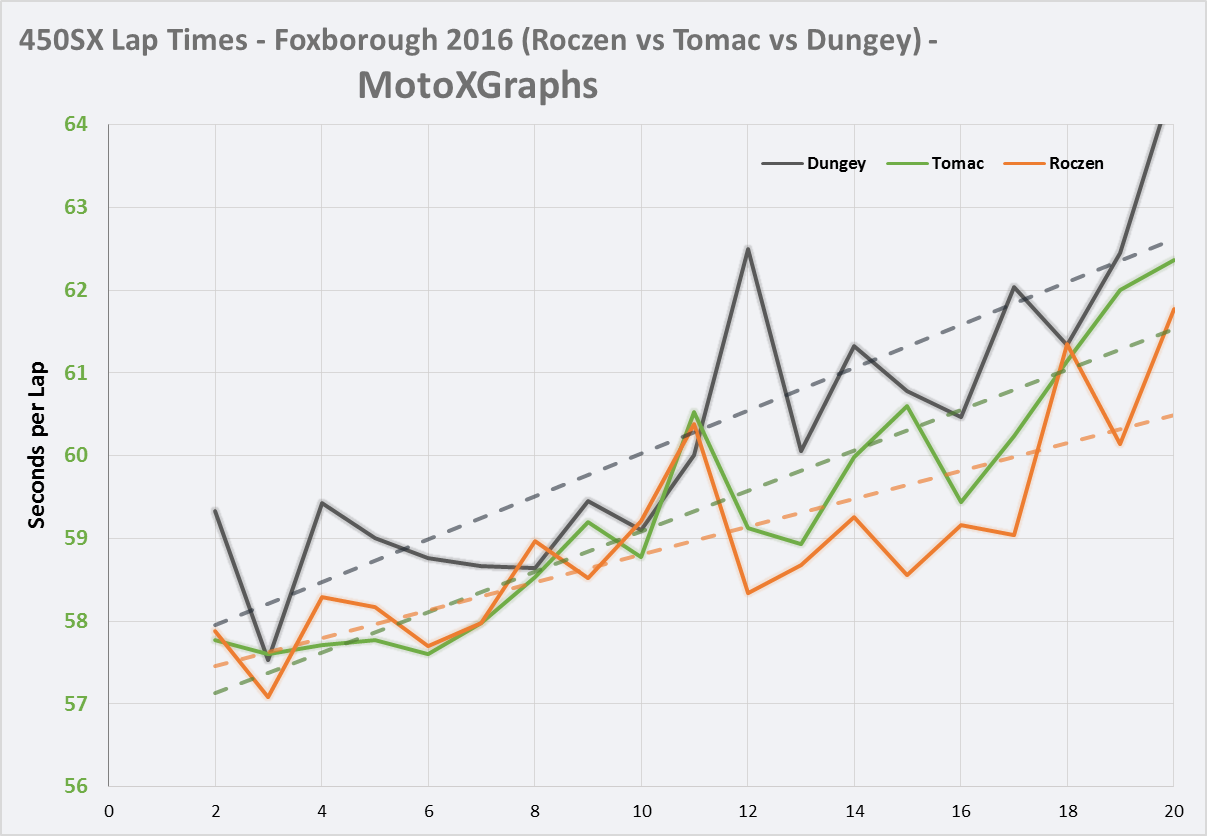 But then Roczen really ran away with it, as he was faster in 9 of the final 10 compared to both Tomac and Dungey. He finished 9 seconds ahead of Tomac and 25 ahead of Dungey.

Dungey actually had the second fastest lap of all the riders -- even faster than Tomac's fastest (by 7 hundredths of a second). Just mentioning because it is unlike Dungey to have one fast lap but be unable to keep his other lap times at least close to it.

Despite his front brake malfunction, Jason Anderson managed to stay in 4th. Fortune shone on Dungey there, because after Anderson moved into 3rd on Lap 12,
we already know
Anderson is a fast rider down the stretch -- I don't think Dungey catches him if Anderson's brakes were working properly (I mean, look at the Dungey vs Anderson section in that link).



Trey Canard again turned a poor start into a decent finish, getting from 12th up into 5th in Lap 2, then holding that position the rest of the way. Canard hasn't had a podium in 2016, and even with Dungey having what seemed like an off night, Canard's average lap was over a tenth of a second slower than Dungey's. He was six one-hundredths slower than Anderson, which is a virtual tie, but Anderson was riding with the brake problem.

After Canard was Justin Bogle in 6th, meaning he's finished 6th or better in 3 of his last 4 races. Bogle passed Weston Peick right at the start, then passed Josh Grant to get into 6th, but because of Bogle's good start (5th), he didn't have to pass anyone else to finish 6th (he was passed by Tomac and Anderson). I noted this
last week
, and I don't mean to disparage Bogle's good finishes, but he didn't do anything particularly impressive to make it into 6th, other than a good start plus keeping a pace fast enough to keep Cole Seely, Chad Reed, and Marvin Musquin from catching him. Outside of Lap 1, Seely's average time was 2 tenths faster than Bogle's -- but being slightly slower than Seely isn't exactly an insult, especially for a rookie like Bogle. (Reed and Musquin each had average lap times slower than Bogle, also a nod to Bogle "earning" his 6th place.)

The aforementioned Seely had a collision at the start of the race, so he had to make his way from the very back of the pack up into 7th. Reed also had a bad start, though not nearly as bad as Seely's, and he slipped down to 13th before getting back to 9th. Both Reed and Seely had to go past the Heat Race in order to qualify for the Main Event, and due to a wreck in the Semi Race, Seely had to also go through the LCQ. They qualified 4th (Reed) and 5th (Seely) during practice, though, so it's not like they were slow from start to finish or anything.



Weston Peick finished between Seely and Reed, in 8th. He stayed between 11th and 9th pretty much the whole race.

Seemingly still battling his wrist injury, Musquin dropped back from a fairly good start in 6th down into 12th, eventually getting back up to 10th.

Outside the Top 10:
Josh Grant was looking good early, then faded to 8th, then had a crash that sent him all the way back to 11th.
Mike Alessi couldn't quite match his recent success of 3 out of 4 Top 10 finishes, but he managed to come in at 13th despite an underwhelming start (15th).
Broc Tickle finished 14th, which is the same finish from his other two weeks after returning from injury, and is also the same spot he finished in Week 2, right before his injury. If only he'd finished 14th in Week 1, he'd have been 14th in all of his completed races this season. That's probably not how he sees it.
Tickle's 14th was largely due to a Jacob Weimer crash that took Tickle and Justin Barcia along with him, moving all to the very back of the field in Lap 3.
Special mention for Benny Bloss, who looked like he was going to come in right about
where he was projected
for his first every 450 Supercross race (qualified 22nd, was 8th in his Heat Race), as he had a firm spot in the Top 5 of the Semi Race, but then a nose plant in the whoops left him in the Tuff Blocks and headed to the LCQ where he missed the fourth spot by one. If you call that 23rd (seems fair), then he wasn't so far off that prediction (
somewhere between 16th and 21st
, but probably closer to 21st).




Posted by: SagehenMacGyver47 ::: As always – Feedback welcomed




Previous: 2016 Supercross Predictions - 450SX Update going into Week 15 at Foxborough | Back to Blog | Next: Short Track: Foxborough "This-Week" Predictions Review