2016 Week 3 – By-The-Numbers Recap: Anaheim 2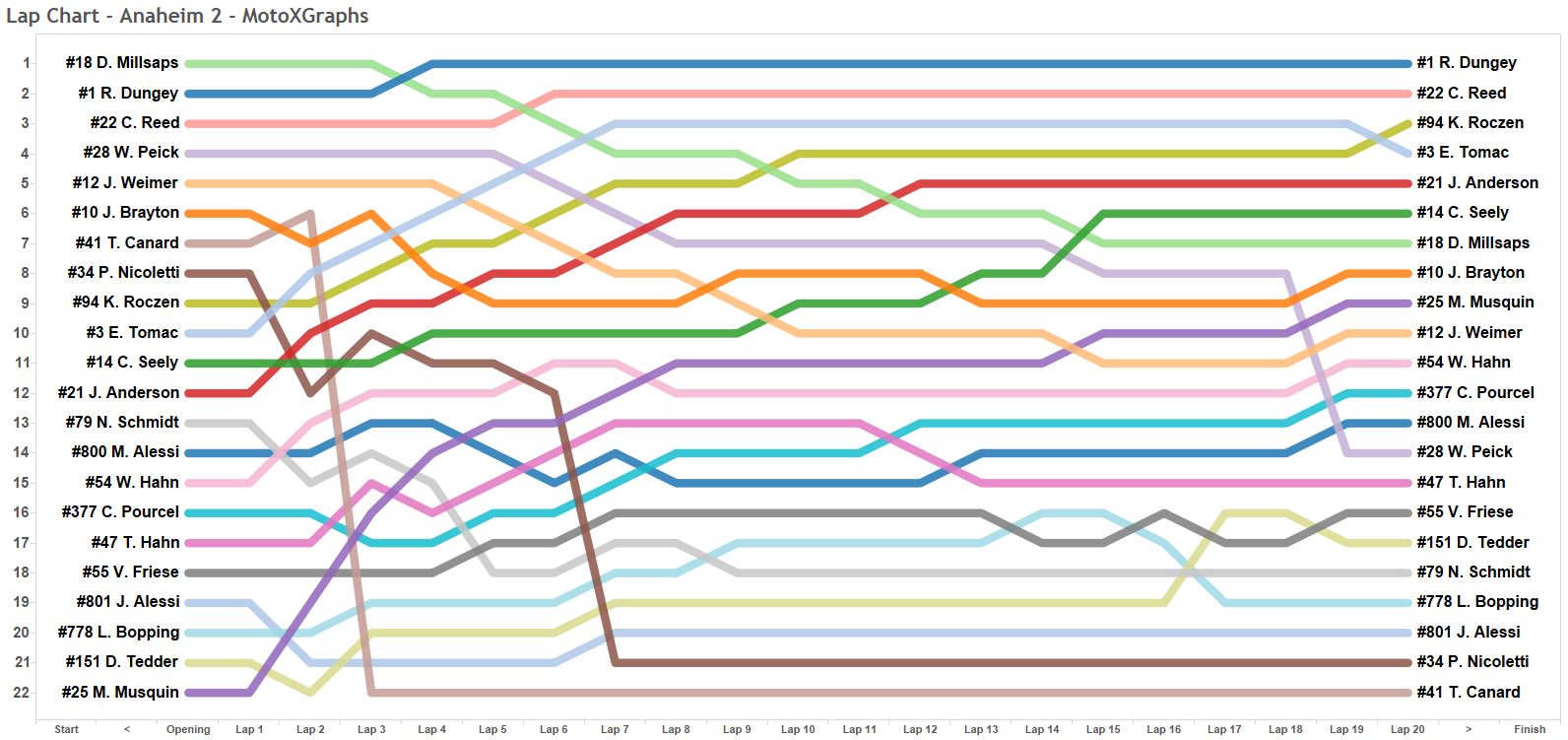 Davi Millsaps was looking pretty good coming into the Main Event. His practice time was good (#8) and he qualified high, winning Heat 2, having the fastest single lap of anyone in the Heats. Then got the hole shot, so I started to wonder if he could turn in a podium finish. Unfortunately for him, he was quickly passed by several of the favorites. If that's the best he can ride, on what seemed like a very good day for him, even after the holeshot, then I think it's clear why he is where he is in the predictions (fluctuating between #10 and #8), which is well below the peak of his career. (A little tidbit on Millsaps vs Jason Anderson in this article.)

Is Ryan Dungey even more boring that Tim Duncan? Has that comparison been made before? (probably, since nothing is ever new these days) Would the young motocross fans say "Who the hell is Tim Duncan?" (he's a future Hall Of Fame basketball player, btw, considered one of the 10 best of all time) But Dungey's quiet dominance keeps reminding me of Duncan, in the way that he looks like he's just cruising, but night in and night out he just methodically buries the competition. And while it sounds like a backhanded compliment, the more that Dungey makes these races boring by running away with it early, the more impressive he seems (and the more his edge grows in the predictions, as it certainly will in this week's update).

Chad Reed does it again, defying--for another week--whatever critics remain. And this time he held off two of the youngest riders in the field, as down the stretch neither Ken Roczen nor Eli Tomac could slip ahead of him. Like Millsaps, Reed had a good-but-not great practice time, then impressed in his Heat, finishing 2nd behind Millsaps -- Reed also got off the line quickly, starting 3rd, but the difference was that Reed kept it going all the way through the final lap.

Eli Tomac -- speaking of Tomac and slipping, Tomac gave away 3rd place right before the finish by making his own mistake of skidding on a berm and then tumbled down after losing control of his front wheel. In fact, he had a legitimate chance at Reed for 2nd, then was lucky to only fall back to 4th. Other than the slip, Tomac looked good all race -- more like the Tomac I think most of expect. He also looked good leading up to the main event, finishing 3rd in his Heat, a couple seconds behind Dungey and Ken Roczen but way ahead of the rest of the field.

Roczen also looked more like the rider we expect, though he was aided near the end of the race by Tomac's mistake, moving up to 3rd. Not that he wouldn't have passed Tomac without the assist, as there was a close battle for 2nd/3rd/4th along with Reed. Roczen was by far the fastest in practice, with a time more than a half-second faster than all but Christophe Pourcel and Dungey -- in fact, his fastest time from the other practice session was the 5th fastest overall.

Trey Canard had a rough day, that we won't need numbers to describe. He registers a DNF after getting tangled up, crashing, and sustaining a second injury for the day at the end of Lap 2. He was originally projected at #3 in the preseason predictions, just ahead of Tomac, but so far Canard has not seemed like a top contender this year, and the numbers, when updated after this week, likely will match as this as he should drop back toward #7 or worse.

Jason Anderson couldn't repeat his week 1 magic. Will the calls that he's going to contend quiet down? Usually in sports, one week is enough to completely reverse the general public sentiment, even though we really need more time on Anderson to get a good read. My gut feeling was that he would finish 2nd or 3rd in the Angels Stadium setting where he has ridden well in the past -- but that's what gut feelings get you, as he finished 5th and never really put a scare into Dungey or Reed.

A better showing again for Marvin Musquin, but still not quite up to the level that will get him back up to our original prediction spot for him (#7). He had a poor opening to the race, due to running off-course while dealing with traffic at the start, but from the replay I saw, it looked like mostly his own fault. Finishing #9 in the race is not a BAD result, considering his early mistake, and it should move him to up to 9th overall in the updated forecast.

Cole Seely at 6th seems like an appropriate finish, not much to see here, I don't think. Practice time was 6th, Heat finish was 3rd -- so also about what we'd expect for a typical Seely race day.

Justin Brayton/Jacob Weimer -- These two qualified well, relatively speaking, then finished 10th and 12th, respectively. So far this season, both riders have outperformed their original projections, although helped in some part by injuries to others. Each finished 4th in their Heat races, though 7+ seconds off of the leader for each of them.

Christophe Pourcel -- Such an interesting case: he's qualified with some of the fastest practice times (2nd in week 1, 4th in week 2, 2nd overall this week), then can't hang in the Heats or Main Event. This week his fastest Heat lap was 1.5 seconds slower than his fastest practice lap, his fastest Semi lap a bit slower, and his fastest Main Event lap another second slower than that. Is he just wearing down as the day goes on? Everyone slows a little (I suppose I could test that statistically), but usually more like a second or less. I need to ask someone who actually knows what they're talking about to see what the deal is with Pourcel.

Phil Nicoletti -- I mention because I was hoping to get some more data to figure out if his early results were going to hold up. His fastest practice lap was all the way down at #26, but he was 7th in his Heat and 3rd in his Semi, not good but not bad, but then with a DNF we don't actually get anything more to go on in terms of Main Event data.

Nicholas Schmidt/Lawson Bopping -- Two other guys I wanted to see a little more on, in case they could back up some earlier surprising success. But, at #17 and #18 they weren't really too impressive in the Main Event, nor were any of their prior qualifying runs/races.

Much like SDSX1, not a lot of drama to recap, with Dungey again hogging the limelight. Anything major I missed or that you'd like to see about the race?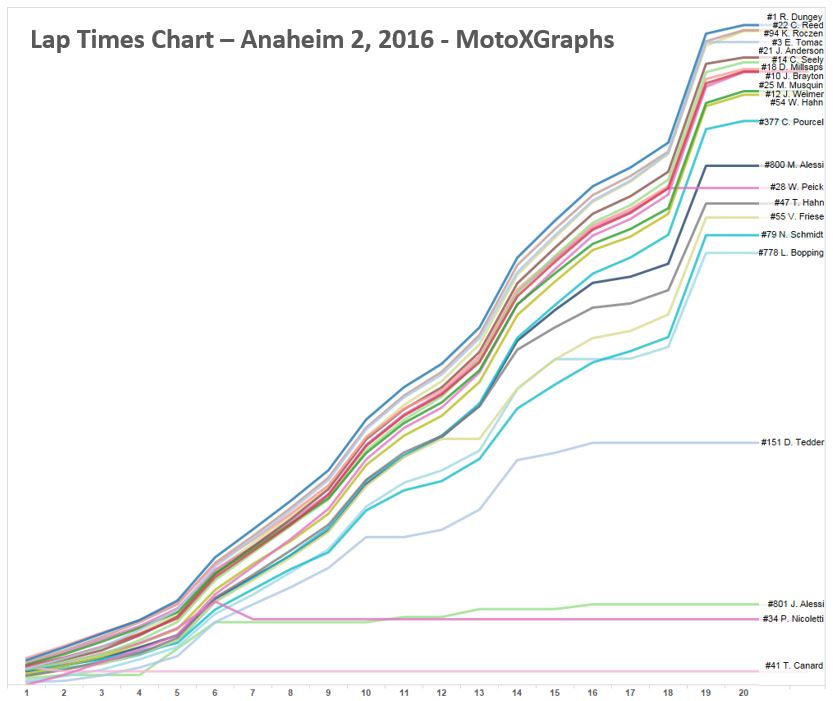 Posted by: SagehenMacGyver47 ::: As always – Feedback welcomed
Previous: 2016 Supercross Predictions - 450SX Update after week 2 at SDSX1 | Back to Blog | Next: James Stewart and the rest of 2016 Supercross season