Pro MX Outdoor - 2016 Predictions After Week 2
6/2/2016

We've got two weeks of results under our belts now, so what's new with the Lucas Oil Pro Motocross Championship predictions? In the 450's, changes are fairly minor because the top six riders have performed about as well as expected -- with Ken Roczen over Ryan Dungey being the major exception.

450MX SEASON PREDICTIONS
Although Roczen has been clearly faster than Dungey in the first 4 motos, Dungey won 1 of the 2 weeks overall because of Roczen's mechanical problem from Moto 1 at Glen Helen. While I made a minor adjustment to not ding Roczen going forward for what seems like a one-time random occurrence, Dungey still comes out on top for the full-season prediction: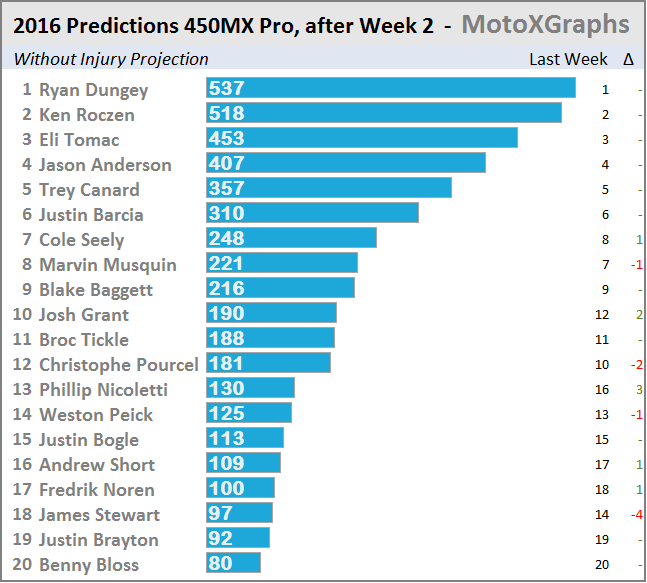 If Roczen goes 1-1 again, by a decent margin, they will basically be about dead even with Roczen having the slight advantage. It may seem somewhat understated, but for Roczen to essentially wipe out 2+ years of MX and SX data that favors Dungey -- in just 3 weeks of races -- is quite a feat.

Eli Tomac remains the favorite for the last podium spot, with a decent gap over Jason Anderson…until we apply the adjustment for the injury prediction: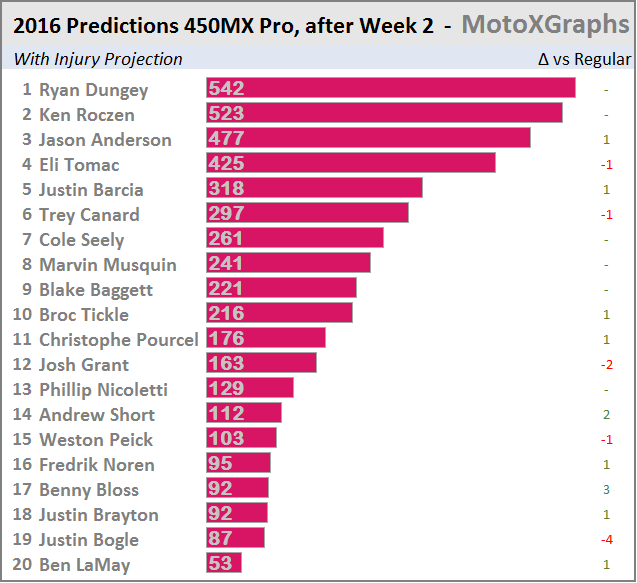 After taking into account riders' injury history, Anderson overtakes Tomac for 3rd. Justin Barcia moves up to 5th, and James Stewart falls out of the Top 20 altogether. Justin Bogle falls 4 spots, but that's more because the group from 15 to 19 is bunched together, and his injury history is slightly worse than those around him (65% of races raced for Bogle, versus 80%+ for the others).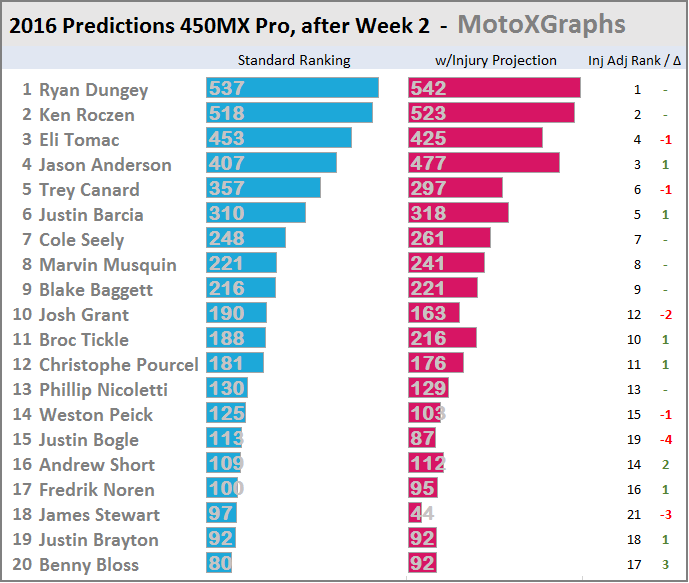 250MX SEASON PREDICTIONS
We said last week that the numbers weren't ready to give Joey Savatgy a huge boost based on just his Week 1 win, and that panned out as he looked just decent at Glen Helen. So while Alex Martin has taken the 250 class by storm through 2 weeks, he sees a bump but he's not going to rocket into a podium spot all of a sudden: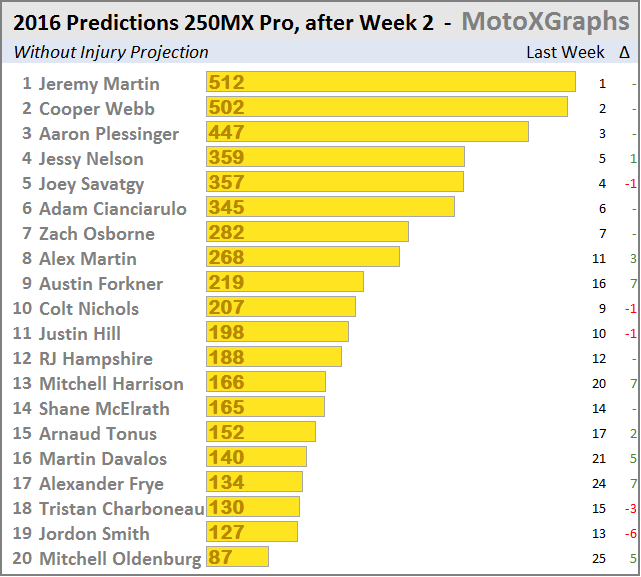 Alex Martin does move up 3 spots, though (he also moved up 6 spots last week). Jeremy Martin holds on to the top spot -- although Cooper Webb has closed the gap some. Austin Forkner also moved up quite a bit, into 9th, and from the looks of it the numbers might still not be giving him enough credit.

After factoring in the injury projections, Alex Martin does move up some more, to #6. Adam Cianciarulo drops to #8, based on a subpar injury record. A number of riders change spots in the bottom half of the table: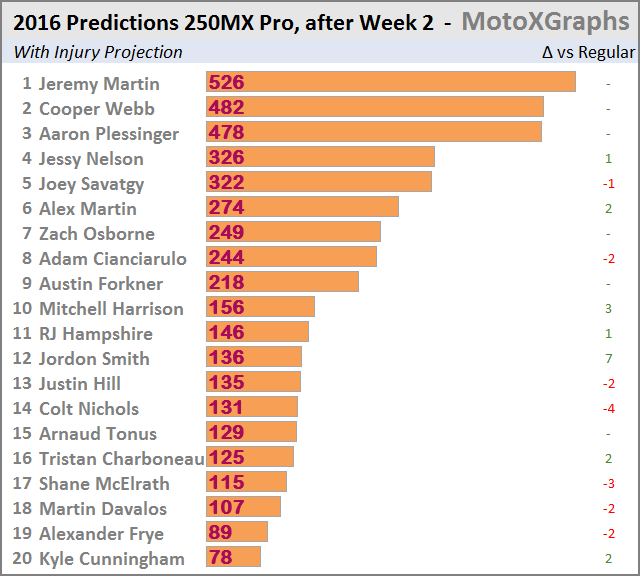 Injury and non-injury predictions together: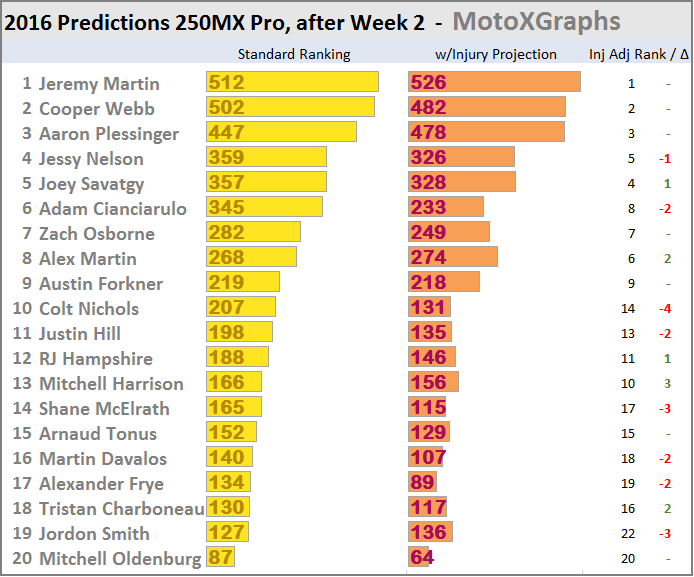 "THIS-WEEK" PREDICTIONS
Who's got the talent and primed to win this week at Thunder Valley. The "This-Week" rankings look at the rider's perceived talent (aka "true talent") as well as injuries and the rider's history at the upcoming track.

Here are the predictions for the 450 class at Thunder Valley: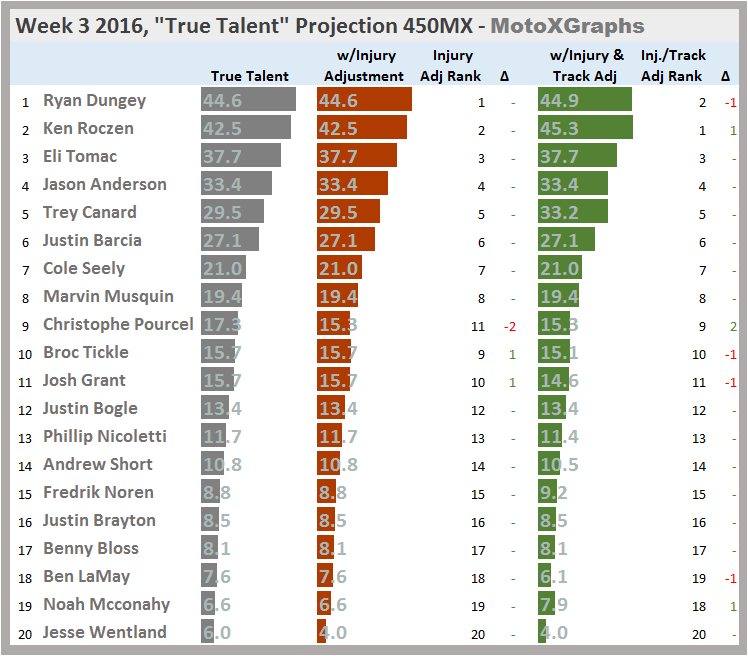 One major adjustment here - because of Roczen's success at Thunder Valley (relative to Dungey), Roczen is predicted to be #1, by an extremely slim margin. It's only based on 2 years of races for Roczen (4 for Dungey), so take it with a grain of salt, as always for the Track/Stadium adjustments. Marvin Musquin is running a bit low, in 8th, but he hasn't really shown much better than that, and he's got Barcia and Cole Seely, ahead of him, so it's still tough competition even at that part of the Top 10. [Note - Baggett, Stewart, and Peick are all out, per
RacerX
.]

There are Track Adjustments for:
Ken Roczen -- expected to do 2.8 points better, based on being 1st in 2014 and 2nd in 2015, compared to 3rd otherwise.
Trey Canard -- expected to do 3.7 points better, based on being 4th in 2013 and 2014 at Thunder Valley compared to 6th otherwise.
Josh Grant -- expected to do 1.0 points worse, based on and average result at Thunder Valley of just worse than 12th, compared to just worse than 9th otherwise.

Here are the predictions for the 250 class at Thunder Valley: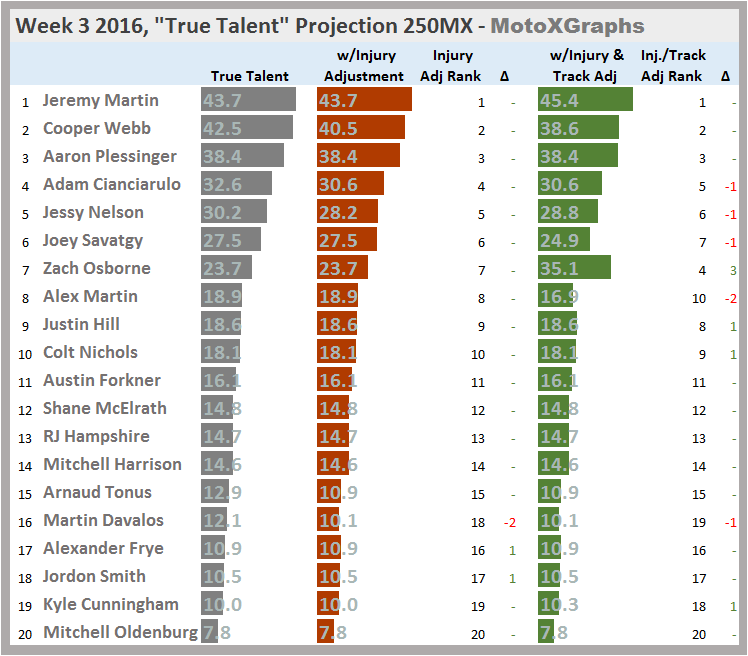 No big surprises, with Jeremy Martin, Cooper Webb, and Aaron Plessinger in 1-2-3. Zach Osborne, though, jumps up to #4 because of his Track Adjustment -- at Thunder Valley he finished 2nd in 2015 and 3rd in 2014. Alex Martin, on the other hand, moves down 2 spots based on relatively poor finishes at the track.

There are Track Adjustments for:
Joey Savatgy -- expected to do 2.6 points worse, based on 19th / 12th / 14th place finishes in 2013 through 2015, compared to 10th otherwise.
Zach Osborne -- expected to do 11.4 points better, based on 3rd in 2014 and 2nd in 2015, compared to 8th otherwise.
Alex Martin -- expected to do 2.0 points worse, based on an average finish of just worse than 24th in 2012 through 2015, compared to 14th otherwise.

Some info or charts may change over the next day or two based on injury status as we approach the gate drop Saturday.






Posted by: SagehenMacGyver47 ::: As always – Feedback welcomed




Previous: Glen Helen "This-Week" Predictions Review | Back to Blog | Next: 2016 Pro MX Week 3 - By-The-Numbers Recap: Thunder Valley