2016 Pro MX Week 9 - By-The-Numbers Recap: Washougal
7/24/2016

After the first motos fell a bit flat, both classes' Moto 2 were quite a bit of fun. Although Moto 1 for the 250's kicked off the day with Alex Martin's first moto win, the group still didn't pick up many points on Cooper Webb. And for the 450's, it was same old, same old as Ken Roczen cut through to the top of the pack during Lap 1, making a last-second surge to get to 1st right at the finish line. From there, Roczen ran away with it and Eli Tomac cruised to an easy 2nd and Marvin Musquin to an easy 3rd. But the second round was much more exciting....

LAP CHARTS
(Note: now interactive, so in one graphic you can select 450/250 and Moto 1/2. Hover over the lines to see the Rider/Lap/Position.)
&nbsp


450MX Class
Since Roczen took off--once again--without a challenge from the pack, the race's excitement was the battle for the other podium spots. Christophe Pourcel was having a great race, riding in 2nd up through Lap 12. Up through Lap 10, Pourcel had at least a 2 second advantage on his closest follower, Tomac. It looked like he might cruise to the finish in 2nd, but then -- as you can see below -- Tomac made a second half charge, making up about a second per lap in laps 11, 12, and 13. After Tomac moved into 2nd on Lap 13, Musquin was also gaining on Pourcel, and it looked like Musquin would eventually overtake Pourcel, too -- but 4th is still a good finish for Pourcel. However, Pourcel caught a peg on a double, and went down hard, unable to finish the moto. A real shame considering how well he'd ridden up until that point.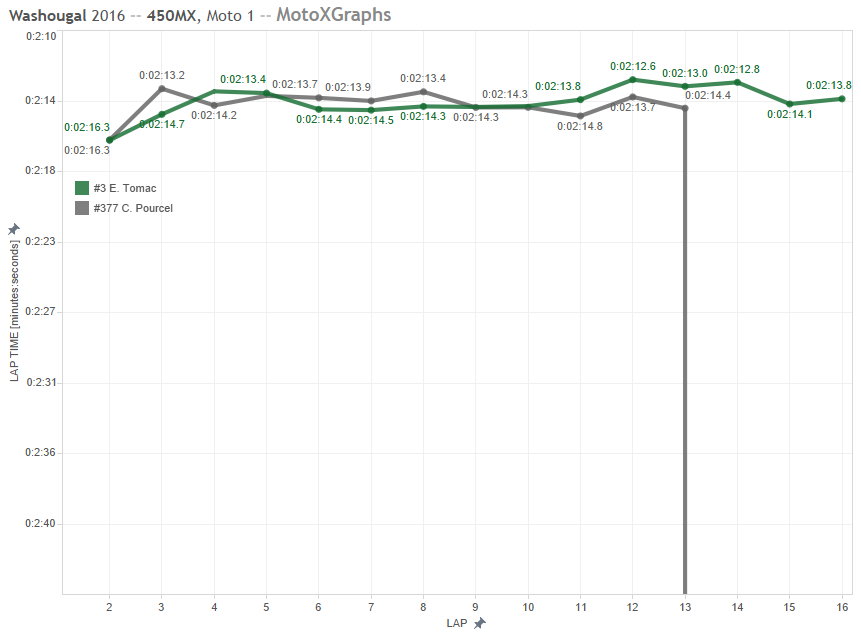 Speaking of Tomac and kicking it into gear in the second half, his 3 fastest laps were 12, 13, and 14. He "seemed" faster in those later laps, but I wondered if that was just relative to everyone else or if he was actually riding faster than in the earlier laps? Well, you see in the graph that a good portion of the last third of the race was not just relatively fast but was actually faster than the laps before. Maybe that was a prequel to what would happen in Moto 2.

Something was off for Justin Barcia, who not only got a terrible start -- they didn't say if he went down in the early part of the race -- but also was a couple seconds off of the other front runners' times (Tomac/Musquin/Pourcel, not referring to Roczen here) the whole race. He made it back to 10th, but not because he was at a pace that was equal to the top riders.

Whatever it was that Tomac figured out in the latter part of Moto 1 carried right over into Moto 2. Roczen got the familiar good-start-but-even-better-first-lap, and it looked like the race was over right away. But then I noticed that when the camera was on Tomac, you could still see Roczen up ahead -- that's not usually the case once Roczen takes off. I wondered if Tomac might be able hang with Roczen, but that turned out to be a big selling Tomac short. Instead, Tomac turned the tables and buzzed past Roczen, leaving him behind quickly. From there, Tomac would better Roczen's time each and every lap, often by 2 seconds or more: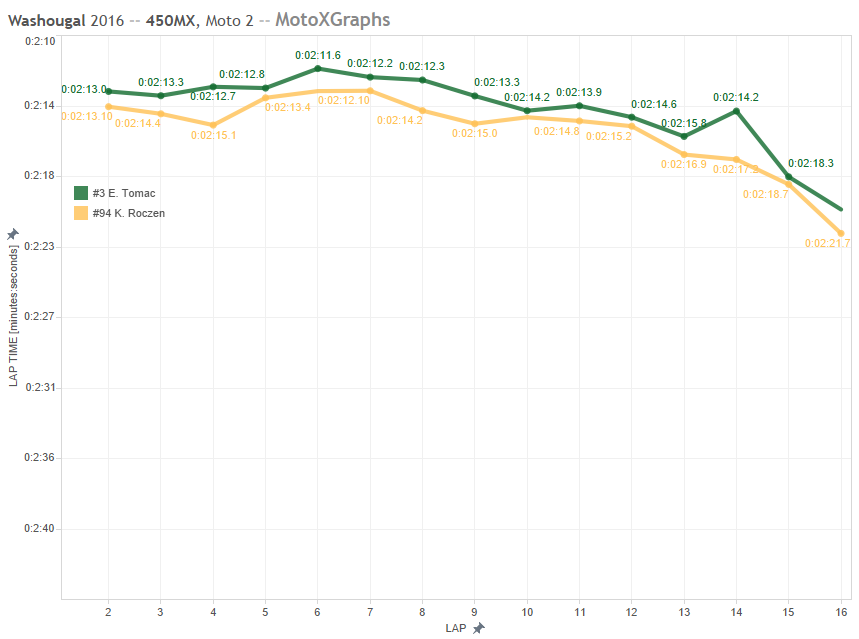 Musquin had the hole shot, but he had to settle for 3rd. Barcia would hang out in 4th and 5th all race, but he nipped Weston Peick at the end (in Lap 15, the second-to-last lap) to finish in 4th. Barcia must have figured something out about halfway through the moto -- a la Tomac in Moto 1 -- because his second half of Moto 2 was quite remarkable. Barcia's laps 9, 10, 11, 12, 13, 14, AND 15 were all faster than ANY of his prior laps. In fact, Lap 15 was a full second faster than any of his laps 2 through 8. Here he is compared to Musquin (keep in mind Musquin was cruising to a fairly easy 3rd, so he likely let up in the final few laps).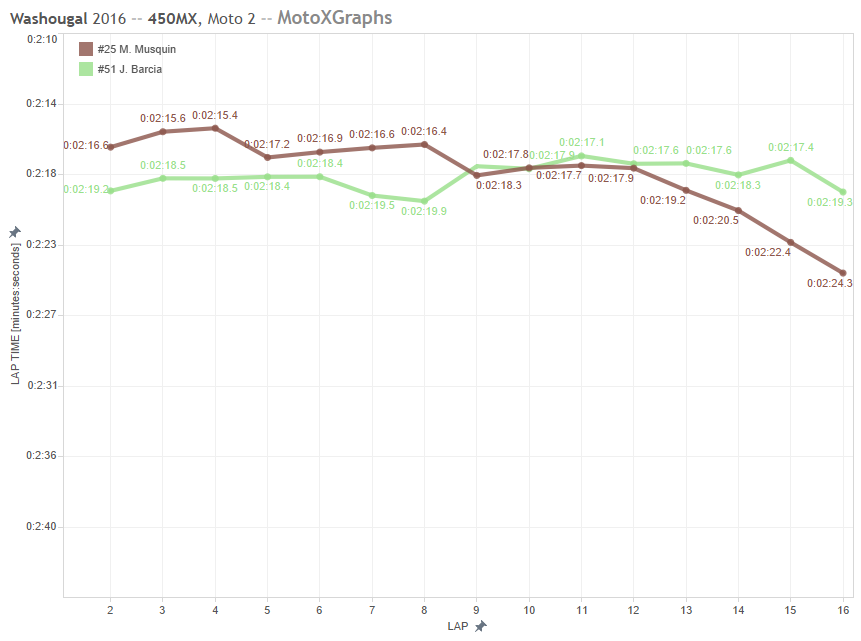 Peick, despite getting caught by Barcia, had his best overall finish -- 4th -- on the season (5th at Southwick), and I believe that ties his career best for 450 outdoors. Just as predicted ;) for him, that he would do better at Washougal than at the average track.

Pourcel shook off the gnarly Moto 1 crash and rebounded to 6th in Moto 2, giving him 13th overall. After him, in 7th, was Andrew Short, whose 6 / 7 put him in 6th overall, which is also his best finish of the season (7th at Spring Creek).

BTOSports.com-KTM-WPS rookie Benny Bloss had his career best moto finish of 5th in Moto 1, and his 5 / 9 put him 7th overall, tying his career high (Southwick). Phil Nicoletti also had his season best finish in Moto 1 -- 4th -- (7th at Spring Creek), and his 4 / 11 put him 8th overall, tying his season best (Glen Helen). Dean Wilson also looked impressive with an 8 / 10 in his second week back from the ACL injury, getting 9th overall.

250MX class
(TBD)
So, where did we leave off? Oh yeah, the 250 class was predictable in its unpredictability, as a mini-feud led to a big mashup in the opening lap of Moto 2, sending Austin Forkner to his first pro Moto win and Jeremy Martin to a hard-earned 17th -- riding with broken ribs. Alex Martin won the first Moto and managed to escape from the Moto 2 pileup in 5th, allowing him to get to a 2nd place finish and the overall win. Forkner's moto win plus a 10th in the first Moto left him 2nd overall, also a career first for him as a pro. One member of the feud, Cooper Webb matched a #3 in Moto 1 plus #6 in Moto 2 for 3rd overall. The other member, Joey Savatgy, lost out on his 2nd place finish in Moto 1 when he could only make it to 11th in Moto 2, finishing 4th overall.

The only question I have is "What if the pileup didn't happen?" Let's take the laptimes from Lap 2 through Lap 16--pretending everyone started from scratch at Lap 2--and see what might have been. We get a slightly different story: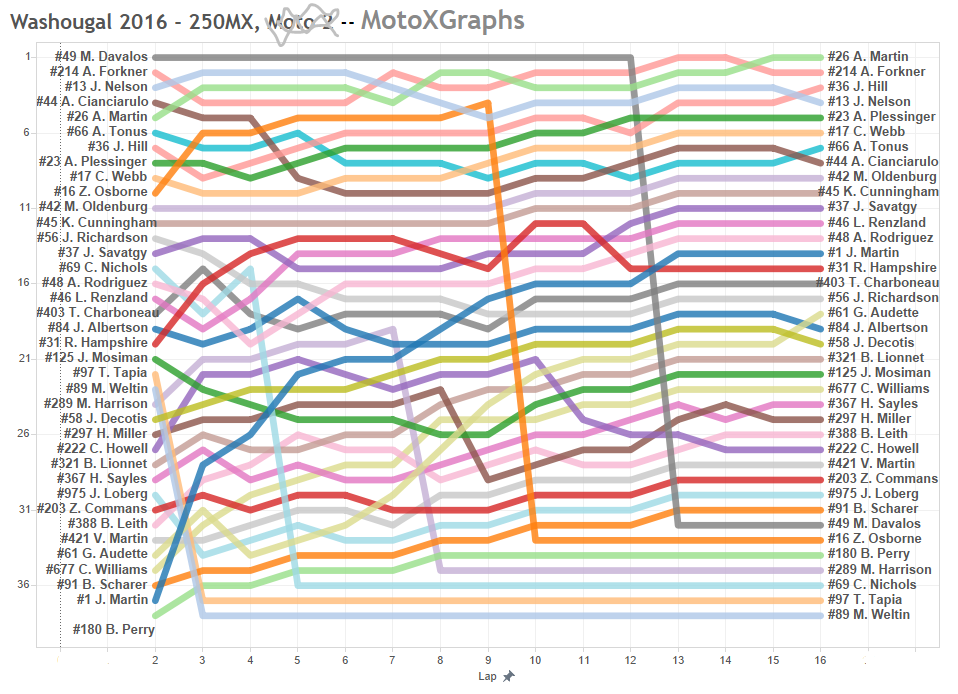 Now the headline reads: "Alex Martin sweeps both motos on the way to #1 Overall". Martin Davalos leads the whole moto until a tragic crash puts him out of the race with 3 laps to go. Forkner took over the #1 spot but couldn't hold off Martin's comeback with 1 lap remaining. Justin Hill snuck into the final podium spot for this hypothetical Moto 2.

In this new world, Alex Martin is still #1 overall, but Webb moves in to 2nd with a 3 / 6 giving him 35 points. Forkner and Hill tie with 33 points, but Forkner's 2nd place in Moto 2 gives him the podium spot overall.







Posted by: SagehenMacGyver47 ::: As always – Feedback welcomed




Previous: Pro MX Outdoor - 2016 Washougal Predictions | Back to Blog | Next: Washougal Predictions Review