Supercross "This Week" Predictions -- Phoenix 2017
1/26/2017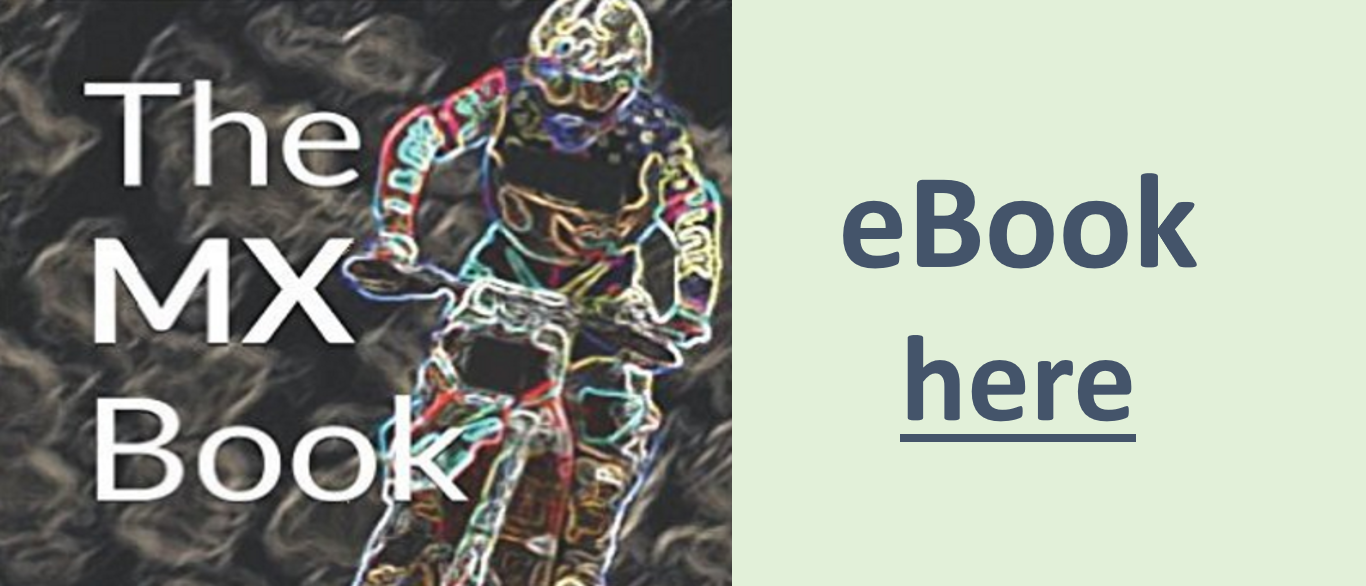 Can anyone keep up with Ryan Dungey? Even if so, can anyone beat Ryan Dungey? The general consensus seems to be that Dungey should cruise to the 2017 Supercross title now that Ken Roczen is sidelined. Who's got the talent and primed to challenge Dungey at Supercross week 4 in Phoenix?

As usual, the updated 2017 Supercross Prediction puts the whole season in perspective, while the "This Week" rankings look at the riders' perceived ability (aka "true talent") as well as injuries and the riders' history at the upcoming track.

**For those not familiar, a brief explanation of the components that factor into the "This Week" rankings:
True Talent
The standard MotoXGraphs prediction of rider performance, based on the current and prior seasons, weighing recent results more heavily. It differs from the "Full Season" prediction in that it is not worrying about the rider's current point standings (which obviously are a crucial part of the full season prediction), only about their current ability.

Injury Adjustment
Attempts to account for riders competing at less than 100% due to injury. Full research behind the Injury Adjustment can be found in The MX Book (or eBook). While this adjustment is only an estimate (what predictions aren't?), the purpose of the Injury Adjustment is less about trying to make an exact prediction and is more about indicating that a rider is recovering from injury so the viewer can take that into account at whatever scale he or she chooses.

Track Adjustment
Provides an increase or decrease in expected points for the riders based on their historical performance (over the past 4 years, where applicable) in the upcoming city/stadium. Also validated by research in The MX Book ( or eBook). The track/location effect has a slightly muted nature in Supercross compared to outdoors since the tracks are not exactly the same in Supercross sites from year to year (or even within the same year for sites like Angel Stadium or Petco where there are often multiple races in one season).

Here are the predictions for the 450 class this weekend. Not much to the Injury and Track adjustments since no riders are returning from major injury yet (Trey Canard and Justin Barcia are still out) -- Mike Alessi and Jimmy Albertson were out for injury at Anaheim 2, so you might want to factor that in, opening up a spot for Nick Schmidt and/or Tommy Hahn. And since the race is at University Of Phoenix Stadium, there is only 1 historical race to factor in, which doesn't produce much of an effect.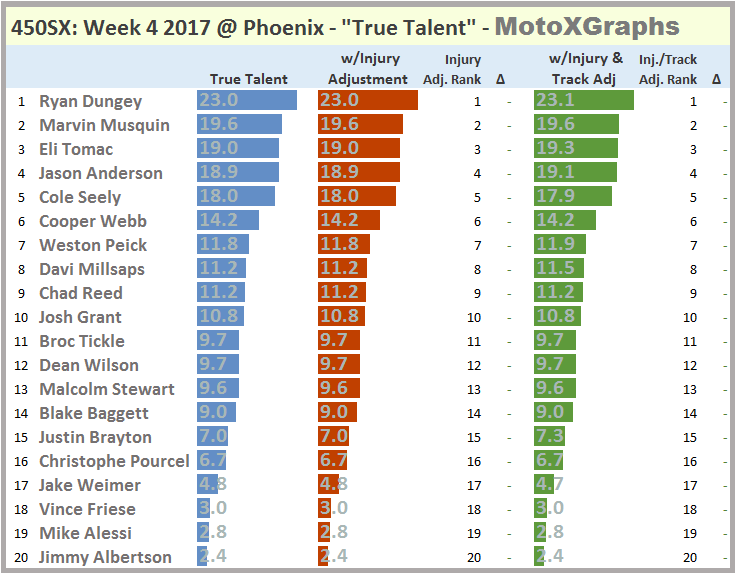 Dungey tops the list for the first time in 2017, and Marvin Musquin makes his first appearance as the leader of the Musquin/Tomac/Anderson/Seely group. Eli Tomac and Jason Anderson are nearly in a tie for 3rd, with Tomac getting the slight edge -- somewhat coincidentally, those were their finishing positions last year (Tomac 3rd, Anderson 4th). Tomac's 3rd in Phoenix followed a 7th place the week before in Oakland.

Cole Seely still lags a bit behind those two, as discussed in the full season prediction, his recent history is just not quite as good as that of Tomac or Anderson. That said, he's got more points than either of them in 2017, and he has looked very comfortable on the new Honda.

Rookie Cooper Webb still sits in the Top 10, and it will be interesting to see if he can replicate his success from Anaheim 2 (4th). Fellow rookie Malcolm Stewart is down at #13, but his predicted performance is very close behind Broc Tickle and Dean Wilson.

Davi Millsaps has beaten his predictions so far this season, and he now sits all the way up at #8. Hard to know if the results from one year are predictive, but in 2016 he finished 5th in Phoenix, which was his second best result in 10 races (he averaged 9th place everywhere else).


Things to watch:
1. I mean this is the thing to watch for the rest of the season, right: can anyone catch Ryan Dungey?
2. Cooper Webb looked night-and-day better at A2 -- can he keep that progress going?
3. Can Eli Tomac get back into this? Despite a poor start, he's essentially in 4th in the standings (5th, but Roczen's ahead of him), so one good race could put him in 3rd or better, right back in the contender conversation.
4. A lot of people were pulling for Malcolm Stewart to do well in his return at A2, and for most of the night he held his own, considering it was his first race of the season. Unfortunately he had a crash in the whoops and finished 18th. I presume he'll finish higher at Phoenix, but will he be a Top 10 fixture? Can he compete for Top 5?







Posted by: SagehenMacGyver47 ::: As always – Feedback welcomed




Previous: 2017 Supercross Week 4 -- By-The-Numbers Recap: Phoenix | Back to Blog | Next: Anaheim 1 2017 -- Predictions Review