Supercross 2017 Predictions -- Update After Week 3
1/24/2017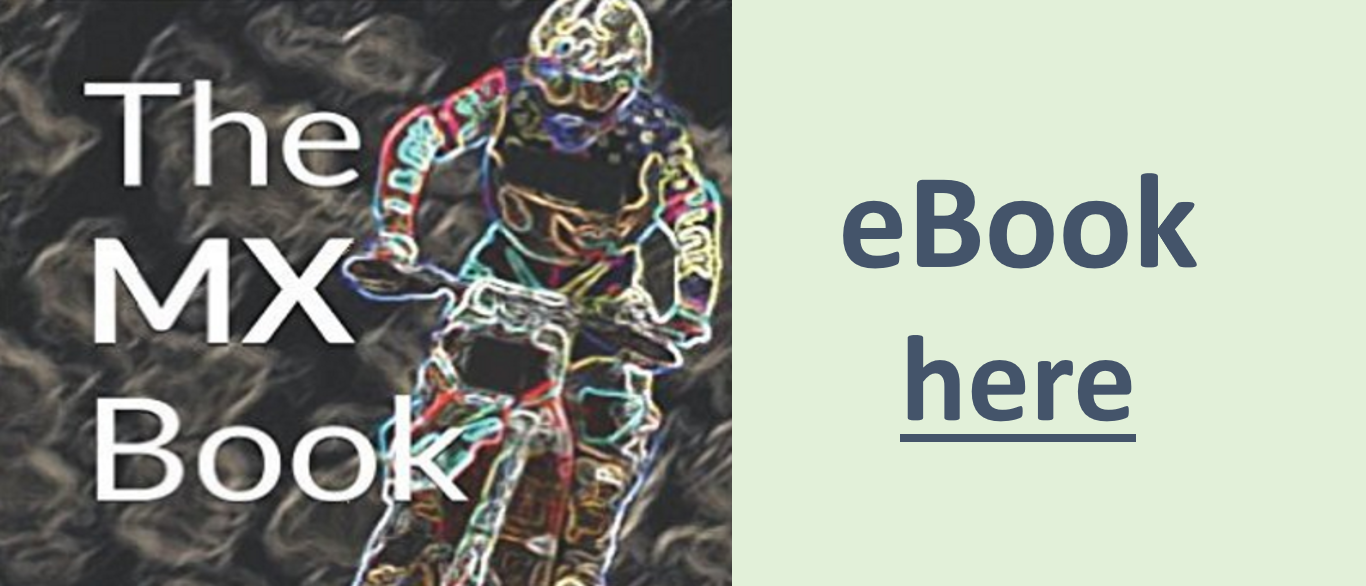 Just as we were about to settle in for the 2017 season-long outlook, Ken Roczen's crash (and Jason Anderson's DQ) causes movement all across the board. Predictably, Ryan Dungey moves to #1, and Marvin Musquin has a firm grasp on 2nd. There's essentially a 3-way tie for who is expected to grab the #3 spot, which we'll get into below.

SEASON PREDICTIONS
Dungey is predicted to open up a margin of more than two full races by season's end -- that might sound extreme, but he's already got an 18 point lead over everyone except Musquin, and in 2016 he won by 60 points over Roczen and 76 points over 3rd place Anderson.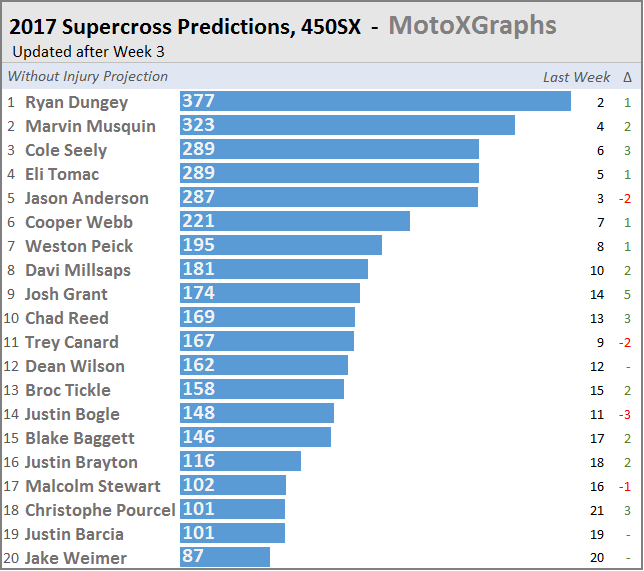 With Dungey and Musquin moving into 1st and 2nd, that leaves Cole Seely, Eli Tomac, and Anderson in a dead heat for 3rd. Seely has the points advantage over both. Tomac has two years running where he's been better than Seely in both SX and MX (in terms of lap times). Anderson was faster than Seely in both SX and MX in 2016. Anderson was also faster than Tomac in 2016 SX but Tomac was faster in MX. All of that adds up to a virtual tie. And don't count out one of them catching up to Musquin in 2nd.

You might think that tied for 3rd is an extremely favorable prediction for Tomac, whose best finish so far in 2017 is 5th. The model, though, is taking into account his past performance, and while something is definitely bothering him (possibly still arm pump, who knows what else), if he overcomes that, he suddenly is the fastest non-Dungey rider based on recent history. Don't forget that Tomac capped off 2016 SX with a 2 / 2 / 3.

After 5th, no one else is particularly close in predicted points -- that's because no one has been nearly as fast. Continuing from last week, Weston Peick and Davi Millsaps have been about a half second slower than Seely/Tomac/Anderson, per lap.

Cooper Webb has held a high projected spot, starting in the preseason rankings but until Anaheim 2 his results had not lived up to the expectations. His 4th place last week keeps him close to the front in points, and he maintains his projected finish in 6th -- moving up 1 spot as Roczen falls out of the Top 20.

Chad Reed has been the next fastest, but he sits behind Josh Grant due to Reed's crash in Week 1 (finished 20th), leaving him 10 points behind Grant through Week 3. Both riders move up a few spots, though, as Roczen drops out, Trey Canard's injury lingers, and Justin Bogle crashed out last week. Grant moves up another couple of spots with a 6th place finish at A2, which puts him currently 8th in points.

- Weston Peick continues to put a down 2016 Supercross season behind him, as only the top crew (Dungey, Musquin, Anderson, Seely, Tomac, and Roczen) have been faster than him in terms of lap times.
- Malcolm Stewart looked good enough that he basically maintains his spot in the rankings. If we're judging by his first half of the race, he'd jump up a few spots, but the reality is that he did have a crash at A2. If he rounds into form quickly, he'll jump up the rankings, probably at the bottom of the Top 10, but he is working against two weeks of missed points since he didn't ride A1 or San Diego. Without much of a track record, though, his projections are subject to large swings.
- Blake Baggett rebounded from his off day (to put it lightly) in San Diego, but he's only up to 15th, which is probably disappointing for a guy who many said was looking quite fast in workouts leading up to A1.
- Christophe Pourcel moved back into the Top 20, but only barely at 19th. Another couple finishes in the teens should move him back towards his preseason prediction, but it wasn't that great to begin with (16th).

Injury Adjustment
After factoring in riders dealing with injuries as well as projecting future injuries, a few more things change. You can find a full breakdown of predicting injuries in The MX Book, detailing the apparent randomness of injury and the likelihood of reinjury.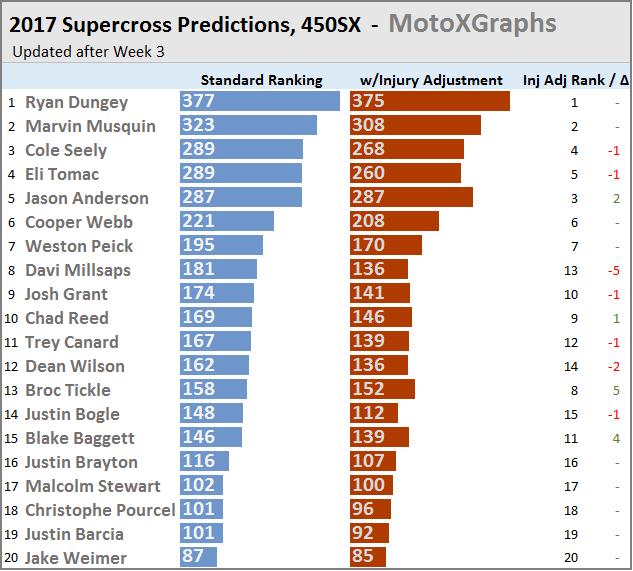 As before, with the field so crowded around the bottom of the Top 10 and the low teens, several riders lose or gain multiple spots. This early in the season, it's very much a toss-up when were' talking about a difference of only 16 (!) points separating 8th from 14th after the injury adjustment. Davi Millsaps still has the biggest predicted drop, expected to lose 5 spots--partly based on projections stemming from recent injury history and partly because he happens to have a pretty slim lead on the riders projected behind him before taking into account the Injury Adjustment.

Things will get back on track in Arizona, but I'd wager there's a different feel to the racing for a little while as the shock from Roczen's disappearance is still in effect. Not to mention, if and when Dungey runs away from the field, another sickening feeling will come over the Supercross world, longing for a title chase. Despite the admiration we should have for Dungey's amazing ability to consistently ride at an extremely high level, it's not nearly as fun to watch and wonder who'll finish in 2nd.







Posted by: SagehenMacGyver47 ::: As always – Feedback welcomed




Previous: Supercross 2017: Anaheim 2 -- Predictions Review | Back to Blog | Next: Supercross "This Week" Predictions -- Phoenix 2017