Supercross 2017 Predictions -- Update After Week 4
2/1/2017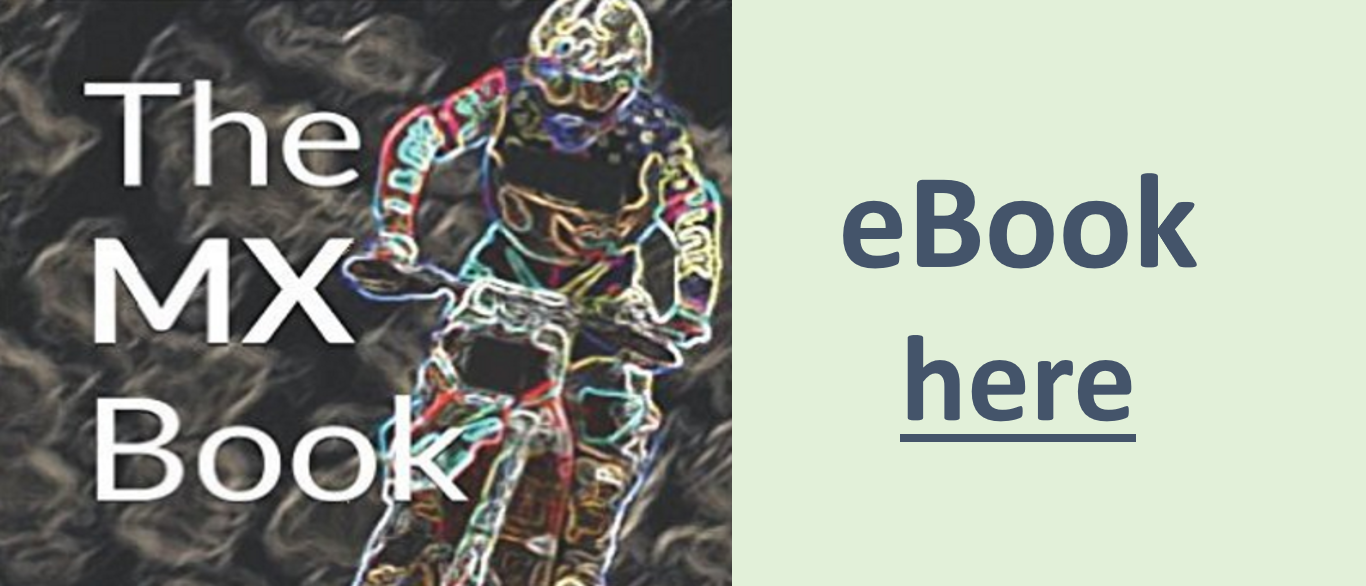 One week ago we thought that perhaps the top spots were solidified -- Ryan Dungey had a clear path to the title, Marvin Musquin had been distinctly the next best rider, and some combo of Cole Seely and Jason Anderson was likely to be #3 and #4. (All of this excluding Ken Roczen, of course.) Eli Tomac was in the mix, but hanging by a thread -- he was predicted 4th, but only because of a DQ by Anderson at A2.

Prior to last weekend, if you said "I think *fill-in-the-blank* is going to beat Dungey and catch him in points", you'd be laughed out of the room. Now? At least you could entertain the idea that Dungey has a viable challenge from Tomac.

Eli Tomac's win at Phoenix was so dominant that it pulled his average speed for the season (1.7 seconds per lap above average) up to be nearly equal to Marvin Musquin's (2.0 seconds per lap above average). It didn't help for Musquin that he finished 9th, dragging down his average for the season so far. That flip from Pheonix carries into the Full Season predictions, where Tomac jumps 2 spots up to 2nd and Musquin falls further behind #1 Dungey.

SEASON PREDICTIONS
Despite finishing 3rd at Phoenix, Dungey's predicted lead grows slightly (as did his current points lead).




Seely and Musquin each fall 1 spot as Tomac leapfrogs them. While Tomac trails Musquin in points (and is equal to Seely), and his speed over the whole of 2017 has been slightly slower, the model considers prior seasons and the most recent MX season, where Tomac was much better than either Musquin or Seely, hence being predicted slightly above them.

Chad Reed also had quite a race at Phoenix, and his 2nd place brought his average speed for the season up to very good (but not great, 1.5 seconds per lap faster than average). Keep in mind he had just one bad lap in Week 1 that caused his DNF, so while that cost him gravely in points, it didn't affect his average lap time that much. As a result, Reed moves up 3 spots.

Weston Peick broke/dislocated his wrist (among other injuries), which will keep him out for several weeks, ruining an impressive start to the season and dropping his prediction from 7th to 16th. Several riders gain a spot because of that, including Trey Canard who is likely to return this week.

- Malcolm Stewart once again looked good enough, but doesn't gain ground since a crash (really was knocked down by Davi Millsaps) spoiled his race and his overall average laptime.
- Another lackluster week for Christophe Pourcel, in 18th, moves him down a spot into 19th. If it's true that he's stepping away from Supercross ( with Dean Wilson filling his spot with Husqvarna), then Pourcel would drop out of the predictions, and Vince Friese would slide up from 21st into the Top 20.

Injury Adjustment
After factoring in riders dealing with injuries as well as projecting future injuries, a few more things change. As usual Millsaps gets bumped down, but staying injury-free so far lessens the impact of the adjustment for him, and he drops only 2 spots from 8th to 10th. You can find a full breakdown of predicting injuries in The MX Book, detailing the apparent randomness of injury and the likelihood of reinjury.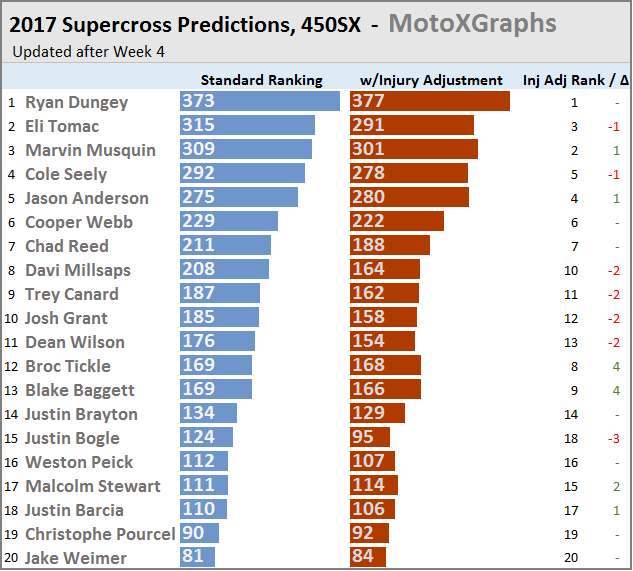 By virtue of holding their ground in terms of the adjustment, Broc Tickle and Blake Baggett move up several spots, with only 12 points separating 8th from 13th. The final spots in the Top 10 are definitely up for grabs, with any of a half dozen riders competing for them right now. Not to mention Justin Brayton who had his best race so far at Phoenix, and even Stewart if he starts putting together full races.

Now that we're back on the edge of our seat, all eyes will be on Tomac and Dungey to see if the result from Phoenix was more than a passing fancy -- can Tomac do it again? Can Reed? And certainly Marvin Musquin and Jason Anderson want to re-insert themselves into the podium positions. Hey, if Reed and Tomac can beat Dungey, then why not them? Well, if recent history is our guide, then we know what to expect. Predictions for Oakland will be up by Thursday night, Friday early morning at the latest.







Posted by: SagehenMacGyver47 ::: As always – Feedback welcomed




Previous: Supercross 2017: Phoenix -- Predictions Review | Back to Blog | Next: Supercross "This Week" Predictions -- Oakland 2017