Supercross 2017 Predictions -- Update After Week 7
2/23/2017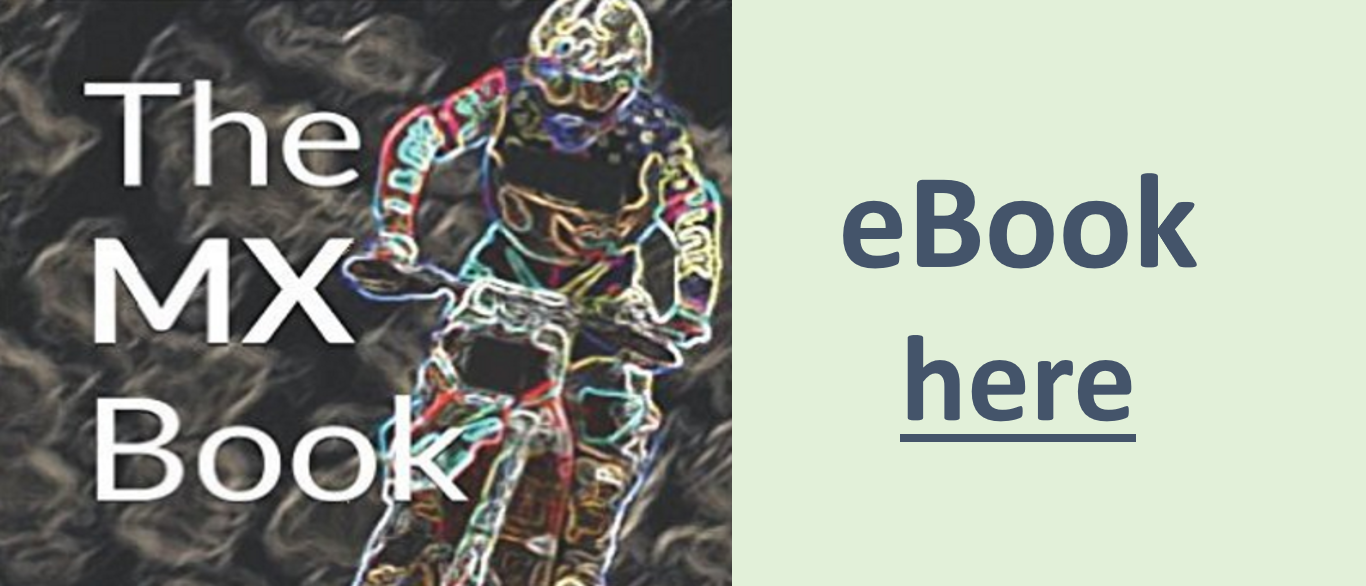 Just like last week: despite a slightly off week (relatively speaking) for Ryan Dungey, he maintained a healthy gap in the predicted standings. Dungey loses some of his buffer between himself and Marvin Musquin/Eli Tomac, while those two are neck-and-neck for 2nd in the predictions.

SEASON PREDICTIONS
The result of Minneapolis is that Dungey's lead shrinks from 68 points last week to 54 points in this update.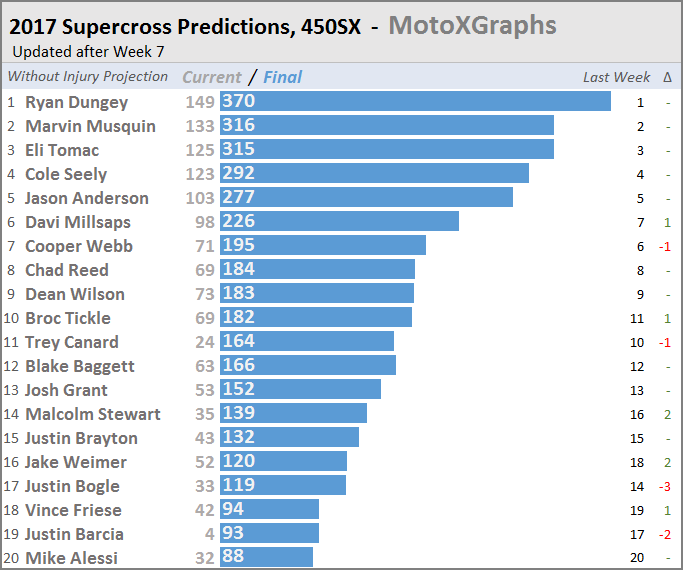 Cooper Webb lost ground in last week's predictions, but with his injury at Minneapolis and missing Atlanta leaves him with 2 weeks of no points, and his predicted finish drops from 6th to 7th. Trey Canard loses another spot in this update, this time to Broc Tickle who had quite a good result last week.

Injury Adjustment
After factoring in riders dealing with injuries as well as projecting future injuries, a few more things change.

You can find a full breakdown of predicting injuries in The MX Book, detailing the apparent randomness of injury and the likelihood of re-injury.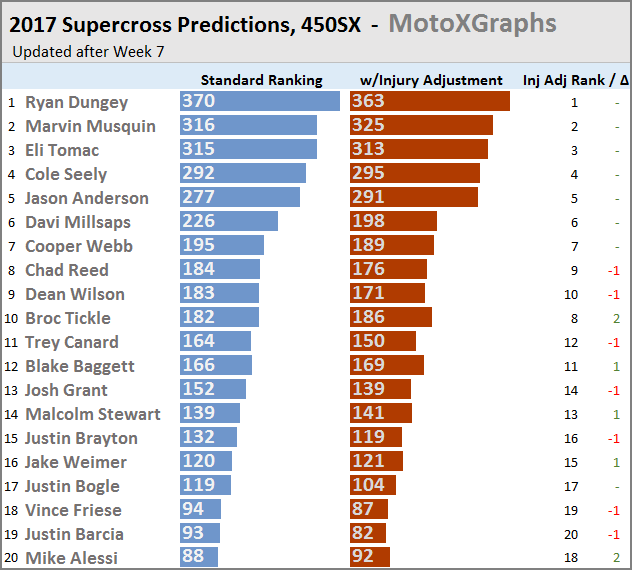 After the Injury Adjustment, there are a few shifts -- nothing major -- due to some riders that are dealing with injury or have been prone to injury.

Can Musquin or Tomac make a real run at Dungey? Well, a clean sweep of the final 10 races would do it! Short of that, Tomac with his 24 point deficit would need 9 wins to guarantee a championship (9 wins * 3 points minus 1 loss to Dungey * 3 points = 24 points). Musquin would need 8 wins to guarantee he makes up the 16 point gap (8 wins * 3 points minus 2 losses to Dungey * 3 points = 18 points). So, barring a near sweep (certainly plausible with the way Tomac has looked), these two need Dungey to keep having off nights where he's not in 1st or 2nd. For Atlanta, we'll see what happens, and the predictions will be up by Thursday night, Friday early morning at the latest.







Posted by: SagehenMacGyver47 ::: As always – Feedback welcomed




Previous: Supercross 2017: Minneapolis -- Predictions Review | Back to Blog | Next: Supercross "This Week" Predictions -- Atlanta 2017