2017 Supercross Week 3 -- By-The-Numbers Recap: Anaheim 2
1/22/2017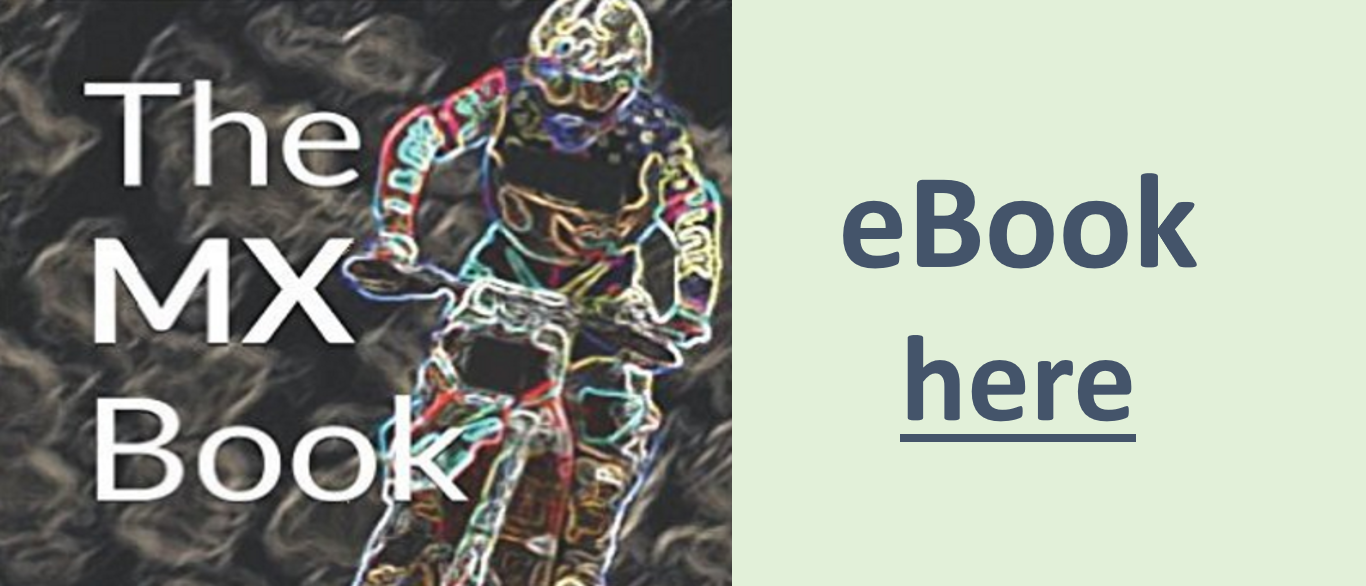 After last week, it seemed like a relief that KRoc had some competition for the Supercross championship, as Dungey gave him a match all race long. Now that might have swung back too far: if Roczen misses time with a reported broken arm, then Dungey might run away with the title. Hold your horses, though, there might in fact be another contender -- see below.

LAP CHARTS
(Note: now interactive, so hover over the lines to see the Rider/Lap/Position.)


--Also new, at the very bottom of the article, a laptimes tool to see times of any rider or riders--

450MX Class
First let's look at the two heavyweights. Again it was shaping up to be Ken Roczen and Ryan Dungey out in front, but in contrast to the first two weeks, it was Dungey getting out in front and Roczen looking to catch up. Prior to the Main Event gate drop, things looked like they were repeating themselves, with Roczen qualifying 4th and winning his Heat Race easily. Dungey, on the other hand, qualified fairly low, in 7th, got caught in traffic, crashing out of his Heat Race (looked to me like he got too close to the rider in front of him (Eli Tomac) and lost his front end while trying to avoid him). On top of that, Dungey got a bad start in his Semi Race, managing to work up to 3rd (on the heels of Broc Tickle).

So Dungey's looking a tad off and has a low gate pick while Roczen is looking fast as usual, with his choice of gates. The script would flip (and then some) once the riders came through the Main Event opening section, where Dungey pulled his standard "stay inside, use the shortest line, but don't go too fast" maneuver to emerge in 1st, quickly overtaking holeshot winner Cooper Webb. The opposite of Dungey's maneuver was Eli Tomac, who came through just a hair behind Webb, but was trying to go through the turn full speed, got pushed outside a bit, and then wound up skidding all the way outside, nearly clipping a Tuff Block -- he didn't slow down that much, but it was enough to drop him from 2nd back to 10th.

Roczen rounded the first turn stuck in the pack. He was listed as 16th through the opening section, but recovered to around 8th pretty quickly. That still left quite a bit of work to do to catch up to Dungey. Roczen made short work of Weston Peick, Josh Grant, Marvin Musquin, and Webb, knocking off one each per lap, moving into 3rd by Lap 5. Once in 3rd, Roczen had Cole Seely to contend with, and whether Roczen was playing nice with his teammate or because Seely was too fast to pass easily, Roczen slowed some.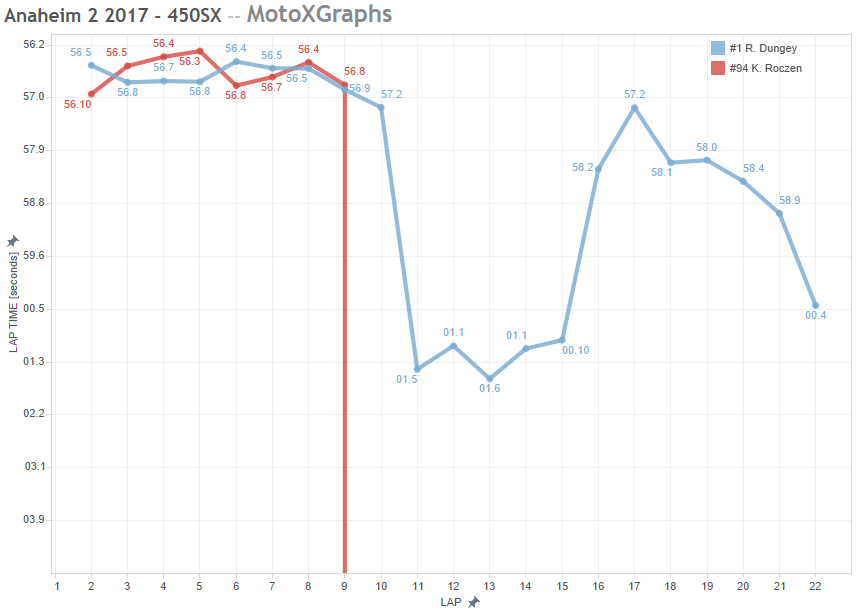 (please excuse the sections where their laptimes are greater than 1 minute -- just pretend there's a 1 in front of the number, as it makes all the numbers easier to read)

In Lap 2, Dungey was clearly faster. In laps 3, 4, and 5, Roczen was clearly faster. Once Roczen caught up to Seely, in laps 6 and 7 Dungey was again noticeably faster than Roczen; though in laps 8 and 9 -- with Roczen still trailing Seely -- Roczen was one tenth faster than Dungey. Over laps 2 through 8, Roczen and Dungey were on average almost exactly the same -- 56.6 seconds per lap (with Roczen being 4 hundredths of a second faster, at 56.605 versus Dungey's 56.647). However, because Dungey's start was so much better, he was leading Roczen by about 4 seconds when the Lap 9 crash happened.

It was looking like it could be another great race, with Roczen trying to hunt down Dungey. And even if Dungey maintained his 4 second gap, keeping his challengers from really getting close, that meant that the season race would tighten, and the season-long battle for 1st in overall points was on. Then, Roczen got cross-rutted, ditched his bike in midair, landed hard and broke his forearm (and probably had a mean concussion as well, considering that his helmet hit hard enough to break his visor clean off).

With Roczen missing races, will Dungey now pull away with the points lead as he did in 2016? Musquin just might have something to say about that, though. On average, other than the first lap, he was equal to and actually slightly faster than Dungey (58.332 versus 58.372)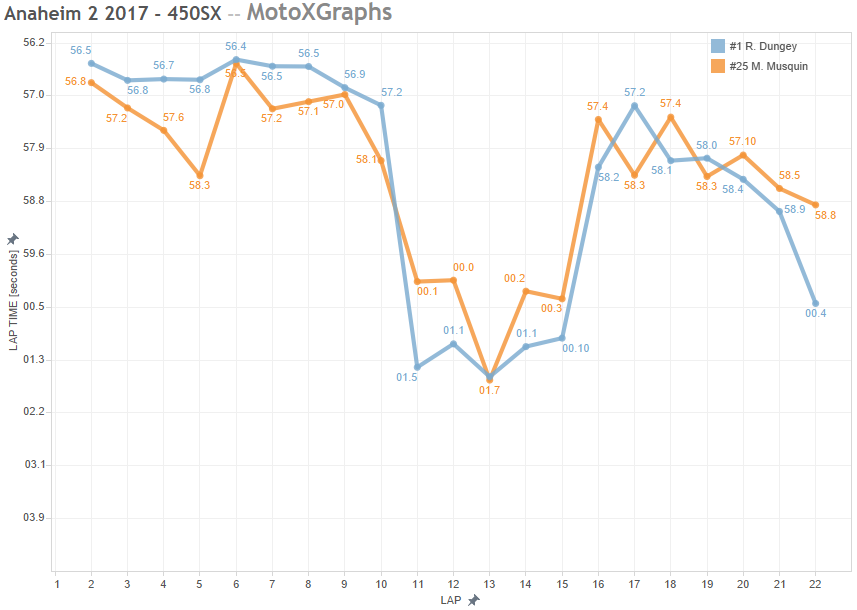 That's overstating things, though, since Dungey almost certainly was cruising a bit in the final few laps. If you set aside the last 2 laps, as we've done here in the past (oh, the days when Supercross was always 20 laps, and you could consistently look at laps 2 through 18 to judge the riders' speed...but I digress), then for laps 2 through 20 (leaving aside laps 21 and 22), Musquin was not quite as fast as Dungey but was nearly equal: 58.296 seconds versus Dungey's 58.237. One reason it looks like Musquin was not truly equal to Dungey was the red-flag laps, where Musquin was faster than Dungey by nearly a second on 4 of the 5 laps. In the first 10 laps of the race, Dungey was clearly faster in 8 of them -- with the caveat that Dungey had a clean track in front of him while Musquin had to deal with a few passes as well as being passed.

So, while Musquin wasn't quite on Dungey's level at A2, he was actually not as far off as it might have seemed -- Dungey's great start did most of the work. If things break right, Musquin might be able to give Dungey some competition, which is more than the field could say last year. The 3rd place finisher from Anaheim 2 might have something to say about that, too.


The Forgotten Man In 3rd
With Dungey breaking away for the comfortable win and Roczen having the big crash -- and Musquin being the best non-Roczen/Dungey rider, as was the case in the first two weeks -- it went under the radar that Seely looked quite sharp for the Main Event -- even having the 2nd best lap of the night (56.368 versus Roczen's 56.259). Well, except for Lap 12 where he somehow put up a 1:06, which was 5 seconds slower than his next worse lap. I didn't catch if he went down or what.

As a Dungey challenger, though, he kept his times pretty close to Dungey's: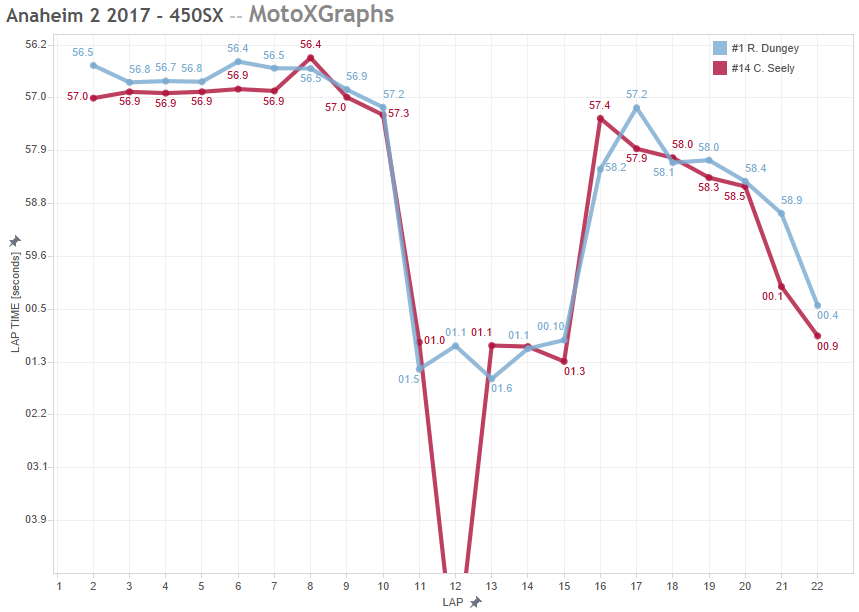 In laps 2 through 20, excluding Lap 12, Seely was -- like Musquin -- nearly equal to Dungey (58.157 versus Dungey's 58.079 -- keep in mind the average is changed if you exclude Lap 12 since it was a red-flag lap). Musquin, with these same criteria, was a little bit slower than Dungey and Seely, with an average of 58.200. Now that Seely's got a few races on the new bike, he may be able to at least keep things interesting as the Supercross season gets into the stretch. (And Jason Anderson could be a challenger in any given race, too, but losing all points from A2 probably kills his chances of catching a healthy Dungey in overall points.)


The Rookie In 4th
It appeared clear to everyone that Webb looked much more like his old self right off the bat at Anaheim 2. He qualified 3rd, which is no small feat, and he put up a 4th place finish in his Heat Race. He continued his improved riding out of the gate for the Main Event, snagging the Holeshot. It looked like he might be in some trouble, as he gave up 1st right away to Dungey, gave up 2nd to Seely in Lap 3, and then dropped to 5th by Lap 6. However, he held on to 4th for the finish: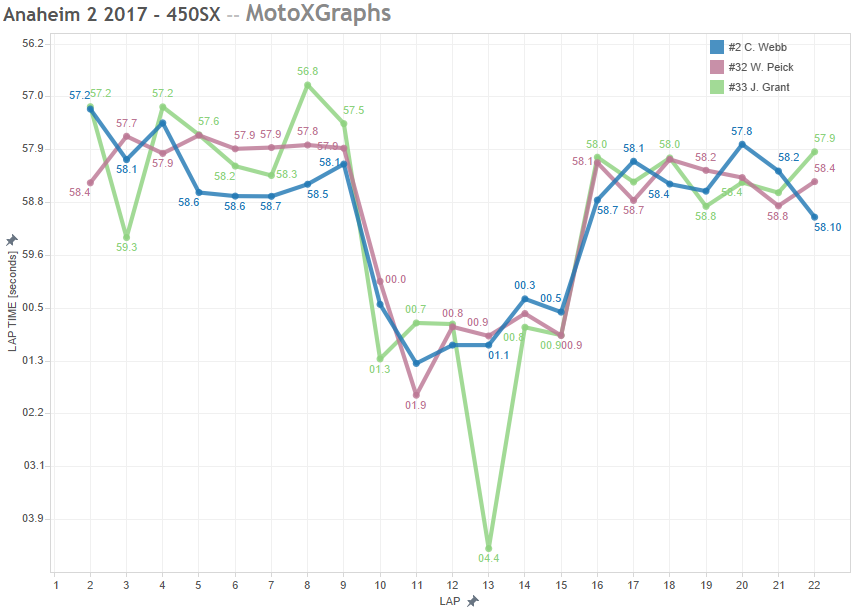 If I'm looking at just laps 5 through 9, compared to Webb's closest competitors Peick and Grant, I'd be really worried, as he was slower that both in each lap. But he seemed to recover the rest of the way, riding more or less even with those two down the stretch, including two impressive laps late, such as Lap 20 which was his 3rd fastest lap (2 and 4 being the others). Perhaps he rode too hard trying to keep up with Seely/Roczen/Musquin in the early going. My perception from watching his 250 MX riding is that he's a strong finisher, like Anderson, who doesn't lose much speed from start to finish -- this race doesn't lend itself to a good analysis of that because of the multiple red-flag laps, but I'm sure it will come up again.


Something's Still Not Right With Tomac?
Tomac and Peick are separated by 1 point in the standings. Hanging out at #6 might be a mild better-than-expected surprise for Peick, but for Tomac to be in 5th place and closer in points to Peick and Davi Millsaps than to Seely has to be quite a bummer for team Tomac. It's reminding me of what we saw with Justin Martin in the 250 MX 2016 season, where he was expected to come in and be a sure contender, but he looked off and slow right from the beginning. For Martin, it was probably something along the lines of overtraining; for Tomac, it could just be the arm pump problem -- but even that is not small thing.

At A2, Tomac looked okay early on, but just like the last two weeks he didn't finish. He qualified 1st overall, so the speed was there, and he finished 3rd in his Heat Race. His opening to the Main Event was mixed, as he got off the line quickly, but got stuck in traffic. He seemed to find his stride in laps 7, 8, and 9: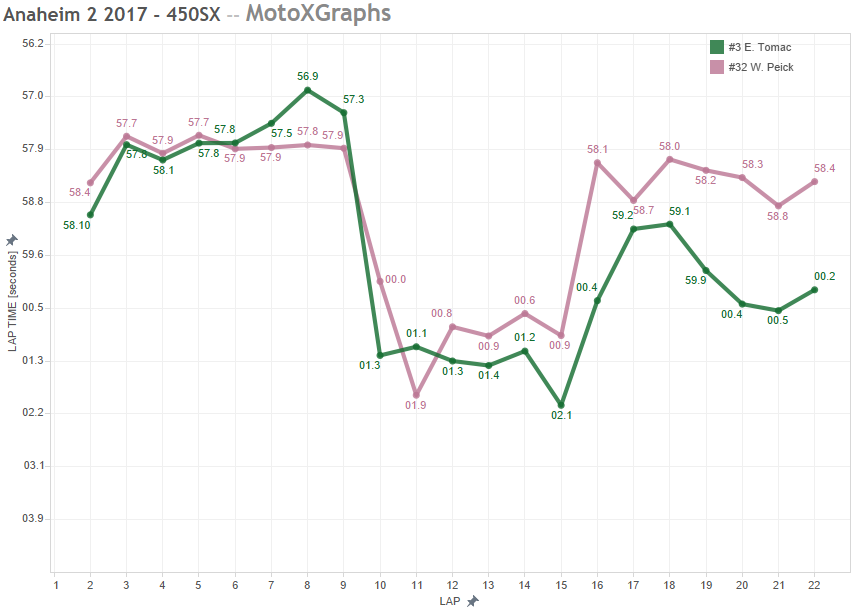 But things took a downward turn from there, as you can see he was a good deal slower than Peick on each of the last 10 laps. Tomac doesn't seem to like to complain, but there must be something still wrong.


The Other Rookie, In Case You Didn't Hear Anything About Him
Malcolm Stewart looked pretty good for someone making his season debut on a makeshift bike that he only got to test ride a few times. Qualified 10th and finished 2nd in his Heat Race -- although there was a sketchy/aggressive block pass (depending on your point of view) paired with the Friese incident that knocked Musquin and Anderson out of qualifying contention. Stewart kept up looking better than expected (better than predicted, anyway), with a run in 9th through Lap 13. He fell back to 18th in Lap 14, assumedly due to a crash. Excusable, considering the circumstances, but also something that's been a problem for him at times.

In terms of speed, his graph looks like one you'd expect for someone in his first race back from a long layoff. Comparing to his rookie competitor and to Jake Weimer who finished just ahead of Stewart, you can see that he faded through the final third of the race: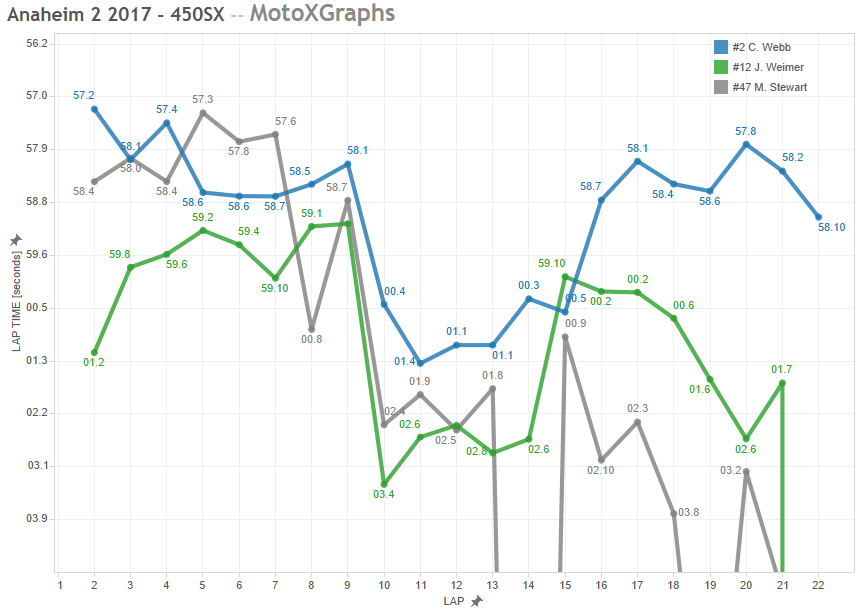 Could be a number of reasons, maybe he was shaken up by the problem from Lap 14, or maybe riding in 18th lead to (understandably) him backing off the throttle to favor health over trying to move up a couple fairly meaningless spots. Either way, it will be interesting to see how he develops over the coming weeks.

Others
- Josh Grant got back into things with an impressive 6th. He's 8th in points, which is probably exceeding his expectations, but he could even have the Top 5 in his sights right now, needing to pass, say, Roczen, Tomac, and Millsaps.
- Blake Baggett put in his best result so far, in 10th. The speed was decent, not great, but a Top 10 finish in this field is a nice consolation prize.
- (Repeat from last week, almost) Speaking of Millsaps, he stayed hot with another Top 10 finish. This week he had to come from farther back, but settled in at 9th. He qualified 13th, which isn't great, but won his Heat Race.

Where to go from here? The season that looked like it belonged to Ken Roczen is no more. Until someone beats Ryan Dungey, this season looks like it belongs to him. A much-improved Marvin Musquin or returning-to-form Cole Seely might be the ones who disagree. But whatever the outcome, the 2017 Supercross season just changed in the blink of an eye.


LAPTIMES TOOL
(Laptimes above 1 minute are missing the "1" in front of the "seconds". Please pretend it's there.)








Posted by: SagehenMacGyver47 ::: As always – Feedback welcomed




Previous: Supercross "This Week" Predictions -- Anaheim 2 2017 | Back to Blog | Next: Supercross 2017: Anaheim 2 -- Predictions Review