2017 Supercross Week 6 -- By-The-Numbers Recap: Arlington
2/11/2017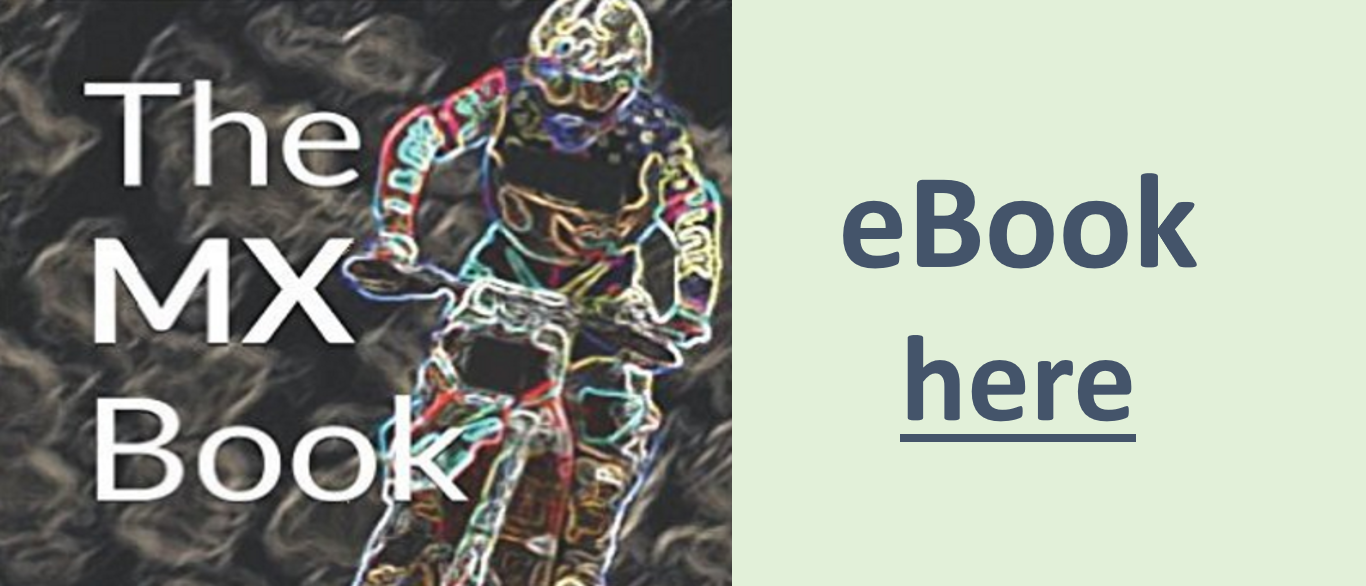 Well, the Main Event got nuts at Arlington. Marvin Musquin rode a very nice race, which from the first three weeks looked like a win for him was in the works. Cole Seely also capitalized on the craziness, running a very fast race and staying upright. Ryan Dungey made the best out of a bad start, and Eli Tomac lost his front end -- and his front brake -- spoiling a chance to pick up major points on Dungey. The recap will be somewhat short for a variety of reasons, among which are that the race got wacky with crashes and bike problems for what seemed like half the field or more.

LAP CHARTS
(Note: now interactive, so hover over the lines to see the Rider/Lap/Position.)


(Another note -- they didn't provide riders' positions after the opening section (other than Justin Bogle with the Holeshot), so the initial position above is "Start" from the official results, which I believe is at the end of the first segment, but I think it varies by course.)

450MX Class
With the crash by Tomac and the flat tire for Cooper Webb, my main question is whether either was running fast enough to catch Musquin had they not had to pull off and pit.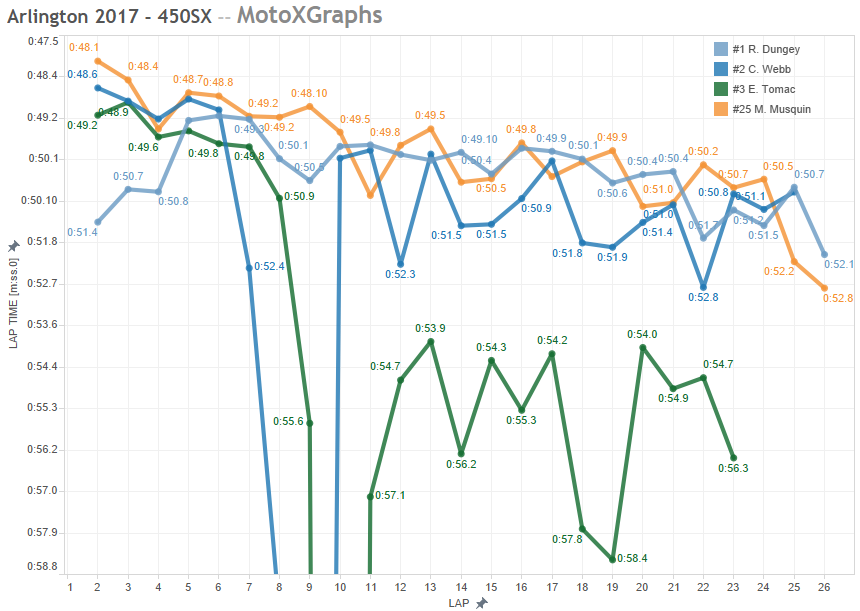 Here we see that neither Webb nor Tomac was running at a pace similar to Musquin's early on. It's a bit hard to compare since Tomac was battling through traffic, but it wasn't like at Oakland where Tomac was riding at a speed that was faster than everyone else from pretty much the beginning.

Based on what little we have to go on, Webb didn't appear to be going fast enough to catch Musquin, and Tomac didn't appear to be going fat enough to catch either. I stuck Dungey in that graph because it shows the he was actually gaining time on Tomac in laps 5, 6, 7, and 8 before Tomac had the crash and was forced to pull off. Maybe things change once the race opened up -- and the track seemed very one-lined, which could slow someone down by getting stuck behind another rider -- but from what we see, it may have been that Dungey could have caught Tomac.

So bike problems ruined the race for Webb and Tomac, but it doesn't seem like it ruined a win for either of them.

The Rookie Stays On Two Wheels
While rookie Webb had terrible luck with a flat tire, the other rookie Malcolm Stewart put in his first 450 Main Event without going down (as far as I can tell). That left him in 10th, his best finish. How did his lap times compare to those who finished around him?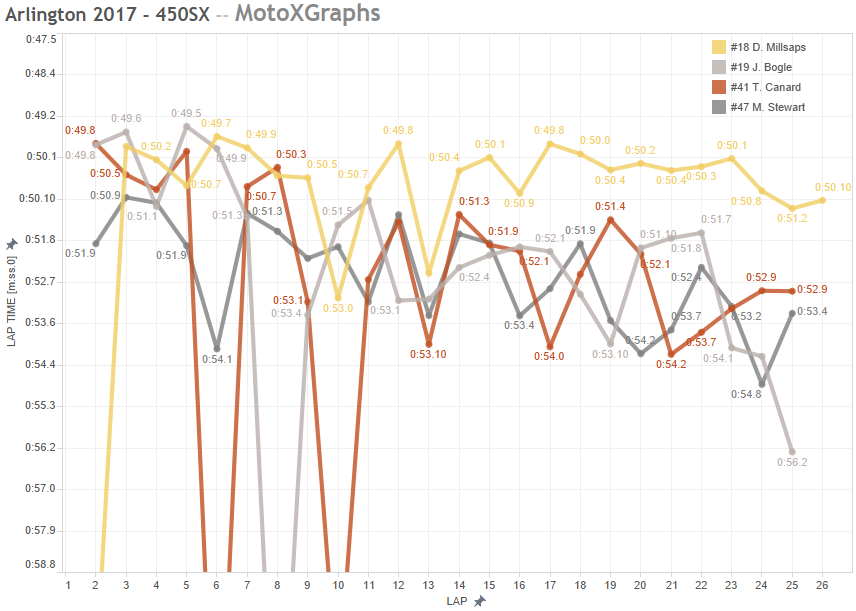 Interestingly, Davi Millsaps, who finished 8th was riding at a fast pace and managed to come from the very back after a problem in Lap 1 (didn't see what happened there). On the other hand, Justin Bogle (finished 9th) and Trey Canard (finished 11th) rode about the same pace as Stewart, although each had a wreck along the way. They each started a little faster than Stewart, but his consistency left him just behind Bogle and just ahead of Canard. (Granted, in his Heat Race, Stewart did have a solo crash. Stewart's bike also was apparently affected by the pile up during the Main Event start that was red flagged.)

The Battle For The Other Podium Spots
Seely quietly cruised into 2nd, with a race where he outrode 3rd place finisher Jason Anderson and generally was faster than Dungey: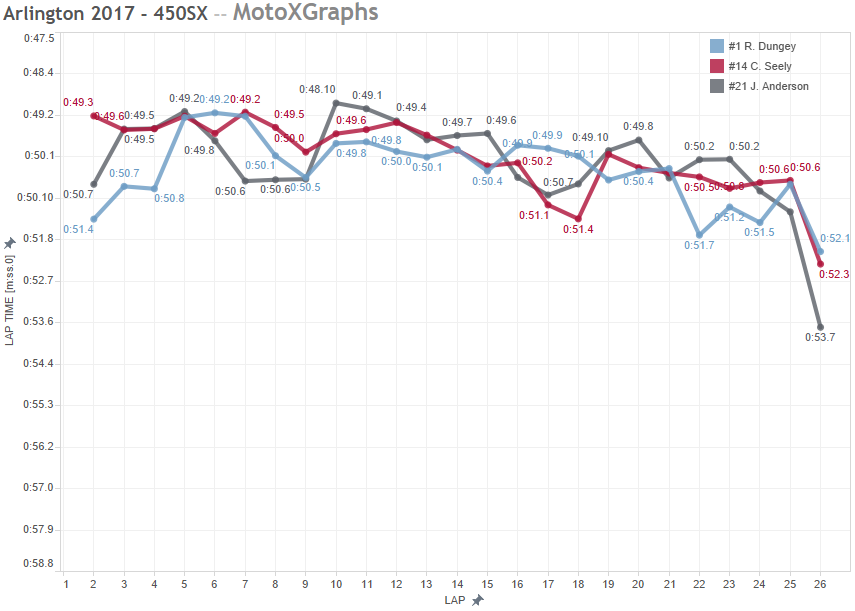 Again, the one-lined nature of the track meant that having a clean track may have been the key for Seely. Whether that's true or not, Arlington should be a good confidence builder for both Seely and Anderson.

Other Guys Who Lost Out Due To Crashes/Bike Problems
Blake Baggett was having a pretty good night (qualified 4th and was 3rd in his Heat Race) up until Lap 12. His pace was better than, say, Broc Tickle (finished 6th), but the crash dropped Baggett from 6th to 15th over the next few laps. Chad Reed suffered a similar fate, dropping from 9th to 15th in Lap 9, then pulled into the pit with a flat tire, dropping from 10th to 19th (a DNF) in Lap 19: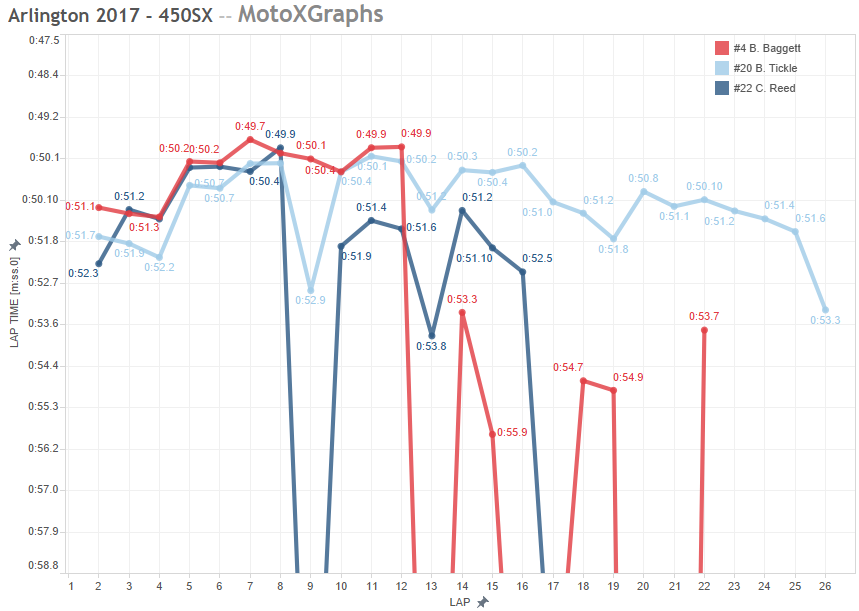 Arlington was such a weird Main Event, I almost want it stricken from the record -- at least from a statistical perspective. I'm interested to hear what the riders have to say, though while the dirt go rutty, it didn't seem to be remarkably bad or treacherous -- yet so many riders went down. Perhaps the sun really was making it difficult to see and/or was just distracting enough to cause problems. Looks like the question of whether Tomac can catch Dungey is put on hold for a week. Or maybe it's Musquin or Seely (now 2nd and 3rd overall in points) who can take over as challengers for the top spot. Whatever the case, it will have to wait a week until Minneapolis (oh right, Dungey's home race -- well, maybe the comeback is put on hold until Week 9 in Atlanta).


LAPTIMES TOOL








Posted by: SagehenMacGyver47 ::: As always – Feedback welcomed




Previous: Supercross "This Week" Predictions -- Arlington 2017 | Back to Blog | Next: Supercross 2017: Arlington -- Predictions Review