Supercross "This Week" Predictions -- Arlington 2017
2/9/2017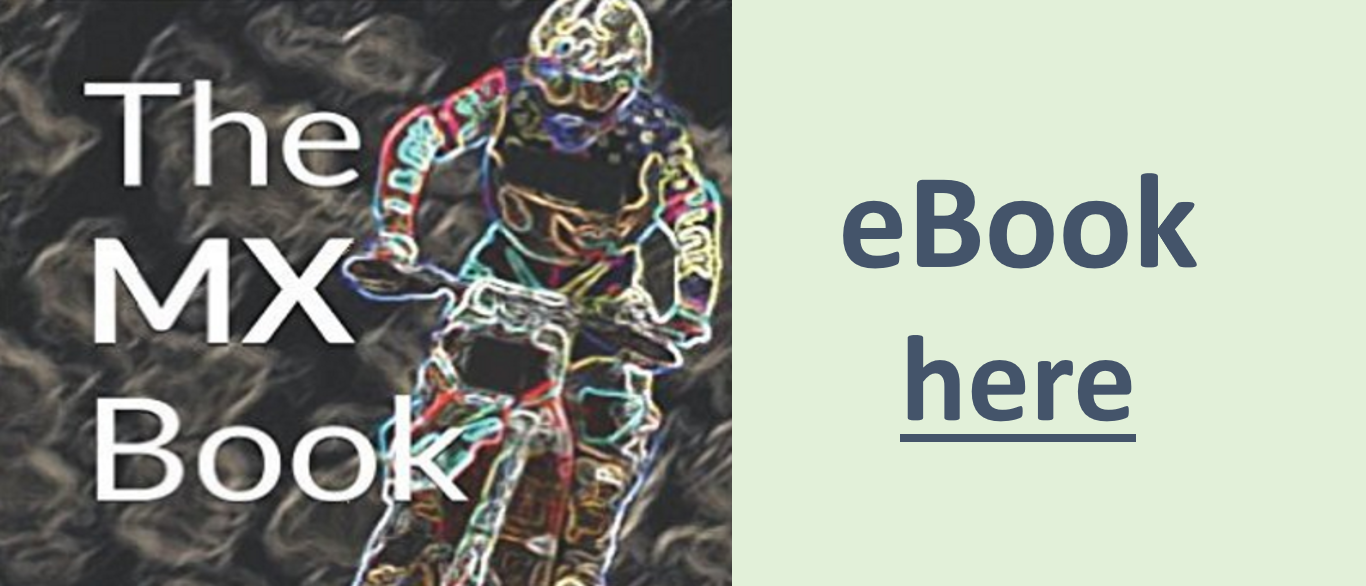 Can Eli Tomac keep the momentum going? An interesting note about his history at AT&T Stadium below. Can someone else get back in the mix? Who's got the talent and primed to win at Supercross week 6 in Arlington?

As usual, the updated 2017 Supercross Prediction puts the whole season in perspective, while the "This Week" rankings look at the riders' perceived ability (aka "true talent") as well as taking into account injuries and the riders' history at the upcoming track.

**For those not familiar, a brief explanation of the components that factor into the "This Week" rankings:
True Talent
The standard MotoXGraphs prediction of rider performance, based on the current and prior seasons, weighing recent results more heavily. It differs from the "Full Season" prediction in that it is not worrying about the rider's current point standings (which obviously are a crucial part of the full season prediction), only about their current ability.

Injury Adjustment
Attempts to account for riders competing at less than 100% due to injury. Full research behind the Injury Adjustment can be found in The MX Book (or eBook). While this adjustment is only an estimate (what predictions aren't?), the purpose of the Injury Adjustment is less about trying to make an exact prediction and is more about indicating that a rider is recovering from injury so the viewer can take that into account at whatever scale he or she chooses.

Track Adjustment
Provides an increase or decrease in expected points for the riders based on their historical performance (over the past 4 years, where applicable) in the upcoming city/stadium. Also validated by research in The MX Book ( or eBook). The track/location effect has a slightly muted nature in Supercross compared to outdoors since the tracks are not exactly the same in Supercross sites from year to year (or even within the same year for sites like Angel Stadium or Petco where there are often multiple races in one season).

Here are the predictions for the 450 class this weekend. Again left out of the rankings are Trey Canard (who would have ranked 6th) and Justin Barcia (9th) as they both appear to be out for this week. Also missing is Josh Grant (12th) who is out after his crash that injured him before racing started at Oakland.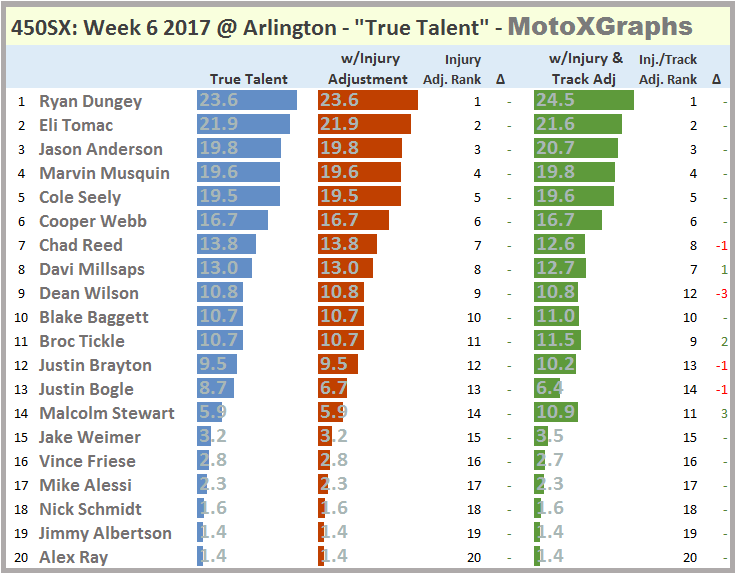 Like for Oakland, Ryan Dungey is at the top, but again with a slightly smaller margin than the previous week. Projected in 2nd place, Tomac has a sizeable gap over Jason Anderson in 3rd, who takes over that spot partly because Marvin Musquin faltered in last week's Main Event. The #3 through #5 spots are so tight that one slip up can be enough to change the predicted order.

Speaking of the projections being tightly packed, Cole Seely is right on their tail in 5th, making it a virtual tie for the final podium spot -- until the Track Adjustment. Cooper Webb is still on the outside looking in, as it will take a few races of podium-level speed that he showed last week to counteract the impact that his not-so-fast early results had on the projections.

Once again the middle and bottom of the pack look pretty similar to the prior week, with some minor shuffling. Dean Wilson and Blake Baggett move up while Broc Tickle and Justin Brayton move down.

The Location Adjustment causes a few notable changes. Chad Reed drops 1 spot, back to 8th. Reed has finished 12th (2016) and 11th (2015) at AT&T Stadium the past 2 years, compared to an average of just better than 7th everywhere else. Malcolm Stewart, who hasn't raced at AT&T in quite a long time, did very well there when he did. He gains 3 spots (from 14th to 11th) based on 6th and 4th place finishes in 2012 and 2011, versus just worse than 12th everywhere else during that timeframe.

While Dungey gets a slight bump from the Location Adjustment, Tomac gets dinged a bit. Dungey has finished 2nd, 1st, and 2nd in the past 3 years at Arlington, whereas Tomac has finished 5th, 7th, and 11th (versus just worse than 5th overall everywhere else). The variance is relatively small -- normally you'd just ignore a minor Track Adjustment like that -- but it's in opposing directions for guys whose projections are otherwise very close.


Things to watch:
1. Some say this track favors Chad Reed -- the numbers don't really agree.
2. Will Cooper Webb continue his mini hot streak and challenge for the podium?
3. Is Malcolm Stewart ready to stay upright and make the Location Adjustment look smart?
4. Repeat from last week: "But really aren't we all just watching Tomac and wondering if (hoping?) he can put on another amazing demonstration of speed?"







Posted by: SagehenMacGyver47 ::: As always – Feedback welcomed




Previous: Supercross 2017 Predictions -- Update After Week 5 | Back to Blog | Next: 2017 Supercross Week 6 -- By-The-Numbers Recap: Arlington