Pro MX Outdoor - 2016 Unadilla Predictions
8/12/2016

"THIS-WEEK" PREDICTIONS
Who's got the talent and primed to win in Week 10 at Unadilla? The "This-Week" rankings look at the rider's perceived ability (aka "true talent") as well as injuries and the rider's history at the upcoming track.

Here are the predictions for the 450 class this weekend -- compared to last week, same Top 3: Ken Roczen, Eli Tomac, and Marvin Musquin. Weston Peick moves into 5th over Dean Wilson. One notable riser is Benny Bloss, who moves up 3 spots this week to #8.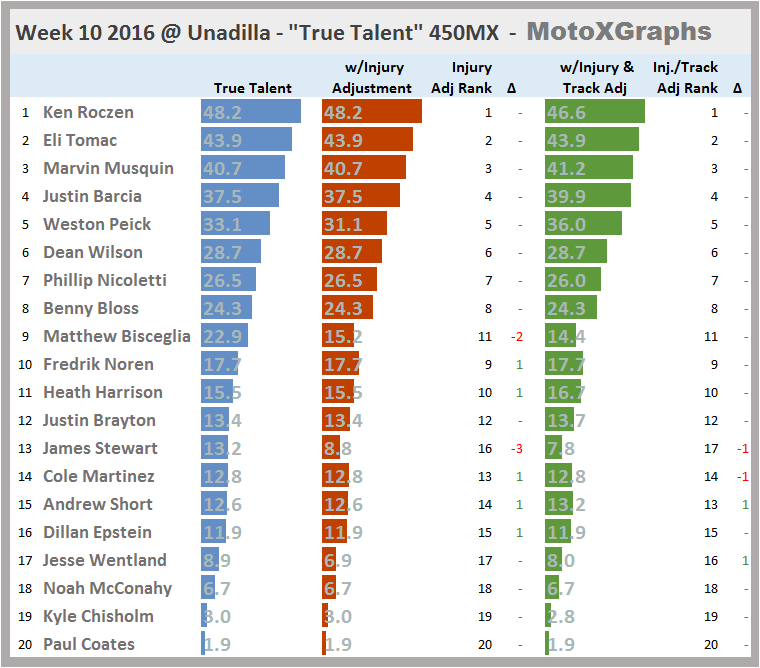 Roczen has a slight downward Track Adjustment, based on finishing 4th and 5th at Unadilla in 2014 and 2015, respectively. Justin Barcia, in 4th, has a slight positive adjustment since he finished 2nd in both his tries at Unadilla on a 450 (2013 & 2015). Peick also has a positive adjustment based on finishing 7th at Unadilla in both 2014 and 2015.

Here are the predictions for the 250 class at Unadilla: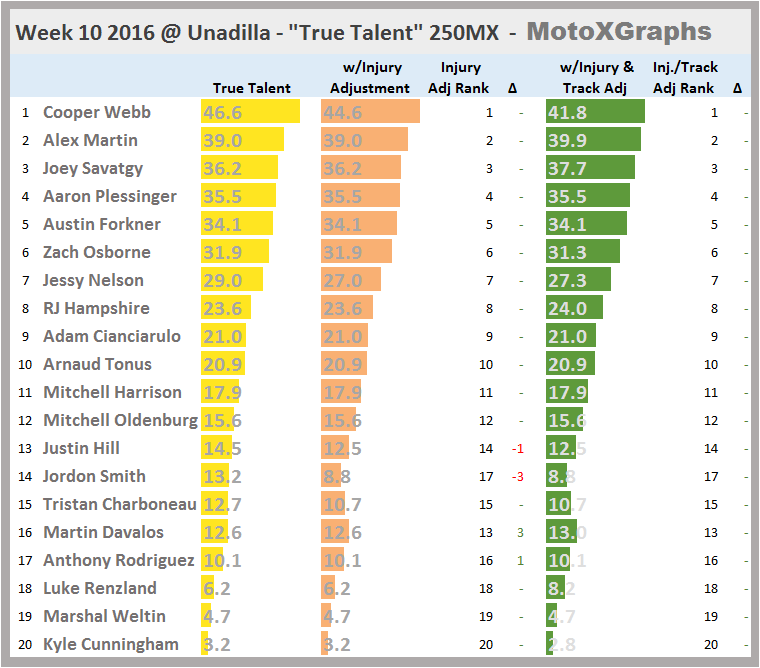 In the 250's, the major change is Alex Martin moving up to 2nd (from 6th last week) while Jeremy Martin is ruled out because of his broken ribs. Cooper Webb has a downward Track Adjustment, and this might really be something to watch: in the last 3 years at Unadilla he's finished 12th, 15th, and 21st. Of his 6 worst 250 results, 3 of them are from Unadilla. Alex Martin, on the other hand, finished 5th at Unadilla in 2015, which was his 5th best result for the year. In 2014 he finished 9th, which was his also his 5th best result for that year. And if that weren't enough, Joey Savatgy won Unadilla last year, and finished 7th in 2014. So it seems likely that Webb will have his hands full trying to take the crown this week.

So, while we expect the 450 class to mostly go to form, the 250's ought to be exciting. We're not ready to bet against Webb as the #1, but if you put enough stock in the Track Adjustment, it seems like either AMart or Savatgy are likely to end up on top.







Posted by: SagehenMacGyver47 ::: As always – Feedback welcomed




Previous: Pro MX Outdoor - 2016 Full-Season Predictions After Week 9 | Back to Blog | Next: 2016 Pro MX Week 10 - By-The-Numbers Recap: Unadilla