2016 Pro MX Week 10 - By-The-Numbers Recap: Unadilla
8/13/2016

Back in action after the layoff. During the down time, the clickable Lap Chart got a couple updates (compared to last week), which you can see below. While Unadilla was a challenging track and fun to watch, there wasn't much drama up front in either class -- the drama was last night, when the BTO truck caught on fire. One of the stories of the season is how several teams (props to Husqvarna for apparently chipping in) managed to work until the wee hours of the night to rebuild/replace every single bike. And not only that, but Andrew Short, Justin Brayton, and Benny Bloss had quite good racing days, with the exception of Short's clutch wire coming undone in Moto 1. Bloss even managed his best ever finish with a 7 / 4 for 4th overall!

LAP CHARTS
(Note: now interactive, so in one graphic you can select 450/250 and Moto 1/2. Hover over the lines to see the Rider/Lap/Position.)
&nbsp

(Even though the 250 Moto 2 was cut short, the Lap Chart extends out through Lap 15...I trust you can deal.)

450MX Class
Since Ken Roczen took off without a challenge from the pack (auto-fill at this point), let's look at the BTO guys: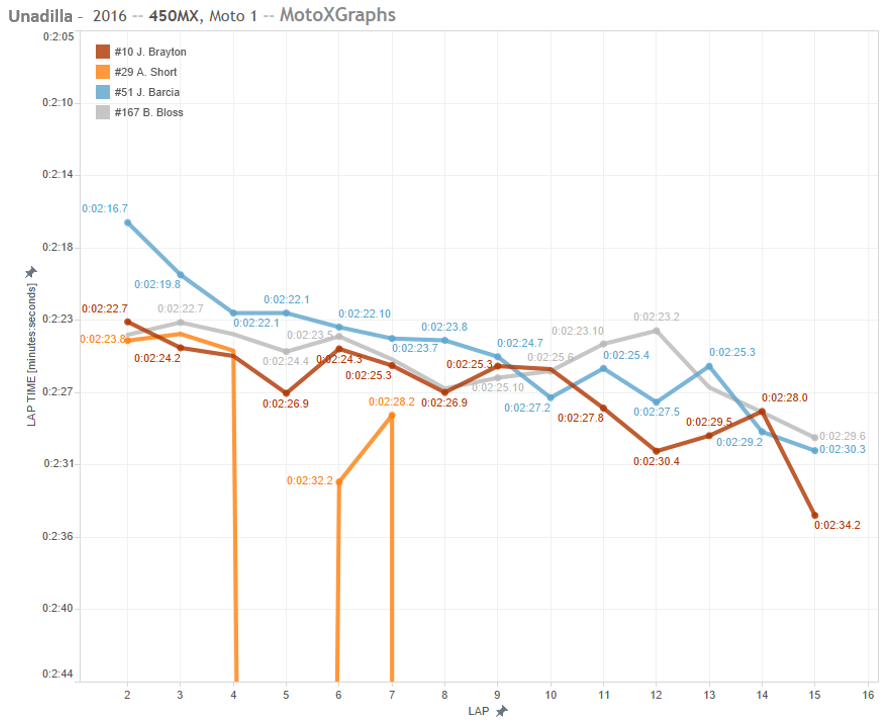 No, the BTO bikes weren't quite in the range of Eli Tomac or Marvin Musquin, who were 2nd and 3rd in Moto 1, but they weren't so far off of, say Justin Barcia, who finished 4th. Not bad for bikes apparently patched together.

In Moto 2, Bloss swapped spots with Barcia, taking 4th and leaving Barcia 7th (Barcia had to come back from starting around 17th). The reconstructed bikes certainly exceeded expectations: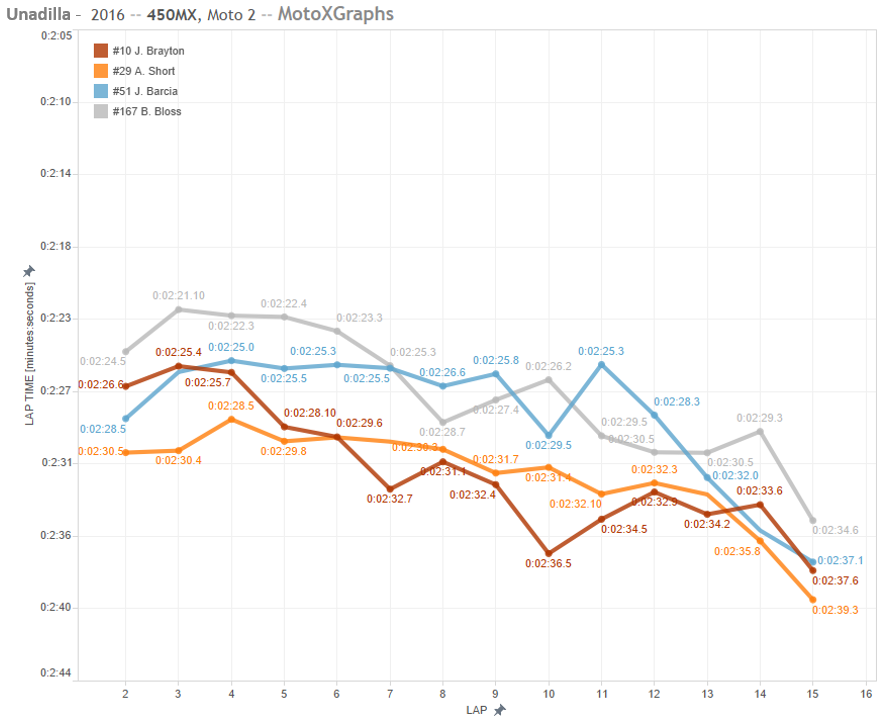 And just in case it wasn't clear how dominant Roczen was, here's everyone vs Roczen (the chart's a mess, but that's partly the point - everyone down below and Roczen's orange-ish line standing out above). I see 2 laps where anyone from the field managed to put up a faster lap time -- Tomac just barely, in Lap 7, and Musquin in Lap 12, by about 1.5 seconds. I mean, look at what Roczen did to start out the race -- no one could get within 2 seconds of his pace until after Lap 4!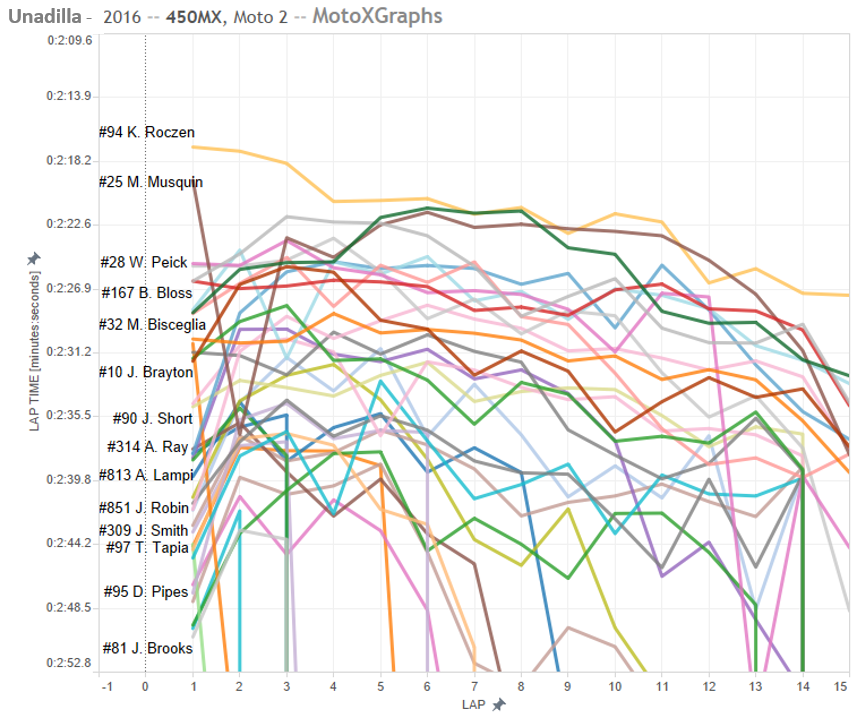 250MX class

Two red flags in two races might have cost Austin Forkner, but with the way Cooper Webb was riding, I think the overall was going to be Webb's no matter what. The bad luck in the first moto for Forkner was that he had a 3 second lead on Webb when the race was flagged and restarted. But as we saw in Moto 2, even when Forkner had a big lead, it didn't stand, as Webb was just going too fast. Forkner after the restart was never really in range of Webb in Moto 1 (Forkner's line is light green):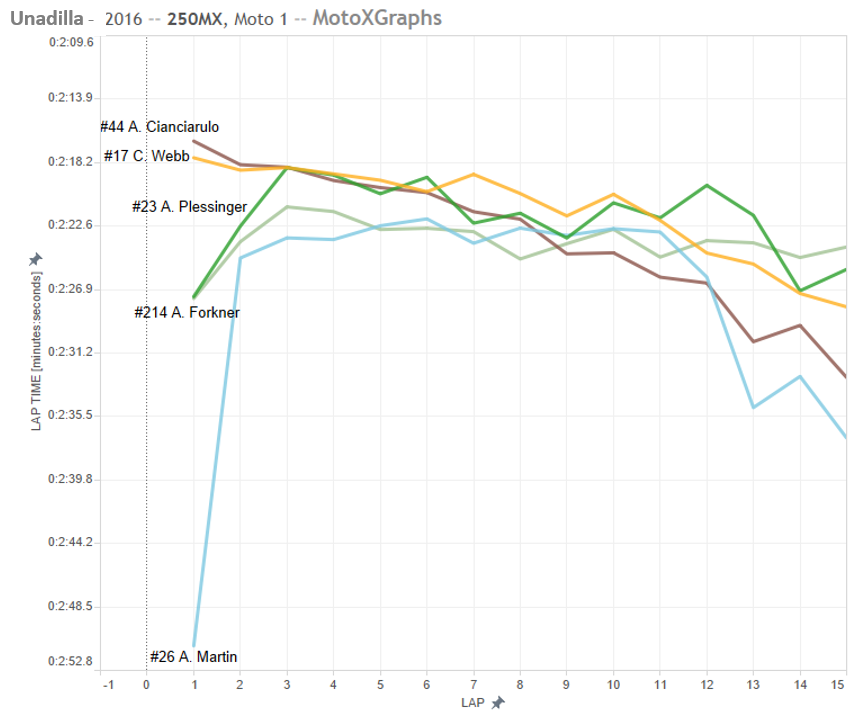 (Side note: look at Adam Cianciarulo's steep line there.)

Since the red flag in Moto 2 forced the race to end after 10 laps--just a bit more than a lap after Webb made the pass into 1st, Forkner didn't get a chance to attempt a comeback against Webb: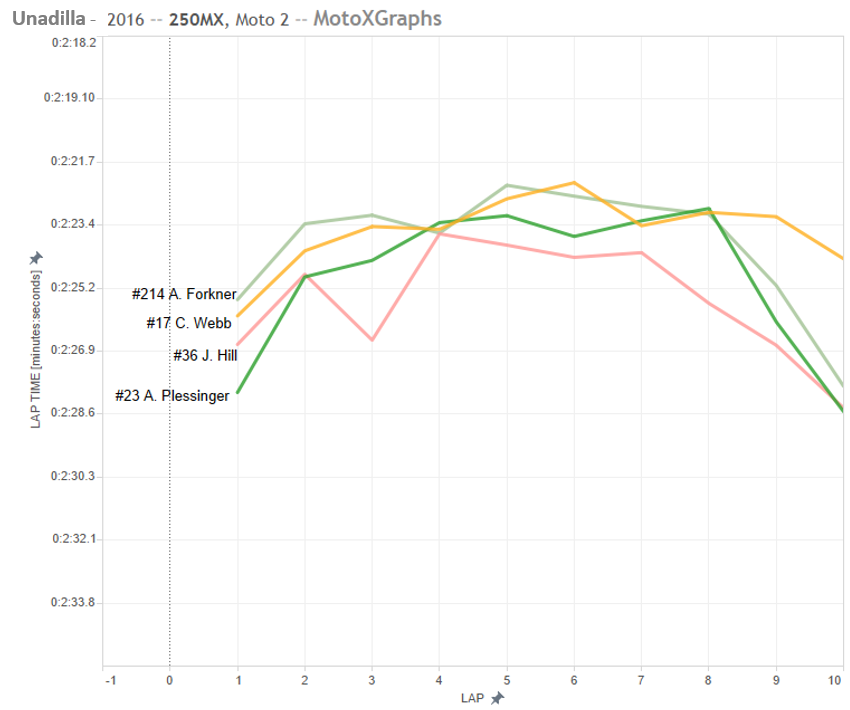 Based on Webb's speed in Lap 9 and Lap 10, compared to the field, and with Webb's penchant for keeping up his pace in the second half of the race, it doesn't seem very likely that Forkner or Aaron Plessinger (from 3rd) would have made a viable challenge. Forkner still finished the day at Unadilla in 3rd overall, so possibly he would have taken 2nd overall if the red flags hadn't happened, but with the way Plessinger capped off Moto 1 with a sustained blast of speed (see chart above), it's clear Forkner wasn't the only fast guy out there not named Webb.

Edit: looks like Racer X
agrees
("Forkner, meanwhile, said he was starting to get tired and couldn't hold Webb off any longer. He was happy to salvage a podium, though.")


Rookies
A few rookies had their debuts at Unadilla, but I want to give the reviews of their performance a little more depth, so look for that later in the week -- what was the appropriate expectation going into their first race, and what should we predict from them going forward, now that we have some pro results to go on? TBD.







Posted by: SagehenMacGyver47 ::: As always – Feedback welcomed




Previous: Pro MX Outdoor - 2016 Unadilla Predictions | Back to Blog | Next: Unadilla Predictions Review