2016 Supercross Predictions - 450SX Update going into Week 10 at Toronto
3/10/2016

FULL-SEASON PREDICTIONS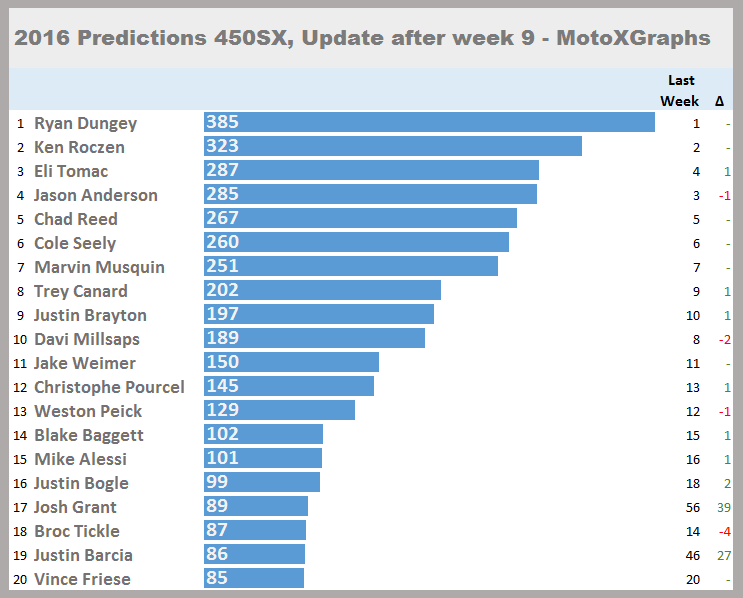 While #1 and #2 remain the same -- Ryan Dungey and Ken Roczen as you might expect -- Eli Tomac squeezed past Jason Anderson into 3rd place in this week's update to the 450SX predictions. Tomac also narrowed the gap between himself and Roczen from 45 points to 36 points (projected points, that is -- in the current actual standings, Anderson is in 3rd (trailing Roczen by 11) and Tomac is in 4th (trailing Roczen by 20)). This move by Tomac was all his own doing -- Anderson lost a spot but actually improved his overall projection, going from 281 overall points in last week's prediction to 285 in this week's.
EDIT - Christophe Pourcel is out for Toronto with an injury, expected to be only one week, which won't affect his season prediction, but move a bunch of people up a spot in the This-Week Prediction.


Marvin Musquin has gotten a lot of attention for his back-to-back podiums, but the numbers aren't convinced just yet . The early, less-good results are weighing a little too heavily still. But just last week it looked like he was too far back to move up from 7th, whereas now he's only 9 (projected) points behind Cole Seely in 6th. There's enough time left in the season for him to knock on the door for the Top 5, but he needs continued good races followed by further inconsistency from Seely and Chad Reed -- not too far-fetched considering what we've seen from those two the last few weeks. That said, Musquin's been a bit inconsistent himself with both good and bad starts as well as taking some spills that seemed to be his own error.

Dropping out is James Stewart, due to injury. He's replaced by Josh Grant, entering the Top 20 at #17 -- please keep in mind projecting Grant there is a little silly since he only has one 2016 race to project off of and it's hard to know how difficult it will be for him to jump back in for the rest of the season, albeit with a Kawasaki factory ride. Nevertheless, we'll project Grant as if everything were normal, because, well, his numbers from the past give us the best guess.

Also moving into the Top 20 is Justin Barcia, since he apparently will be returning soon. If I'm Vince Friese, seeing these predictions, I'm probably thinking 'What the hell? I'm predicted at #20, behind two guys who aren't even racing right now? (Broc Tickle, Justin Barcia) and a guy who only has one race so far this season? (Josh Grant).' Well, the prediction below that factors in an adjustment for less than 100% performance after returning from injury moves Friese up over Tickle and Barcia, so that helps. And the prediction on Grant may be volatile due to his unique situation, but the track record says Grant's a much better rider, and that he'll make up the current 52 point gap between himself and Friese in the standings.

Broc Tickle drops down as Blake Baggett returns to form (at least a little) and Josh Grant also jumps ahead. Also, Broc's return to the track has always been something of a guess, and no formal timetable being released yet means we push back his return by a week.

As mentioned, when we factor in who's dealing with injuries that we're aware of, Friese climbs a couple spots. Based on Tomac's start-to-finish performance at Daytona, we get the strong impression that Tomac's back to 100% or close to it. The other notable injury adjustment is for Baggett, who projects to finish the season at 16th instead of 14th once we factor in the injury adjustment.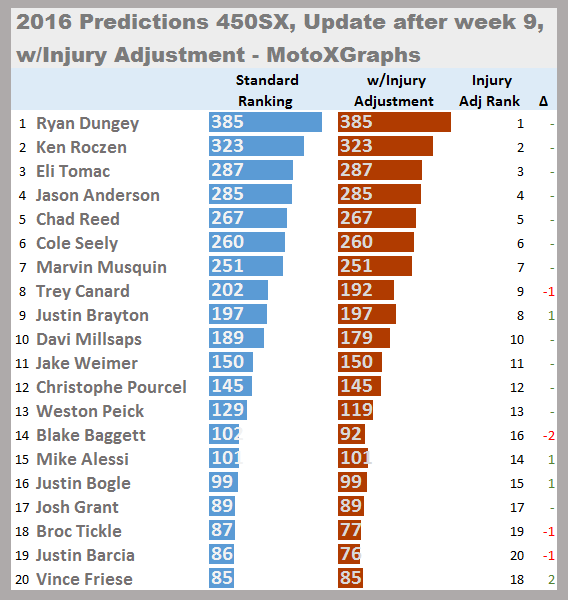 **Keep in mind the "injury adjustment" is more of an indicator that the rider was recently injured than an actual, precise prediction of how that recovery from injury will affect the rider.**



"THIS-WEEK" PREDICTIONS
See last week's prediction
breakdown here
. This week we see the standard top 3 -- Dungey / Roczen / Tomac -- in the True Talent estimation. As we factor in injuries in the red column, Trey Canard slips down several ranking spots, more due to the fact that the group from #4 to #8 are so tightly bunched together than the actual impact of his injury recovery.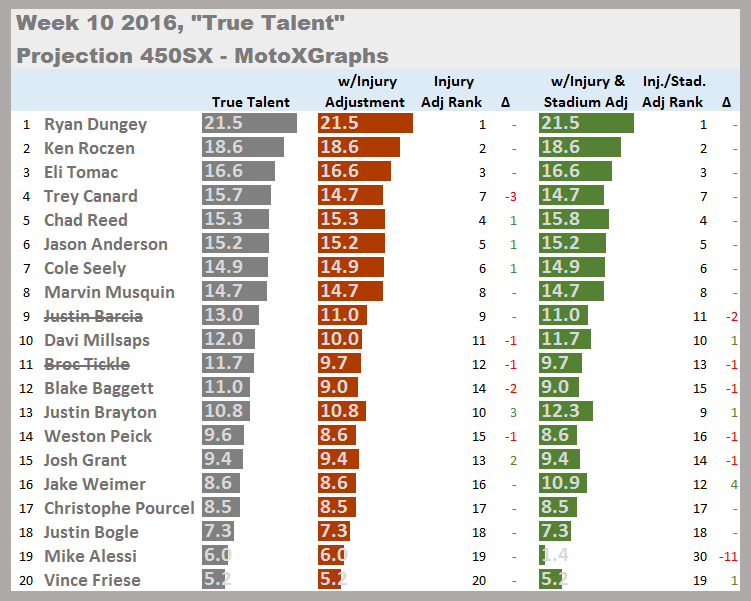 Justin Brayton slides up to #9 (#10 behind Barcia, but it appears Barcia is not riding yet), which is a little surprising for me, but he's quietly been 10th or above in all of his races but one (11th). We mentioned this last week -- that the numbers might be selling him short -- and now it seems the numbers are improving a bit, which is good news for Brayton, I guess? Not sure it really works that way ;)

Even better news for Brayton is that we're introducing the Stadium Adjustment this week, and he's going to get a boost from that. This adjustment--based on the rider's history at a particular stadium--is very EXPERIMENTAL, and should be taken with plenty of grains of salt. The biggest problem, as covered in this more-detailed post, is that we're dealing with very small sample sizes. AND at Toronto there was no race there last year, so that means our stadium comparison data for Week 10 is even farther from being current. But, I've regressed the adjustment as necessary based on how many races' worth of history we have to go on for each rider, which should temper the impact of small sample size (by limiting the size of the adjustment if the rider has fewer races at the stadium).



So back to Justin Brayton - in three prior races at the Rogers Centre, he's finished 2nd, 11th, and 4th. Not bad. At other stadiums in that time frame (2012 - 2014), his average finish was 8th, which means at Rogers Centre he's been 2 full spots better (5.7 vs 8). Now, here's the EXPERIMENTAL part (again in caps). That's only 3 races at the Rogers Centre, which is not a lot to go off of, so it's a stretch. But, over that time period Brayton has 10 finishes in the top 4, out of 40 races not at the Rogers Centre. Which means he's 2 for 3 at the Rogers Center and 1 for 4 everywhere else. Is that truly an effect? Well, it's pretty convincing, but still needs more research and more data points. But it's there in the chart, so do with it what you will.

Jake Weimer also got a big bump from this adjustment, moving up to 12th from 16th. In 2 races at the Rogers Centre, he's finished 5th and 6th while averaging just worse than 10th otherwise. Mike Alessi gets dinged by the adjustment, since he finished 13th, 20th, and 19th at the Rogers Centre versus just better than 13th everywhere else.

So, welcome to the brave new world where the Stadium Adjustment helps us predict how riders will perform in the coming races. Hold on to your hats! (or helmets, as the case may be)




Posted by: SagehenMacGyver47 ::: As always – Feedback welcomed




Previous: Daytona "This-Week" Predictions Review | Back to Blog | Next: