2016 Week 8 - By-The-Numbers Recap: Atlanta
2/27/2016



What a race at Atlanta, with plenty to talk about! Some controversy approaching the finish line, but we'll let the talking heads argue over whether James Stewart was really at fault by being at the way or whether Marvin Musquin just lost control at a crucial moment. While Musquin didn't get the race win that would have been a major achievement, he has shown over the past several weeks that he belongs in the conversation. Our preseason predictions had him at #7, and I remember at least one comment I received was that 7th was too high and Musquin wouldn't be a factor. Now Musquin's prediction actually looks like it might be correct. It's feasible that Musquin could finish higher than that, but he still has 15 points to make up on Eli Tomac to move into 6th. As a side note, Musquin had a decent but not great day before the Main Event, qualifying 6th and finishing 4th in his Heat Race.

While Musquin's prediction now looks good, one that missed was Jason Anderson, who had another good race at Atlanta and maybe an even bigger complaint than Musquin. Anderson's preseason projection was #12, however the scouting reports on Anderson going into Anaheim 1 were that he was looking really fast, and that joining Aldon Baker's training program had really paid dividends. The numbers can't account for that, of course, but we did note that Anderson's prediction was volatile since it was based on only season's worth of Supercross data. We looked into Anderson's early success in 2016, with a conclusion that he had shown the talent before any changes to his training program.

So at Atlanta, though Anderson didn't have a great beginning to the day, qualifying 11th and finishing 3rd in his Heat race, he got a very good start in the Main Event. Anderson was chasing down Chad Reed and Justin Brayton for 3rd and 4th, when Cole Seely ran into Anderson's rear wheel while trying to pass, knocking them both down and sending Anderson back to 11th. Anderson did make up a few spots after that, finishing in 7th, but without the bad luck, Anderson probably finishes 3rd or 4th. That caused Anderson to lose points on Ken Roczen, who finished 6th, instead of gaining ground on Roczen for 2nd overall. If it's any consolation for Anderson, Seely only finished in 10th, which means Anderson increased his points lead over Seely in 4th.

We've glossed over Dungey's win, but maybe that's because it was so very Dungey. He didn't have an amazing day (qualified 2nd, 3rd in his Heat Race), but he did have a good one and managed to outlast the field to get the win (sound familiar?). He got a good but not great holeshot, in 5th, and he quickly moved up to 2nd, passing Anderson, Reed, and Justin Brayton. And in stereotypical Dungey fashion, he rode conservatively behind Musquin, not forcing any of his potential passing opportunities, then came out ahead when Musquin had bad luck/made a mistake, whichever way you view it.

Chad Reed returned to form, starting with a good holeshot in 3rd, then during the race he passed Brayton and Anderson while being passed by Dungey and Musquin, which left Reed at #3 at the finish. Obviously that's a good sign for Reed, rebounding with a good result, but it's hard to read too much into it since he wasn't really challenged after Anderson and Seely went down. He held off Brayton and Davi Millsaps, but the true challengers like Roczen or Eli Tomac never really got close.


While Davi Millsaps couldn't get closer than 7.5 seconds behind Reed, he nonetheless had his best finish of the season in 4th. Again, I wouldn't read too much into this one, either, because his passes were Tomac and Anderson (along with Seely), who crashed, as well as Mike Alessi and Justin Brayton. Add in that Millsaps qualified 9th, was 5th in his Heat Race (though he won his Semi), and I think that 4th overall sort of overrates how good of a performance Millsaps really had at Atlanta.

Justin Brayton also had his best finish of the season, but in a slightly different manner. He qualified 6th, then won his Heat Race and got the holeshot at the Main Event. He also was helped (probably) by the Anderson/Seely crash, because other than that he was passed by Dungey, Musquin, Reed, and eventually Millsaps. Roczen never got within 3 seconds of Brayton, but Brayton also fell 4 seconds behind Millsaps. Nevertheless, a good day for Brayton.

Probably the most disappointing day was for Ken Roczen, especially after qualifying 3rd and winning his Heat Race. In the Main Event, he got tangled up in the first turn -- someone skidded a bit in front of him (I couldn't tell who), bumping their rear wheel into Roczen's front end, causing Roczen to swerve and putting him in 16th after the turn. Though Roczen was able to get back into 6th, that means he lost major points to Dungey, with the lead for 1st back above a full race, at 33 points. While Roczen was stuck in traffic, up through Lap 11, he lost time on every lap to both Musquin and Dungey, though in laps 12 through 14, he made up about a second on the two of them. But from Lap 15 on, Roczen lost time on the two leaders, at over a half-second per lap -- Roczen did pass both Justin Bogle and Cole Seely in Lap 17, but perhaps he felt he was too far back from Justin Brayton and the rest of the Top 5 to possibly catch up. Just an interesting note, I think.

Finishing behind Roczen in 6th and Anderson in 7th was Justin Bogle, who had a tumultuous Main Event -- though he started in 9th out of the holeshot and finished just one spot higher. During the race, Bogle passed Eli Tomac and Mike Alessi, then was passed by Cole Seely, then passed Seely and Jason Anderson, then was passed by Seely and Ken Roczen, then was passed by Anderson, then passed Seely one last time. 8th is Bogle's best finish in 2016, by 5 spots.


Christophe Pourcel finished 9th, which is good, in a sense, as it's his 2nd-best result, after his 8th place last week. He qualified 1st, which is not much of a surprise since he's done a good job of that all season. He finished 6th in his Heat Race and 5th in his Semi Race, which isn't really very good, but since he's had a tough time getting to the Main Event without going to the LCQ, it's something of a good sign for Pourcel, as is holding on to 9th after coming out 10th in the holeshot.

Cole Seely finished 10th, and while the crash he caused with Anderson is a black mark on the race for him, he did a good job of getting into a decent finishing spot after coming out of the first turn in 20th. He was in 7th until right near the end of the race, then lost 3 spots, but what happened wasn't covered on the broadcast (Anderson was right behind Seely at the time, though…).

Joining the ranks of the disappointed is Eli Tomac, who finished 11th despite getting a reasonably good start--7th. Something happened that dropped him back to 20th -- I think I saw him slide out right before the finish of Lap 2 -- and he wasn't able to do much from there.

James Stewart returned to action, and though he looked decent in his Heat and Semi, he couldn't keep it going through the Main Event. In his first heat, he was in 2nd until a crash in the dicey sand section, and he finished 3rd in the Semi. But after getting through the first Main Event turn in 11th, he slowly slid back to 14th. That said, I suppose it's progress.

The other notable poor result was for Trey Canard, who finished 16th. He came out of the holeshot in 13th, then had a problem in Lap 8 that dropped him back to 19th. Leading up to the Main Event, he had some mixed results -- qualified 4th, 7th in his Heat Race, and 2nd in the Semi. And this after I just wrote that he could challenge the Top 5 if he could stay healthy.

Well, although the season-long projections are still looking OK (I think), the weekly predictions are going to look quite off for Atlanta. Though they did pretty well the last two weeks, this week we're going to need some excuses (something about the suspension not being right, and the dirt got too hard -- isn't that usually it?).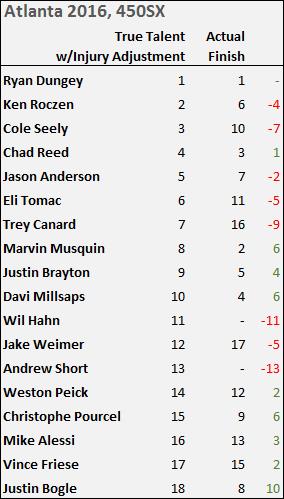 I mean, yikes. As far as excuses, Seely and Anderson had a wreck, as did Tomac and Canard. Add in that Wil Hahn was knocked out of his Heat Race with what appeared to be an injury, and Andrew Short, after finishing poorly in his Heat and Semi races, did not make the Main Event (was DNS for the LCQ). But that still leaves a lot of riders who were pretty far off. I guess there's always next week….




Posted by: SagehenMacGyver47 ::: As always – Feedback welcomed




Previous: 2016 Supercross Predictions - 450SX Update going into Week 8 at Atlanta | Back to Blog | Next: