2016 Week 5 - By-The-Numbers Recap: Glendale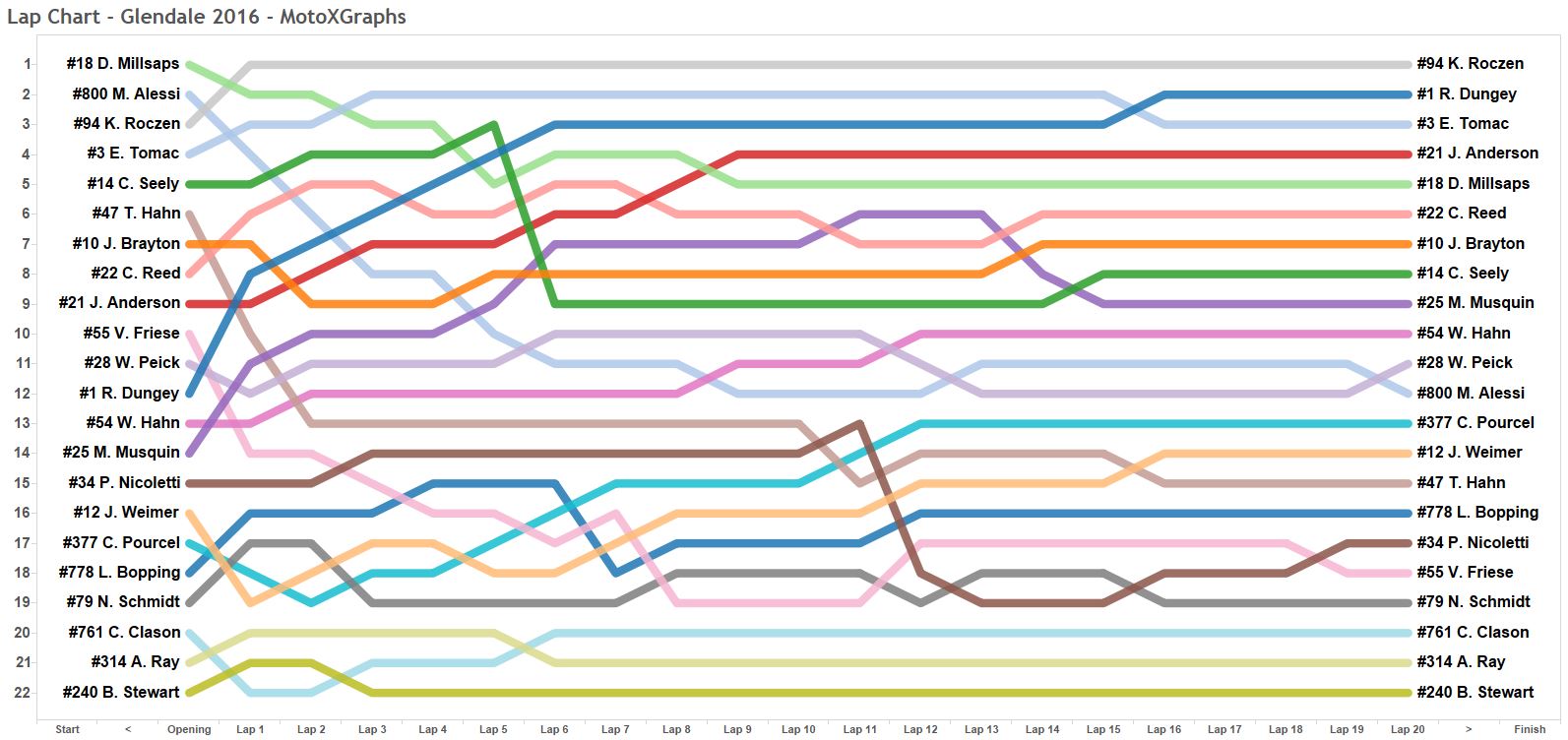 (Lap Times chart at bottom of page)

Leading up to the week 5 Supercross race in Glendale, Ken Roczen had given the masses hope. Hope that perhaps, just maybe, Ryan Dungey wouldn't run away with the 450 title just yet. Although Dungey had easily won the last 3 races, Roczen seemed to be making progress the prior week at Oakland, and maybe it was just wishful thinking, but some even predicted Roczen to win at Glendale.
Last night, though, all the way up until the first turn of the main event, Ryan Dungey once again looked like a lock, about to extend his 450SX dominance into Glendale. In qualifying, BOTH of Dungey's fastest times were better than EITHER time from ANYONE else, making Dungey look invincible (as some foolish person wrote on Twitter) (and he even missed a big chunk at the start of the second session because his bike was being worked on). Dungey easily won Heat 2, with a time that was also slightly faster than the winner of Heat 1 (Davi Millsaps). Ken Roczen, on the other hand, had the 4th-fastest qualifying time, not bad but nothing special. Roczen finished 2nd in Heat 1, trailing Millsaps closely all the way. So at this point in the evening, it wa looking like more of the same, with Dungey about to cruise to another win.
But out of the gates, Dungey wasn't quick enough off the line. Roczen was, taking 3rd after the first turn, then quickly into 2nd at the 180 right after. Dungey got stuck in a pack before the first turn, and opened up in 12th. By the time Dungey could get his footing and move up to 8th, Roczen had passed Millsaps into 1st and opened up a 2+ second lead on everyone else. From that point, there was nothing Dungey or the other potential challengers Eli Tomac, Jason Anderson, or Chad Reed could do.
Was it the unusual starting stretch, which was much longer than any of the first 4 races? It's possible, but Dungey got caught in traffic way before the first turn, so I think he would have been in trouble regardless of how the opening was structured.

Looking at the first 18 laps (like last week, we'll use the same format (first 18 laps) for the comparison, so that we don't include any laps where the leader was coasting), let's compare Roczen and Dungey. On Lap 1, Roczen had built up nearly a 5-second lead over Dungey. In laps 2 through 18, unlike last week, where Dungey was faster on 16 of 18, Roczen and Dungey were basically even (Dungey was technically 0.06 seconds faster, which is negligible). Overall, Roczen was faster on 8 laps, and Dungey was faster on 8 laps. I think that undersells Roczen's performance, though:


In the first 10 laps, Roczen was faster on 7 of them. In the 8 laps from Lap 11 through Lap 18, Dungey was faster on 6. I think we can interpret that to say that Dungey was only faster once Roczen had established his lead and was probably riding a bit conservatively. However, maybe Dungey had more stamina and was able to keep a faster pace as Roczen was wearing down. My guess, though, is the former -- when Roczen was going full-tilt, he was faster than Dungey.

Eli Tomac. Poor guy ran a pretty good race, but all anyone can talk about is Roczen's win and Dungey's ability to shake off a bad start and come back up to get 2nd. Tomac actually had a very good race going and a solid hold on 2nd, keeping Dungey at bay, until a serious bobble on the difficult whoops section. Tomac finally got the good start he was looking for (his issues in 2016
detailed here
), coming out 4th (taking a very wide line on the first turn, which was a bit longer but he avoided any traffic), and he put in a good chase trying to catch Roczen. But Tomac's problem in the whoops on Lap 15 let Dungey narrow the gap, getting close enough to pass Tomac on Lap 16. Tomac had an otherwise solid if unremarkable day -- 4th-fastest qualifying lap times and finishing 2nd in his heat behind Dungey.
During the middle of the race, there was a section where Tomac made up time on Roczen, and it looked like maybe he had a chance to make a real run at him. In laps 6 through 10, Tomac made up nearly a full second on the leader, but in the following 8 laps (again, only looking through Lap 18) Roczen was faster than Tomac on each one (Dungey was also faster than Tomac on each of those laps) as you can see here: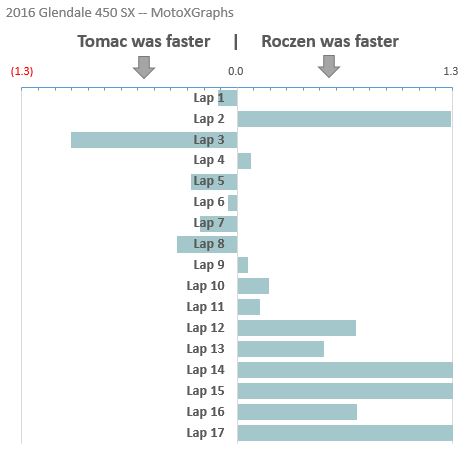 So Tomac was fading--or perhaps riding conservatively on purposebecause he wasn't comfortable trying to blaze through the very difficult whoops and wanted to avoid a major mistake. Considering he's probably still not in top shape after his double shoulder surgery, maybe it's not all that unexpected for him to fade a bit in the second half of the race.

While Tomac got a good start and seemed to fade a bit, Jason Anderson did the opposite (as usual), and started off the leaders in 9th and then made his way back up near the top, finishing 4th. Qualifying times were good (3rd), but he had to go through the Semi to reach the Main Event.

Davi Millsaps had a notable day with a good finish, particularly by getting the Holeshot and staying in the top 3 for 4 laps. He couldn't keep up with Roczen/Dungey/Tomac/Anderson, as mentioned, but he did manage to hold off Reed, Seely, and Musquin who were all jockeying for position in a pack behind the top 4. Millsaps didn't qualify particularly well (#12), but he won his Heat race, so a promising day and Millsaps's best finish yet.

After getting a little tangled up during the start, Chad Reed came out OK, opening in 8th then coming back strong, pulling back into 5th. After getting passed by Anderson and dropping to 6th, Reed battled with Marvin Musquin, getting passed on Lap 12 after Musquin cut inside on him a couple times. Reed got payback, on Lap 15, using a little love tap to bump Musquin back to 8th. To open his race, Musquin started poorly, in 14th, then after giving up 6th to Reed, he eventually slid all the way back to 9th, where he finished. Not a great day for Musquin--compared to last week, especially--but he seems to be making strides, finishing 3rd in his heat, and a general improvement (for instance, he had the fastest single lap of those outside the top 4 in the Main Event) over his first 3 races.

Justin Brayton had his best finish of the season. A model of consistency, he has now finished 7th, 8th, 9th, and 10th. He's now 9th overall in the standings, contrasted against our prediction for him (largely because of a poor 2005 and expected age decline) at 15th -- granted, 4 riders have dropped below him because of injury.

Cole Seely had a good start and worked his way up to 3rd, ahead of Millsaps, but then his bike stalled, dropping him to 9th, and he would finish 8th. Not much to say for Seely -- 6th-fastest qualifying time, finished 4th in his heat. It must be a bit concerning for the team that his finishes are trending downward: 3rd, 3rd, 6th, 6th, and now 8th.

Some others:
Jake Weimer had 3 straight Top 10 finishes, but only made it to 14th at Glendale.
William Hahn has managed to go #11, #10, and now #10 in the past 3 weeks.
Mike Alessi had his best finish -- after opening the race in 2nd, he finished 12th. That sort of seems like a backhanded compliment.

Wrapping up, the big news is that Dungey is indeed vulnerable, and at least for another week we can enjoy a Supercross season where the title winner is still yet to be determined.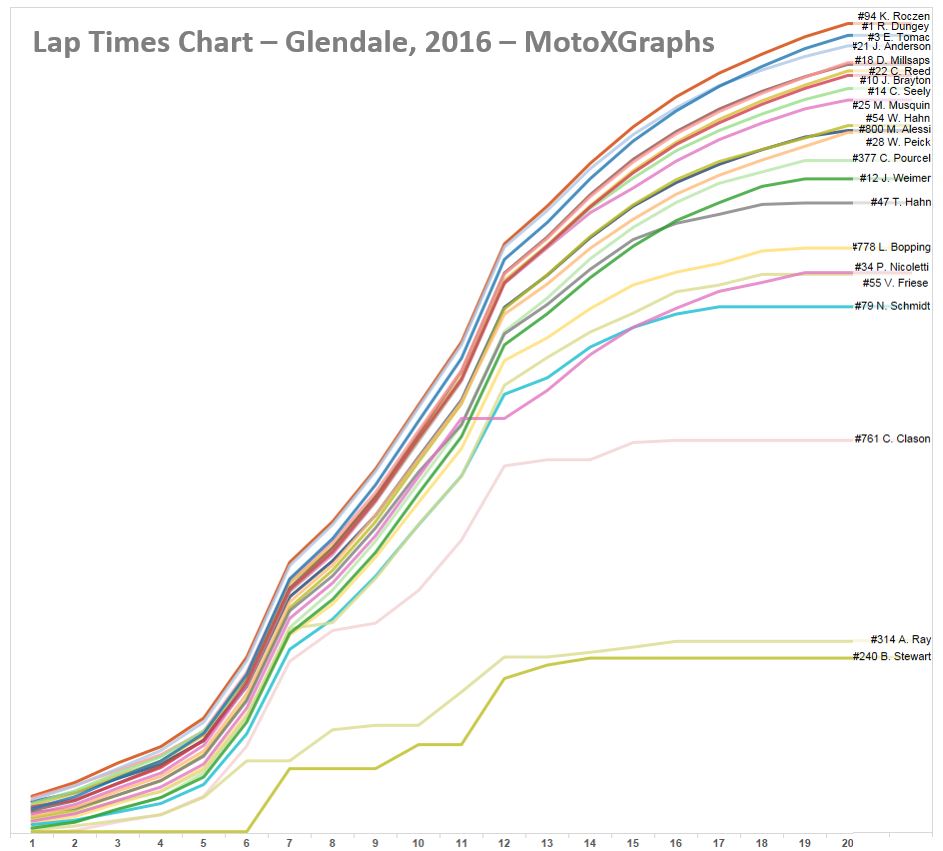 Posted by: SagehenMacGyver47 ::: As always – Feedback welcomed
Previous: 2016 Supercross Predictions - 450SX Update after week 4 at Oakland | Back to Blog | Next: How Much Do Riders Slow Down Throughout A 450SX Race?