Supercross 2017 Predictions -- Update After Week 5
2/8/2017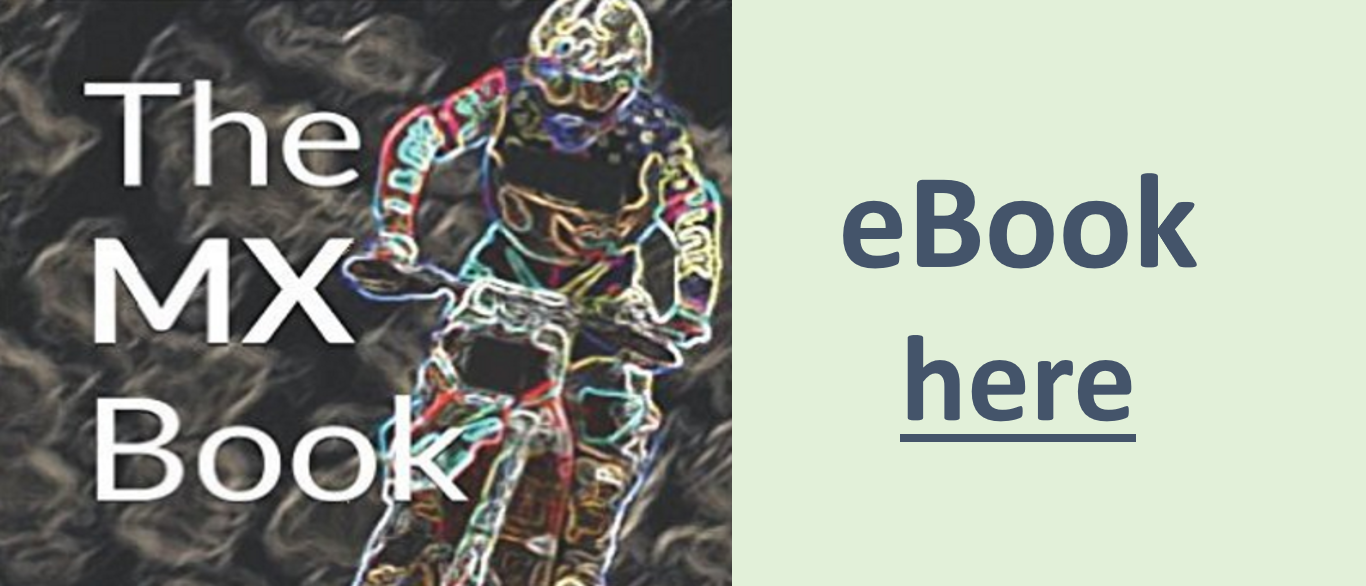 With another dominant win, Eli Tomac is making a move to take over #1. While the majority of the standings stay roughly the same, whether or not Tomac can catch Ryan Dungey will certainly be the focus of the coming weeks.
SEASON PREDICTIONS

With Tomac's win at Oakland, Dungey's predicted lead shrinks from 58 points to 47 points. To shrink that lead down to zero, Tomac will need to keep finishing ahead of Dungey.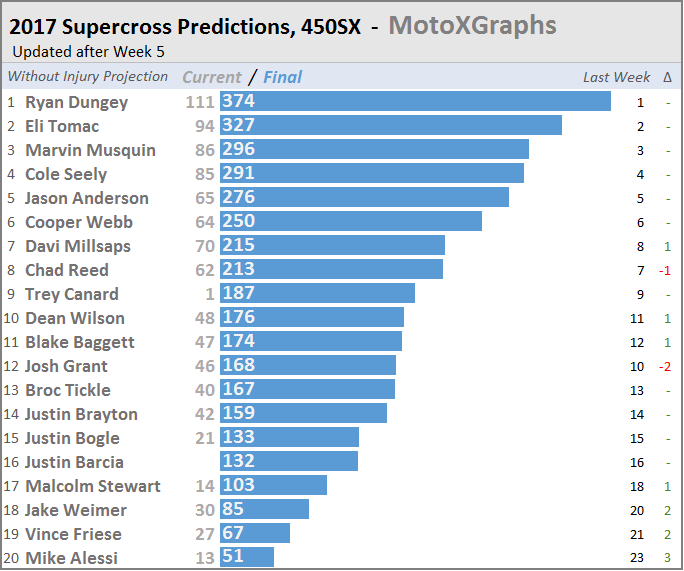 Let's take a second to talk about how the rider's True Talent is figured and how the projections are calculated. (It's detailed from top to bottom in The MX Book if you really want to understand what goes into the predictions.) Tomac's projected speed is based off of not just his last 2 races but off of all of 2017 plus the prior 3 years. If you look at his entire Supercross body of work, he lags behind Dungey each of those years.
Next, you apply an age adjustment to put the prior seasons in context with the current one -- is the rider young and expected to improve or old and expected to decline? Or is he just moving past his prime and expected to stay roughly the same, a la Ryan Dungey in 2017? Tomac gets the benefit of an upward aging adjustment while Dungey gets an ever-so-slight downward adjustment for being 27.

Put those together, and despite 2 great weeks from Tomac, there is still quite a gap between #1 and #2 for the final predicted 2017 standings.

In other news, Josh Grant drops a couple spots as you might expect from getting no points at Oakland due to his pre-race crash. Justin Bogle also moves down, resulting from his DNF in the Oakland Main Event. Marvin Musquin holds on to 3rd, but the gap between him and Cole Seely tightens considerably since last week's predictions. Weston Peick has said his injury might keep him out of the rest of Supercross, and he drops out of the Top 20 entirely.

Injury Adjustment
After factoring in riders dealing with injuries as well as projecting future injuries, a few more things change.

You can find a full breakdown of predicting injuries in The MX Book, detailing the apparent randomness of injury and the likelihood of re-injury.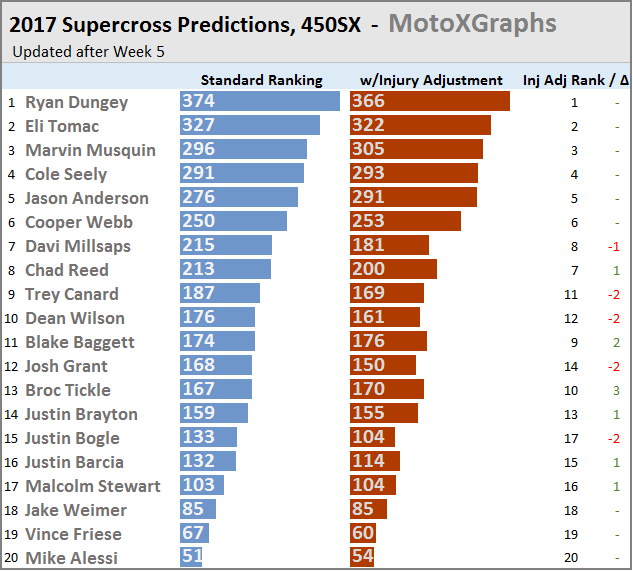 After the Injury Adjustment, there are a few shifts due to some riders that are dealing with injury (Trey Canard, Justin Bogle, Josh Grant) or have been prone to injury (Davi Millsaps -- who by the way managed to survive a spill that sent him into the barricade at Oakland).

All eyes will be on the front of the pack to see if Tomac can pull it off again and narrow the gap with Dungey. Predictions for Arlington will be up by Thursday night, Friday early morning at the latest.







Posted by: SagehenMacGyver47 ::: As always – Feedback welcomed




Previous: Supercross 2017: Oakland -- Predictions Review | Back to Blog | Next: Supercross "This Week" Predictions -- Arlington 2017