2016 Week 9 - By-The-Numbers Recap: Daytona
3/5/2016



The race at Daytona belonged to Eli Tomac, who put together a full race that was clearly better than anyone else. Another story was Daytona's unique course, which had its proponents and its detractors, one of whom was apparently Chad Reed. Ryan Dungey kept up his streak of consistency, and he forced Tomac to be on his game all race long, and the two of them ran away from the field.

One of Tomac's issues so far in 2016 has been finishing races, since his fitness was not back to 100% after his offseason surgeries, which he's mentioned. We measured how much Tomac was slowing down throughout the race after the first five races, compared to Dungey and others. At that point, Tomac was slowing down by 0.03 seconds per lap versus Dungey's 0.02. At Glendale in particular, where Tomac complained of tiring during the last quarter of the Main Event, he slowed down 0.172 seconds per lap, which was considerably higher than the other top riders.

At Daytona, though, Tomac and Dungey were nearly equal, with Tomac having a negligible advantage of 4 thousandths of a second per lap, on average. You can see that the slope of Dungey's trendline is slightly higher than Tomcac's (Lap times on the Y-axis and Lap # on the X-axis):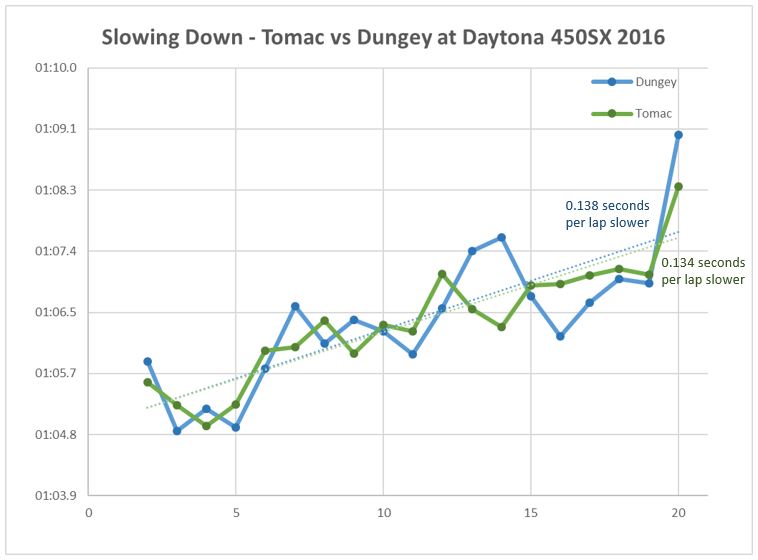 If we remove the last lap because it looks a little screwy, Dungey and Tomac are still nearly equal, with the difference still negligible, although Dungey would have the ever-so-slight advantage (8 thousandths).

For further comparison, I looked at Marvin Musquin and Jason Anderson. Anderson in particular has been good at keeping up his speed throughout the race, so far in 2016.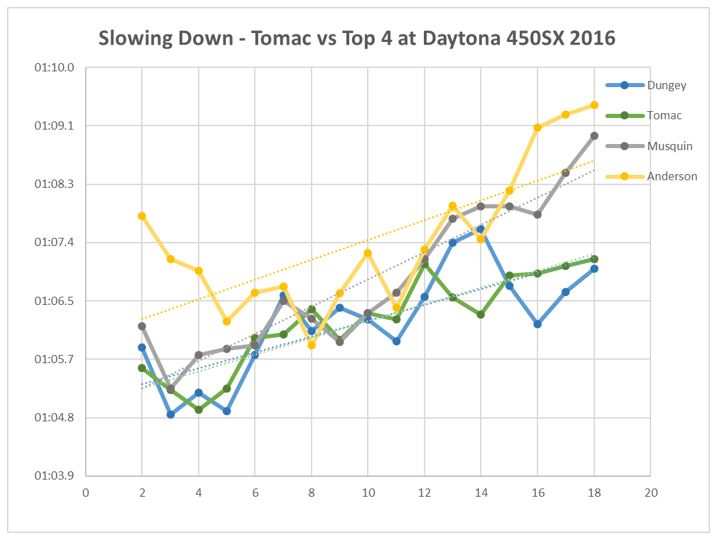 But, at Daytona, Tomac had better numbers than either of them (0.134 (Tomac) vs 0.202 (Musquin) / 0.147 (Anderson)) -- looking only through Lap 18 for Musquin/Anderson because they each slowed down considerably after that, assumedly cruising to the finish because they felt their leads were safe. So, that's good news for Tomac. Does this mean he's back to 100%, or was it that the track suited him? Only time will tell.

Ryan Dungey got what he needed, another Dungey-esque consistent race. If I were worried about something, it wouldn't be his inability to chase down Tomac, but that Dungey actually got out ahead of Tomac in the first turn, then in the second turn took the outside route while Tomac cut inside and took the lead away from Dungey. Then in the next couple turns, Dungey went from being right on Tomac's tail to being a second or more behind. Not that it was that big of a deal, but with the way Tomac was riding all day, if Dungey was going to beat Tomac, Dungey needed to win that section, and instead he got outridden. Still, he increased his lead in the standings overall, so hard to call it a bad day for Dungey.



EDIT -- From RacerX's Jason Weigandt, this description of what happened near the beginning of the race affecte basically everyone's race: "Red Bull KTM's Musquin bobbled and bumped into Pourcel, knocking him down, but Pourcel was right in the main line, which jammed up a ton of riders behind him. That changed the whole race, as Red Bull KTM's Musquin snuck away with third and everyone else ended up way, way behind almost immediately. Musquin was solid in third, and Rockstar Energy Husqvarna's Jason Anderson, who basically rode over Pourcel's bike to get through, rode by himself in fourth the whole way."

Following up on his near-win in Atlanta, Marvin Musquin had probably his second-best 450SX day: 4th fastest qualifying lap, winning his heat, then finishing comfortably in 3rd in the Main Event.

Jason Anderson got a decent start, kind of in a 3-way tie for 3rd/4th/5th, but couldn't really improve on it. The thought has been that he'd been getting poor starts most of the time, then fighting back into the Top 5, and if he could get some good starts, he could challenge for #1. That wasn't the case today, perhaps because he had to battle with Phil Nicoletti and some others in the first couple laps, which may have let Tomac/Dungey/Musquin get too big of a lead. Anderson also underwhelmed with a 15th in qualifying and 6th in his Heat Race, then won his Semi Race. So I would call it a bittersweet 4th for Anderson.

Though Ken Roczen recovered to 5th place, he had another low start (10th) that must be driving him crazy. He also looked a bit off in that he qualified 6th, then placed 4th in his Heat Race. That means he didn't get one of the preferred gates, which reminds me that after we looked at how important the position out of the opening section is for the end result of the race, and based on a couple comments I'd like to extend that to see how much the starting gate choice matters for getting the holeshot or close to it.



After Trey Canard's uncharacteristically bad result last week, he rebounded to have his second-best result of 2016, in 6th. Getting off the line in about 7th probably helped considerably. At least he looked a little more like the rider we described in his rider profile about a week ago.

Now Josh Grant was quite a story. He apparently hadn't ridden a pro race in months, and then he comes out and finishes 4th in his Heat Race, and even more surprisingly backed it up by holding on to 7th in the Main Event. He wasn't in our predictions -- because who knew he would actually factor in? I went back and looked at what his numbers would have been, and based just on his 2015/2014/2013 numbers, he would have been projected at 15th for the week, right behind Jake Weimer. Of course, that ignores the context of his situation, that he wouldn't be expected to be able to walk right in and ride at mid-season form. If we added in an adjustment similar to the injury adjustment, Grant would have been projected a few spots lower, similar to Justin Bogle or Mike Alessi. So to finish 7th, above Cole Seely and Chad Reed--and a lot of other riders who wish they could be in 7th--is rather amazing.

Christophe Pourcel continued his Week 7 prediction, now having put up 8th/9th/8th since Week 7 started, which is between 3 and 10 spots better than any of his races before Week 7. He finished 2nd in his Heat Race, and 8th in the Main Event (he had the 2nd qualifying time, but we already expect that from him). In the Main Event, he apparently was run into, knocking him back from 5th down to 8th. He was passed by Josh Grant and Ken Roczen, and he passed Phil Nicoletti and Cole Seely (who crashed), eventually getting back into 8th -- equaling his best finish. The positive sign for him is that he'd had trouble translating his fast qualifying time into the Heat/Semi/LCQ races, but 2nd in the Heat Race is another particularly good finish in the actual races.



Justin Brayton and Cole Seely each had bad starts, 14th and 21st, respectively, but they were able to get back into 9th and 10th, also respectively. The two of them also qualified outside of the top 10, then had to go through the Semi Races to reach the Main Event.

Outside of the top 10, of note:
Chad Reed had another off week, unable to keep momentum out of Atlanta, and he had to go through the LCQ, before finishing 12th overall.
James Stewart took a pretty serious spill in the whoops during his Heat Race, and he didn't return. He only put up the 12th fastest qualifying time, which isn't bad, exactly, but is not what we'd expect from a fully healthy Bubba. Based on the crash, where he landed pretty violently on his back and might have had his bike land on his leg, I'd imagine he's iffy for next week.
Things were going pretty well for Davi Millsaps, who qualified 8th and was 3rd in his Heat Race. He was running in 5th for a while in the Main Event, but then was passed by Canard and Roczen, and then, even worse, had some sort of crash that dropped him all the way back to 18th, where he finished.
Phil Nicoletti started the day off a bit slow, qualifying 21st and finishing 9th in his Heat Race. But then he won his Semi Race, and he held on to 4th for a few laps in the Main Event, so things were going well. From there, unfortunately, he lost traction in one of the ruts going around a turn, causing him to lose a couple spots, then the rest of the way continued to slip, all the way back to 21st.

[Note: just added post to look at how the "This-Week" predictions did for Daytona, here.]




Posted by: SagehenMacGyver47 ::: As always – Feedback welcomed




Previous: 2016 Supercross Predictions - 450SX Update going into Week 8 at Atlanta | Back to Blog | Next: Effects of Stadiums for Supercross Riders